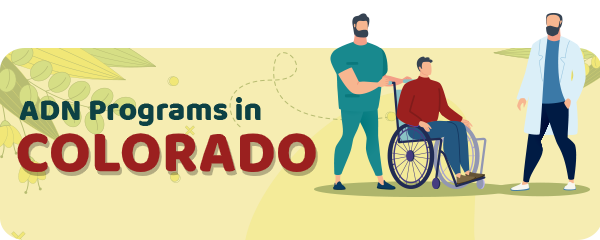 If you want to become a registered nurse with an Associate's Degree, and you live in Colorado, go for it!
There are plenty of options for improving your knowledge and job opportunities.
The Healthcare system of Colorado lacks RNs with ADN, and the state is coming up with improved and accelerated programs in addition to traditional ones to help aspiring nurse start their career sooner.
Keep reading for more information on ADN programs in Colorado.
Choosing the Perfect ADN program in Colorado – Things to Know
There are numerous programs to choose from, and some students might feel confused about which program to pick.
But, if you follow our guidelines, you can make that decision without unnecessary fuss.
Popular Programs
There are few things to look for in an ADN program.
The accreditation is highly important because an officially approved program means more opportunities in all healthcare facilities.
In Colorado, the Accreditation Commission for Education in Nursing or the American Association of Colleges of Nursing is in charge of program approval.
Next, you want to make sure that you will be eligible to take the NCLEX test after you finish the program.
Also, many students find it useful to learn more about the school itself and its statistic.
For example, you can compare schools based on NCLEX pass rates and student satisfaction metrics.
You can also find out how many students start the program and how many of them complete it.
Once you are completely sure about your decision, you can continue with the admission requirements.
ADN Program Admission Requirements
Schools have different admission requirements for their educational programs.
You should check for the latest information on requirements because some schools can change the terms more frequently than others.
The majority of schools, however, have a basic set of requirements students must fulfill to be considered for the program.
The minimum GPA required in Colorado is 2.5 and students have to show the proof of proficient score in the TEAS exam.
All students have to submit completed diplomas or certificates they have and meet the individual program and college criteria.
If you satisfy all criteria, you will be admitted to the program of your choice in Colorado.
The Costs
The fees for the programs are different for different degree level programs and include different things.
Tuition for some programs includes everything a student will need through its education, such as nursing instruments and learning materials.
For example, if you choose Lamar Community College, you will have to pay $161 per credit hour.
Schools
There are so many options for nursing education in Colorado.
Let's have a quick look at some of the best schools and their programs. For example, Pikes Peak Community College and the Metropolitan State University of Denver are known for their high-standard education of nursing.
Front Range Community College in Larimer, as well as Trinidad State in Valley Campus, are the first pick of many students because they offer numerous programs and degree options.
Arapahoe Community College has both ADN and BSN tracks, and Denver College of Nursing is suitable for a variety of students due to modern and traditional RN degree pathways.
Colorado State University in Pueblo has both traditional accelerated BNS programs great for those who want a fast-paced education.
The University of Northern Colorado has a UNC's bachelor's degree in a nursing program, which is highly appreciated across the country.
The nursing program at Colorado Mountain College puts a focus on experiential learning through practical clinical experiences.
The program emphasizes early experiential learning through clinical experiences.
University of Colorado Anschutz Medical Campus, on the eastern edge of the Denver Metropolitan Area, has high-quality nursing programs and provides competent graduates.
| School Name | Address |
| --- | --- |
| Pikes Peak Community College | 5675 S Academy Blvd, Colorado Springs, CO 80906 |
| Front Range Community College - Larimer | 4616 S Shields St, Fort Collins, CO 80526 |
| Trinidad State - Valley Campus | 1011 Main St, Alamosa, CO 81101 |
| Arapahoe Community College | 5900 S Santa Fe Dr, Littleton, CO 80120 |
| Denver College of Nursing | 1401 19th St, Denver, CO 80202 |
| Colorado State University - Pueblo | 2200 Bonforte Blvd, Pueblo, CO 81001 |
| University of Northern Colorado | 501 20th St, Greeley, CO 80639 |
| Metropolitan State University of Denver | 1201 5th Street, WC 247, Denver, CO 80204 |
| Colorado Mountain College | 1402 Blake Ave, Glenwood Springs, CO 81601 |
| University of Colorado Anschutz Medical Campus | 13120 E 19th Ave, Aurora, CO 80045 |
| Regis University | 3333 Regis Boulevard, Denver, CO 80221 |
| Aims Community College | 5401 W 20th St, Greeley, CO 80634 |
| Front Range Community College - Westminster | 3645 W 112th Ave, Westminster, CO 80031 |
| Colorado Christian University | 8787 W Alameda Ave, Lakewood, CO 80226 |
| Pueblo Community College Southwest | 33057 Hwy. 160, Mancos, CO 81328 |
| Morgan Community College | 920 Barlow Rd, Fort Morgan, CO 80701 |
| University of Colorado - Colorado Springs | 1420 Austin Bluffs Pkwy, Colorado Springs, CO 80918 |
| Trinidad State Junior College | 600 Prospect St, Trinidad, CO 81082 |
| Otero Junior College | 1802 Colorado Ave, La Junta, CO 81050 |
| Colorado Mesa University - Montrose | 245 S Cascade Ave, Montrose, CO 81401 |
| Platt College | 3100 S. Parker Rd., Aurora, CO 80014 |
| Pueblo Community College | 900 W Orman Ave, Pueblo, CO 81004 |
| Colorado Mesa University | 1100 North Ave, Grand Junction, CO 81501 |
| Colorado Northwestern Community College CNNC | 2801 W 9th St, Craig, CO 81625 |
| Adams State University | 208 Edgemont Blvd, Alamosa, CO 81102 |
| Pueblo Community College - Fremont Center | 701 Camino del Rio, Durango, CO 81301 |
| Northeastern Junior College | 100 College Ave, Sterling, CO 80751 |
| Lamar Community College | 2401 S Main St, Lamar, CO 81052 |
Salary
Several factors affect the final salary, including location, education level and years of experience, certificates, etc.
In Colorado, a registered nurse makes averagely $63120 per year.
Annual Salary Range:
Annual Salary by Location:
| Location | Avg. Annual Salary |
| --- | --- |
| Denver | $64,020 |
| Colorado Springs | $63,010 |
| Aurora | $63,980 |
| Lake City | $60,230 |
| Fort Collins | $61,630 |
| Arvada | $64,020 |
| Pueblo | $58,710 |
| Westminster | $64,020 |
| Boulder | $64,950 |
| Thornton | $64,020 |
ADN Programs by State
---