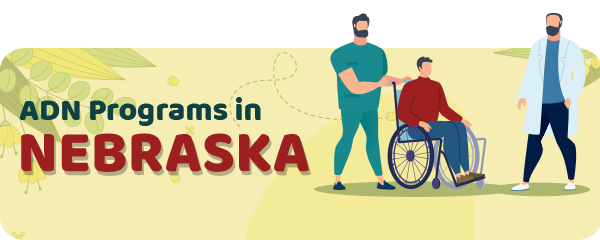 Choosing a career as an RN with an ADN is an excellent choice for those seeking a rewarding career.
The good news is that nowadays the process of obtaining an Associate's Degree is as complicated as it was in the past.
The programs are now shorter, due to nation-wide shortage in RNs with ADN.
Keep reading to find out more information about ADN programs in Nebraska.
Choosing the Perfect ADN Program in Nebraska – Things to Know
Nebraska has numerous education options for nurses.
It is why some students may feel overwhelmed at the beginning of the process.
But, if you are aware of which programs offer the best opportunities for education and licensure, the decision can be simpler.
The first thing to determine is the accreditation.
In Nebraska, similar to other states, the Commission for Education in Nursing and the Commission on Collegiate Nursing Education maintains official approval of ADN programs.
State's Board of Nursing is in charge of colleges.
Next, consider only programs that will make you qualified to take the NCLEX exam after you complete it.
Having more information about the school, in general, will help you to get a bigger picture.
For example, find out how many students complete the program each year, their success rates, their NCLEX pass rates, etc.
Only if you are 100% sure about your decision, you can proceed with the admission requirements.
ADN Program Admission Requirements
Requirements for schools are individual as each school can change them or update them annually.
You can contact the preferred school to learn more about the latest requirements.
But, the majority of schools have some share admission requirements.
You will have to provide a copy of high school or college transcripts or both.
Only students who have a cumulative GPA of at least 2.75 in the pre-requisite science courses and a 2.5 GPA in general education will be considered.
To be admitted students have to complete the TEAS exam.
Also, you have to provide a personal essay and two personal references.
If you fulfill all requirements, you can be admitted to a nursing school in Nebraska.
The Costs
The costs vary across Nebraska and include different things.
The tuition for some schools doesn't include the expenses for nursing instruments, learning materials, and other necessary things.
For example, if you choose the ADN program at Central Community College, expect to pay about $11922.
Schools in Nebraska
We made a brief overview of the best schools that offer nursing programs in Nebraska.
For example, Nebraska Methodist College is an appropriate choice for students looking for a comprehensive 4-year BSN program.
Bryan College of Health Sciences has a top-notch reputation in the nursing field education.
On the other hand, Union College is known for several educational pathways to an RN degree.
Clarkson College features an outstanding BSN program and the University of Nebraska Medical Center has both traditional and accelerated BSN and RN to BSN bridge programs.
| School Name | Address |
| --- | --- |
| Nebraska Methodist College | 720 N 87th St, Omaha, NE 68114 |
| Bryan College of Health Sciences | 5035 Everett St, Lincoln, NE 68506 |
| Union College | 3800 South 48th Street, Lincoln, NE 68506 |
| Clarkson College | 101 S 42nd St, Omaha, NE 68131 |
| University of Nebraska Medical Center | 42nd and Emile, Omaha, NE 68198 |
| Creighton University | 2500 California Plaza, Omaha, NE 68102 |
| Northeast Community College | 801 E Benjamin Ave, Norfolk, NE 68701 |
| Metropolitan Community College | 5300 N 30th St, Omaha, NE 68111 |
| Southeast Community College | 8800 O St, Lincoln, NE 68520 |
| Central Community College - Grand Island | 3134 West US-34, Grand Island, NE 68802 |
| Western Nebraska Community College | 1601 E 27th St, Scottsbluff, NE 69361 |
| College of St. Mary | 7000 Mercy Rd, Omaha, NE 68106 |
| Midland University | 900 N Clarkson St, Fremont, NE 68025 |
| Mid-Plains Community College | 601 W State Farm Rd, North Platte, NE 69101 |
| Purdue University Global - Lincoln | 1821 K Street, Lincoln, NE 68508 |
| Purdue Global University - Omaha | 1821 K St, Lincoln, NE 68508 |
| Nebraska Wesleyan University | 5000 St Paul Ave, Lincoln, NE 68504 |
Salary
Salary is based on numerous factors including city, education level, experience, certificates, skills, etc.
A registered nurse in Nebraska earns an annual median salary of $58160.
Annual Salary Range:
Annual Salary by Location:
| Location | Avg. Annual Salary |
| --- | --- |
| Omaha | $59,960 |
| Lincoln | $59,670 |
| Bellevue | $59,960 |
| Grand Island | $58,850 |
| Kearney | $58,850 |
| Fremont | $59,070 |
| Hastings | $58,850 |
| North Platte | $57,060 |
| Norfolk | $52,200 |
| Columbus | $58,850 |
ADN Programs by State
---