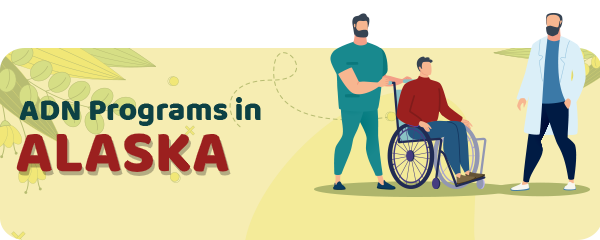 Alaska has plenty of job opportunities for registered nurses with an Associate's Degree.
The state is experiencing a shortage of RNs with ADN, so it has come up with numerous educational programs that make it easier for aspiring nurses to start their career in the nursing field.
There are traditional and accelerated programs for those in a fast-paced education.
Keep reading for more information about ADN programs in Alaska.
Choosing the Perfect ADN Program in Alaska – Things to Know
The first step toward your career in nursing is to find the appropriate program.
There are so many options out there, but you can narrow the list using a simple elimination method.
Eliminate the programs that are not accredited by the state's Accreditation Commission for Education in Nursing.
Colleges in Alaska had to be accredited by NWCCU (Northwest Commission on Colleges and Universities.
Next, make sure the programs are licensed by the state's Board of Nursing.
You can find out more information about the school statistics, including NCLEX pass rates, overall students' success, and satisfaction metrics, as well as the graduates' employment rate in the first six months or so.
Compare a few programs, and once you are absolutely sure about your decision, prepare for the admission requirements.
ADN Program Admission Requirements
The requirements for the ADN programs in Alaska can vary and change annually.
However, the majority of schools with nursing programs have an elementary set of requirements that each student has to fulfill to be admitted to the program.
All students have to meet the general admission requirements and minimum GPA required for the program.
Students need to provide proof of the TEAS score of at least 60 and complete student orientation.
All students are obliged to take a drug and criminal background check, as well as a complete health screening test, and submit proof of up-to-date vaccination.
Additionally, to be admitted students need to submit a nursing statement and pass the entrance interview.
The Costs
The fees differ based on different educational degree levels and across the state.
You should check whether the program tuition covers all expenses, including those for learning materials, nursing instruments, and appropriate footwear.
For example, the tuition for the ADN program at Charter College costs around $19000.
Schools in Alaska
The list of schools in Alaska is quite extensive, and you will have higher chances to find the one that meets all your needs.
For example, Charter College and the University Of Alaska Anchorage School Of Nursing are two of the best RN schools in Alaska.
Charter College has the ADN program that you can complete in 19 months.
The University Of Alaska Anchorage School Of Nursing is the largest university in Alaska and has multiple degree programs, such as Associate in Nursing, BSN, and MSN.
| School Name | Address |
| --- | --- |
| Charter College | 2221 East Northern Lights Blvd., Suite 120, Anchorage, AK 99508 |
| University of Alaska Anchorage School of Nursing | 3211 Providence Dr, Anchorage, AK 99508 |
Salary
Salary depends on several demographic and geographic factors.
For example, city, employer, education level, and experience affect the final paycheck.
The annual median salary of a registered nurse in Alaska is $70970.
Annual Salary Range:
Annual Salary by Location:
| Location | Avg. Annual Salary |
| --- | --- |
| Anchorage | $70,470 |
| Juneau | $69,780 |
| Fairbanks | $70,350 |
| Sitka | $68,830 |
| Ketchikan | $68,830 |
| Kenai | $69,520 |
| Kodiak | $69,520 |
| Bethel | $69,520 |
| Wasilla | $69,520 |
| Barrow | $69,400 |
ADN Programs by State
---