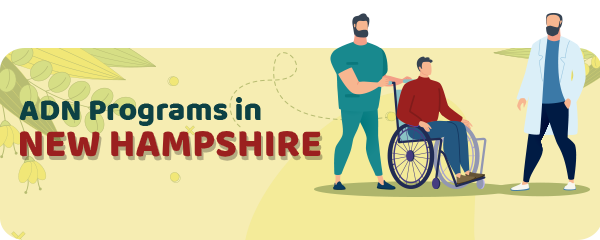 There is a shortage of registered nurses nation-wide, and all state, including New Hampshire, are coming up with a shorter and effective program which will prepare new generations of nurses.
If you want to become a registered nurse with an Associate Degree in Nursing and you live in New Hampshire, the process has never been simpler.
You have to choose the program you prefer, complete it, pass the examination, and start your challenging and rewarding carrier as RN with an ADN.
Keep reading to find out more useful information about ADN programs in New Hampshire.
Choosing the Perfect ADN Program in New Hampshire – Things to Know
Choosing a program is quite significant because it can determine your future career and further education capabilities.
There are so many educational programs, and picking the right one can be a bit challenging.
But, if you are fully aware of the things you want and what to avoid, it can be simpler.
First, look into the accreditation of the programs.
In New Hampshire, the Accreditation Commission for Education in Nursing and the American Association of Colleges of Nursing's Commission on Collegiate Nursing Education are in charge of ADN programs.
The accreditation of colleges is maintained by the Board of Nursing.
You should also check whether you will be eligible to take the NCLEX test upon completition.
Many students find it useful to get a broader picture of the school, including overall school statistics.
For example, you can research NCLEX pass rates, students' success, the average time which students need to complete it, their feedback, etc.
Once you are completely sure about your choice, you can continue with the admission requirements.
ADN Program Admission Requirements.
Admission requirements are different for schools.
Schools can change them, sometimes even annually, so you should always check for the latest information.
However, there are some shared requirements for the majority of schools.
All students have to provide the necessary forms and processing fees on time.
All students have to meet minimum score requirements in all sections in single Assessment Technologies Inc. Test of Essential Academic Skills assessment.
Additionally, students have to submit evidence of high school or college algebra, chemistry, and English and have no lower grades than C.
Lastly, students have to submit two letters of recommendation.
Only students who fulfill all the requirements on time will be accepted to the ADN program of their choice.
The Costs
The costs of programs are different across the state, and the final price is based on several factors.
Before you decide which program to take, check whether the tuition covers additional expenses such as learning materials, nursing instruments, or suitable footwear.
For example, if you choose the ADN program at Concord's Community College, you will have to pay around $200 per credit.
Schools in New Hampshire
New Hampshire has a large number of schools you can attend to improve your nursing knowledge.
Some schools offer additional education pathways to MSN, DNP as well.
Let's go briefly through some of the best schools in New Hampshire.
For example, Colby-Sawyer College has excellent BSN, MSN, and RN to BSN bridge programs.
Anselm College has a great reputation and a multi-functional nursing facility.
The University of New Hampshire offers a high-quality BSN to MSN educational pathways in the College of Nursing.
Lakes Region Community College, on the other hand, is an excellent choice for students looking for a valued associate degree in the nursing field.
Manchester Community College is known for its expert nurses and is located between Concord and Nashua.
| School Name | Address |
| --- | --- |
| Colby-Sawyer College | 541 Main St, New London, NH 03257 |
| St. Anselm College | 100 St Anselm Dr, Manchester, NH 03102 |
| University of New Hampshire | 4 Library Way, Durham, NH 03824 |
| Lakes Region Community College | 379 Belmont Rd, Laconia, NH 03246 |
| Manchester Community College | 1066 Front Street, Manchester, NH 03102 |
| White Mountains Community College | 2020 Riverside Dr, Berlin, NH 03570 |
| N H T I | 31 College Drive, Concord, NH 03301 |
| River Valley Community College | 1 College Pl, Claremont, NH 03743 |
| Great Bay Community College | 320 Corporate Dr, Portsmouth, NH 03801 |
| Nashua Community College | 505 Amherst St, Nashua, NH 03063 |
| Rivier University | 420 South Main Street, Nashua, NH 03060 |
| Massachusetts College of Pharmacy and Health Sciences | 1260 Elm St, Manchester, NH 03101 |
| Plymouth State University | 17 High St, Plymouth, NH 03264 |
| St. Joseph School of Nursing | 5 Woodward Ave, Nashua, NH 03060 |
| Keene State College | 229 Main St, Keene, NH 03431 |
Salary
Salary is always a result of several factors – years of experience, education level, facility, city, additional certificate, etc.
A registered nurse in New Hampshire earns an annual median salary of $64370.
Annual Salary Range:
Annual Salary by Location:
| Location | Avg. Annual Salary |
| --- | --- |
| Manchester | $66,970 |
| Nashua | $68,750 |
| Concord | $65,450 |
| Derry | $67,790 |
| Rochester | $64,680 |
| Salem | $67,230 |
| Dover | $64,940 |
| Merrimack | $68,750 |
| Londonderry | $68,750 |
| Hudson | $68,750 |
ADN Programs by State
---