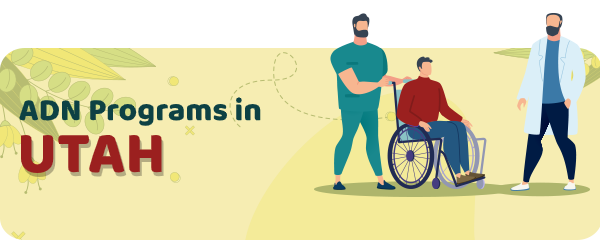 Aspiring nurses in Utah who wants to get an ADN degree have plenty of options for education and job opportunities.
The process can be a bit challenging, but if you break it down into a few steps will be simpler.
Because Utah is experiencing a shortage of registered nurses with an Associate's Degree, the educational institutions are coming up with more programs with relatively short duration.
All students can pick what works best for them because there are many ADN programs across the state.
Keep reading to find out more information.
Choosing the Perfect ADN program in Utah – Things to Know
Utah has a wide range of available schools with nursing training with a focus on different things.
You can start by checking only programs accredited by the Accreditation Commission for Education in Nursing or the American Association of Colleges of Nursing.
The state's Board of Nursing manages the accreditation process of colleges in Utah.
After you narrow the choice to a few programs, find out whether you will be eligible to take the NXLEX exam after you complete the program.
It would be useful to find out more about the overall school's statistics, such as students' satisfaction rate or NCLEX pass rates.
Some students like to know how many people start the program and how many get to complete it in a short time.
After you gather all information about your ADN program, you can continue with the admission requirements.
ADN Program Admission Requirements
First of all, schools have different requirements.
Make sure to check the latest terms, because admission requirements can change annually.
However, the most common requirements include proof of paying all application fees and proving the results of Kaplan's initial exam.
Additionally, only students that are current BLS cardholders and those with a GPA of minimum 3.0 for all pre-requisite courses are considered for admission.
You will also have to complete all pre-requisite courses with a minimum of grade C.
If you fulfill all the requirements, you can be admitted to an ADN program in Utah.
The Costs
Programs have diverse fees that depend on different factors.
Tuition for some programs covers everything, including nursing instruments and learning materials.
For example, if you choose an ADN program at Dixie State University, you will have to pay around $10000.
Schools in Utah
Let's break down the best schools in Utah with ADN programs.
Here is a list of the best RN Programs in Utah, and you can pick the best one for you.
The students who choose Western Governors University will have to take the pre-nursing curriculum which will last for six months.
After that, you will continue with the clinical nursing curriculum for the next six months or so.
Brigham Young University allows a BSN program for full-time students, while the University of Utah has a pre-licensure program which you can in fall or spring.
If you want a shorter program, you can take the Roseman University, because their BSN program lasts only for 18 months.
Students who pick Southern Utah University will have an education program that focuses on communication and problem-solving skills.
| School Name | Address |
| --- | --- |
| Western Governors University | 4001 S 700th E, Ste 700, Salt Lake City, UT 84107 |
| Brigham Young University | 551 KMBL, Provo, UT 84602 |
| Southern Utah University | 351 W University Blvd, Cedar City, UT 84720 |
| University of Utah | 10 South 2000 East, Salt Lake City, UT 84112 |
| Roseman University | 10920 S. River Front Parkway, South Jordan, UT 84095 |
| Utah Valley University | 800 W University Pkwy, Orem, UT 84058 |
| Ameritech College of Healthcare | 2035 N 550 W, Provo, UT 84604 |
| Fortis College in Salt Lake City | 3949 South 700 East, Suite 150, Salt Lake City, UT 84107 |
| Salt Lake Community College | 4600 South Redwood Rd, Salt Lake City, UT 84123 |
| Westminister College | 1840 South 1300 East, Salt Lake City, UT 84105 |
| Weber State University | 3848 Harrison Blvd, Ogden, UT 84408 |
| Dixie State University | 225 South University Avenue, St George, UT 84770 |
| Utah State University | 2695 Old Main Hill, Logan, UT 84322 |
| Stevens-Henager College | 1890 South 1350 West, West Haven, UT 84401 |
| Provo College | 1450 W 820 North, Provo, UT 84604 |
| Eagle Gate College | 5588 South Green Street, Murray, UT 84123 |
| Snow College | 150 College Ave, Ephraim, UT 84627 |
| Nightingale College | 175 South Main Street, Suite 400, Salt Lake City, UT 84111 |
Salary
An average annual salary of a registered nurse in Utah is $60090.
The salary always depends on many factors such as working facility, location, years of experience, additional skills and certifications, etc.
Annual Salary Range:
Annual Salary by Location:
| Location | Avg. Annual Salary |
| --- | --- |
| Salt Lake City | $60,270 |
| Provo | $58,060 |
| Sandy | $60,110 |
| Orem | $58,060 |
| Ogden | $58,750 |
| West Jordan | $60,050 |
| Layton | $58,530 |
| St. George | $64,790 |
| South Jordan | $60,000 |
| Cedar City | $64,790 |
ADN Programs by State
---