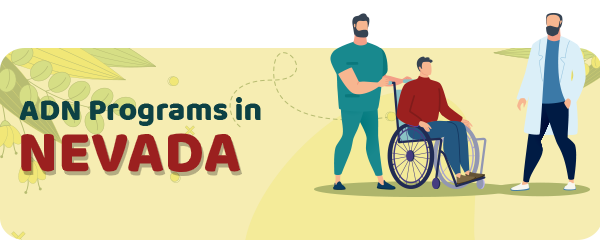 The state of Nevada is experiencing a higher demand for registered nurses with an Associate's Degree.
It is why there are so many nursing education programs, which nowadays last shorter than they did in the past.
The process is simpler but effective, and there is plenty of schools to choose from to continue your education.
If you want to know how to become an RN with an ADN, keep reading for more useful information.
Choosing the Perfect ADN Program in Nevada – Things to Know
To choose an appropriate ADN program isn't an easy decision.
It will affect your future career development and further educational opportunities.
That is why you should consider only accredited programs and those who will make you eligible to take the NCLEX exam.
In Nevada, the Commission for Education in Nursing and the Commission on Collegiate Nursing Education are in charge of the accreditation of ADN programs.
Colleges are accredited by Nevada's Board of Nursing.
When you narrow the list of schools based on accreditation, you can narrow it even more if you apply the criterion of eligibility for the NCLEX test.
Next, you can research more information about the school.
For example, find what the NCLEX pass rates are, what the average time it takes to complete the ADN program is, find out how many students start the program, and many of them complete it.
After you collect all information and once you are completely sure about your decision, continue to the admission requirements.
ADN Program Admission Requirements.
Schools in Nevada are authorized to set their own admission requirements and change them annually.
It is why you should always look for the latest information on the admission requirements.
However, there is a set of requirements that is common for the majority of schools in Nevada that offer ADN training.
To be admitted to the school in Nevada, you have to submit a copy of all high school or college transcripts, sometimes even both.
Only students who achieved a minimum GPA of 3 on all pre-requisite courses will be considered.
Additionally, Nevada's schools accept students who have completed the HESI exam with minimum scores.
If you fulfill all requirements, you can be admitted to school with an ADN program in Nevada.
The Costs
The costs for programs vary across the state.
It is important to check whether the tuition covers all expenses or you will have additional costs for learning materials, nursing instruments, and appropriate footwear.
For example, the tuition for the ADN program at Western Nevada College costs $90 per credit hour.
Schools in Nevada
Nevada has plenty of appropriate and high-quality schools.
Here is a short overview of the best schools with nursing training in this state.
Great Basin College is recognized nation-wide for its outstanding associate degree program in the nursing field.
The University of Nevada in Las Vegas has a modern and up-to-date approach in nursing.
If you are looking for a comprehensive program, you can start the 3-year BSN program at Arizona College.
Nevada State College is an appropriate choice for students looking for a more flexible BSN schedule.
The University of Nevada in Reno features an accredited BNS pathway with an excellent curriculum.
| School Name | Address |
| --- | --- |
| Great Basin College | 1500 College Pkwy, Elko, NV 89801 |
| University of Nevada - Las Vegas | 4505 S Maryland Pkwy, Las Vegas, NV 89154 |
| Arizona College | 2320 S. Rancho Drive, Las Vegas, NV 89102 |
| Nevada State College | 1300 Nevada State Dr, Henderson, NV 89002 |
| University of Nevada - Reno | 1664 N Virginia St, Reno, NV 89557 |
| Chamberlain University College of Nursing | 9901 Covington Cross Drive, Las Vegas, NV 89144 |
| Western Nevada College | 2201 W College Pkwy, Carson City, NV 89703 |
| Truckee Meadows Community College | 18600 Wedge Parkway, Building B, Reno, NV 89511 |
| Carrington College | 5740 S. Eastern Avenue, Suite 140, Las Vegas, NV 89119 |
| Roseman University of Health Sciences | 11 Sunset Way, Henderson, NV 89014 |
| College of Southern Nevada | 700 College Dr, Henderson, NV 89002 |
| Las Vegas College | 170 N Stephanie St, Henderson, NV 89074 |
Salary
In all professions, salary is calculated using various factors.
The years of professional experience and additional skills and certificates, education level, and location play an important role in determining salary.
A registered nurse in Nevada makes approximately $$65010 per year.
Annual Salary Range:
Annual Salary by Location:
| Location | Avg. Annual Salary |
| --- | --- |
| Las Vegas | $65,740 |
| Reno | $63,680 |
| Henderson | $65,480 |
| North Las Vegas | $65,740 |
| Sparks | $63,680 |
| Carson City | $63,930 |
| Elko | $53,970 |
| Boulder City | $64,850 |
| Mesquite | $64,790 |
| Fallon | $62,850 |
ADN Programs by State
---