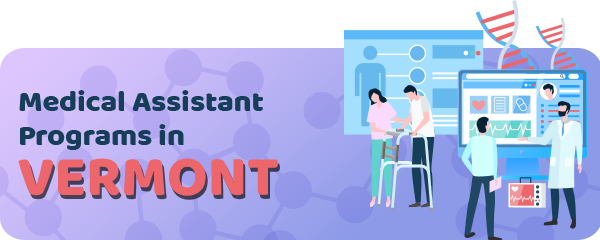 How to Become a Medical Assistant in Vermont
In Vermont, medical assisting has a future.
That's what the Department of labor in Vermont says so far.
This growth, of course, has some indicators that influence it.
Two factors have a significant influence on Vermont's demand for health care services:
Second-highest rate of health insured residents in the nation
The population of residents 65-and-older is more than two percentage points above the national average
To effectively compete for medical assistant jobs in Vermont, consider completing the following steps:
Learn About the Medical Assistant Qualifications in Vermont
Become a Qualified Medical Assistant
Maintain and Improve Your Skills
Pursue a Medical Assistant Job in Vermont
Step 1. Learn About the Medical Assistant Qualifications in Vermont
In Vermont, qualifications are an important factor to get hired in medical assisting.
Sponsored Listings
These qualifications must meet those of the requirements employers set.
In fact, in the state, physicians and other health care professionals do this.
According to the Department of Labor in Vermont the following recommendations for the medical assisting occupation are these:
Education – most employers require at least one of the following:

An associate's degree
Training in a vocational school
Relevant on-the-job experience

Training – informal training with experienced providers and at least one year of on-the-job training is usually associated with becoming a medical assistant
Experience – prior work-related skills, experience, or knowledge is required for this field
These qualifications are the same as those of the Department of Labor in its statement.
However, employers mostly look for these qualifications in their medical assistants:
Graduation from a medical assistant training program in Vermont
Associate's of science medical assistant degree
Graduation from a medical assistant certification program that confers:

Certified Medical Assistant (CMA) credential
Registered Medical Assistant (RMA) credential
Nationally Registered Certified Medical Assistant (NRCMA) credential
But employers also look out for the additional skills in their candidates.
To see what kind of skills they look for, check these job postings done lately in the field in Vermont:
The Gifford Medical Center in Sharon recently posted a medical assistant job description that required applicants to meet one of the following:

Have a medical assistant degree
Have experience working as an EMT
Have prior medical assisting training

Planned Parenthood in Williston was recently seeking to fill a Health Care Assistant position with a person who possessed the following:

Medical assistant certification
Bachelor's degree
Health center and administrative/clerical skills

The Orthopedic and Rehab Center on Granger Road in Barre was recently seeking a qualified medical assistant who would be responsible for clinical and front office duties. The Center specified a preference for graduates of a medical assistant course.
Step 2. Become a Qualified Medical Assistant
The second step to becoming a medical assistant in Vermont is to enroll in a medical assistant school there.
You can start with an accredited program from one of the organizations.
These are the Commission on Accreditation of Allied Health Education Programs (CAAHEP).
And the Accrediting Bureau of Health Education Schools (ABHES).
Attending programs that receive accreditation from the two will make it easy for you to qualify for other credentials in the field.
As a student in a Vermont medical assistant college setting, you can expect to take courses that include:
Micro computing applications
Medical terminology
Medical billing and coding for the medical assistant
Intercultural communication
Health psychology and bioethics
CPR and first aid
Human biology
Introduction to phlebotomy
Fundamentals of pharmacology
Administrative medical assisting
Clinical medical assisting
Medical assisting clinical practicum
Through attending these course topics, you will be able to continue with an associate's degree in medical assistance.
And as I said earlier, graduation from an accredited program from CAAHPE or ABHES will help you move on with credentials.
The main credentials to qualify within medical assisting in Vermont are:
Certified Medical Assistant (CMA)
The CMA credential is the most frequently accepted one in the entire medical assistant industry in the US.
Its sponsor is the American Association of Medical Assistants (AAMA).
To get the credential, you need to sot for and pass the CMA exam as well.
This exam is made up of three main categories of medical assisting, with 200 questions to answer.
The questions are multiple-choice and it takes 160 minutes to answer them all.
You can expect questions from the following subjects to be on your CMA Exam:
Administrative subjects

Medical reception, appointment scheduling, and finance management
Medical business practices and ethics
Creation of a patient's medical record

Clinical subjects

Anatomy and physiology
Documentation of care and patient intake
Infection control
Physician and patient medical assisting
Collecting and processing specimens
Administering and reporting diagnostic tests
Emergency management and first aid
Pharmacology

General subjects

Psychology, medical ethics, and communication
Professionalism, medical law, and regulatory guidelines
Safety, quality assurance, and risk management
Medical terminology
The application for the test can be done online.
While you have to go to the Prometric testing centers to take it.
The address is Burlington in Williston at 600 Blair Park Road, Suite 326.
However, throughout the region, there are many testing centers to look for.
Some of them can be found in Canada and nearby states.
Registered Medical Assistant (RMA)
This credential is recognized nationally in the US.
It is sponsored through the American Medical Technologists (AMT).
The main requirement for this credential is a CMA credential with the AAMA in the first place.
Only in this way, you will be allowed to take the RMA.
Nationally Registered Certified Medical Assistant (NRCMA)
This credential is given through the National Association of Health Professionals (NAHP).
You can apply for this certification after graduating from an accredited medical assistant academic program in the first place.
Then the next step towards it is an exam.
However, the entire process begins with the application form of the exam which you need to fill with the sponsoring organization.
Step 3. Maintain and Improve Your Skills
Apart from the continuing education units and standards you need to meet with the employer, you also need to maintain the requirements of the certification you've gained so far.
These maintenance requirements vary from the agencies.
These agencies requirements go as follows:
To maintain a CMA before it expires after 60 months, you must retake the CMA Exam or obtain at least 60 re-certification points as follows:

10 points relating to administrative duties
10 points relating to clinical duties
10 points relating to general duties

30 points from AAMA-approved continuing education units To maintain an RMA credential through the AMT you will need to pay an annual $50 membership charge and earn 30 Certification Continuing Program (CCP) points every three years.
To renew the NRCMA credential you must hold a current CPR card and finish at least two Class A Continuing Education Units (CEUs) each year. Additionally, you must also pay a yearly membership fee to the NAHP. The first time you renew your NRCMA you do not need to complete the CEU requirement.
Education will always be prior to any other maintenance requirements.
It is the means for career development, so you need to give it more attention.
For instance, college courses related to medical assisting can be in the same degree as the continuing education requirements for CMA, RMA and NRCMA credentials.
Also, a bachelor's degree in medical sciences would help you become a competitive candidate for jobs in Vermont's markets.
The Bachelor's degree may also help you become a nurse or a doctor in a long-term future.
Step 4. Pursue a Medical Assistant Job in Vermont
Pursuing a medical assistant job in Vermont is necessary after being done with your education.
In fact, it is normally.
As you start your research for a job, you need to check the statistics, regional employment figures and so on.
You should know that there are nearly 690 medical assistants in work relations in the state.
Considering it regionally, it goes like this:
Burlington and South Burlington area: 340
Southern Vermont region: 220
Northern Vermont region: 130
There are two industries in Vermont that employ 95 percent of all medical assistants:
Ambulatory health care services – 71 percent of all medical assistants or approximately 454 individuals
Hospitals – 24 percent of all medical assistants or approximately 149 individuals
Besides these popular locations, medical assistants are also qualified to work in Vermont's long term care facilities and community health centers.
But that's not all.
You need another thing.
And that's networking.
Networking is a good way to learn more about the changes in legal issues, education opportunities and employment in the field.
This information can be found easily when in touch with credentialing agencies such as AAMA, AMT, and NAHP.
The Best Medical Assisting Schools in Vermont
There is only one Medical Assisting Schools available in Vermont.
But that's not a problem.
You will be able to pursue all kinds of programs and certifications that are given in the state.
There are three credentials to pursue there.
But of course, after finishing an accredited program in these schools first.
| School Name | Address |
| --- | --- |
| Community College of Vermont | Winooski, VT |
Sponsored Listings
Medical Assisting Salaries in Vermont
If you're interested to pursue an education in medical assisting in Vermont, you will also ask for a suitable salary as well.
However, the salary will depend on the efforts you give in education.
The more qualified you are in the field, the more you get paid.
It's a GIVE&TAKE offer.
Annual Salary Range:
Annual Salary by Location:
| Location | Avg. Annual Salary |
| --- | --- |
| Burlington | $35,182 |
| Essex | $35,182 |
| Rutland | $35,498 |
| Colchester | $35,182 |
| South Burlington | $35,182 |
| Bennington | $36,146 |
| Brattleboro | $36,219 |
| Hartford | $36,622 |
| Milton | $35,161 |
| Barre | $34,861 |
Regional Salary in Vermont
| Region | Employed | Avg. Annual Salary | Avg. Hourly Pay | Top 10% Annual Salary | Bottom 10% Annual Salary |
| --- | --- | --- | --- | --- | --- |
| Burlington-South Burlington, VT | 720 | $42,590 | $20.48 | $48,480 | $36,130 |
* Salary information based on the May 2022 Occupational Employment Statistics (OES) Survey for Medical Assistants, OCC Code 31-9092, BLS.
* Employment conditions in your area may vary.
Medical Assisting by State
---