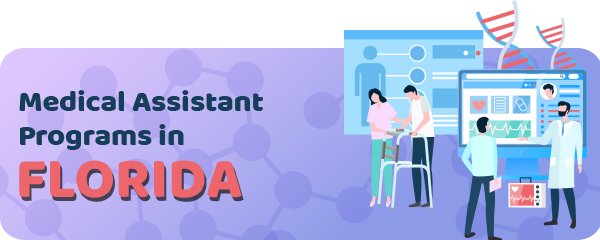 How to Become a Medical Assistant in Florida
To become a medical assistant in Florida, you need to follow these steps:
Completing a Medical Assistant Education Program in Florida
Passing a Certification Examination
Maintaining Your Medical Assistant Credential
As from the gathered statistics, Florida has the highest level of medical assistants employed in its areas in 2013.
The year numbered 39.030 employees in the state.
But this numbering did not stop.
Because the Florida Department of Economic Opportunity projects even today the job increase from 22.4% during 2013 and 2021.
The state has a clear definition of what a medical assistant does at work.
Sponsored Listings
In general, their work is supervised by a licensed physician.
However, the main duties set upon him are these:
Perform dialysis procedures (includes home dialysis)
Perform office and administrative duties and procedures
Perform basic laboratory procedures
Administer medication as a physician directs him or her to do
Collect routine laboratory specimens as a physician directs him or her to do
Operate office medical equipment
Assist with patient treatments
Assist with patient examinations
Observe and report patient signs and symptoms
Perform venipunctures and nonintravenous injections
Prepare patients for a physician's care
Take vital signs
Perform aseptic procedures
To work as a medical assistant, however, does not require any specialized education or training from the state.
But, it is for sure that employers hesitate to hire candidates who do not have any formal education or training at all.
Step 1. Completing a Florida Medical Assistant Education Program
Before choosing a medical assisting program in Florida, the student must check if it's accredited or not.
In the state, there are two accrediting bureaus functioning, which students can contact for information.
The number of programs that are accredited is not little.
Below  you can see which programs are accredited from the particular accrediting body in Florida:
Commission on Accreditation of Allied Health Education Programs (CAAHEP):

Winter Park
Miami
Pensacola
Lake Worth
Davie
Bradenton
Naples Tallahassee
Eustis
Daytona Beach
Fort Pierce
Mulberry
St Augustine
Tampa
Orlando
Melbourne
Lakeland
Ocala
Accrediting Bureau of Health Education Schools (ABHES):

Sebring
Boca Raton
Tampa
Pembroke Pines
Kissimmee
Brandon
Altamonte Springs
Jacksonville
Pensacola
Miami
Fort Lauderdale
Pompano Beach
Naples
Fort Myers
Port Charlotte
Miami Gardens
Orlando
Lakeland
Deland
West Palm Beach
Ocala
New Port Richey
Orange Park
Spring Hill
Fern Park
Port St Lucie
St Petersburg
Delray Beach
Courses that you will take in a medical assistant program and skills/competencies you will learn include:
Therapeutic care
Endocrinology/reproduction
Laboratory procedures
Cardiopulmonary procedures
Medical insurance
Health sciences
Clinical assisting
Pharmacology
Patient care
Communication
Besides education, practice is also immensely important to succeed in medical assisting.
The candidates can choose to take part in medical assisting practiced while working with trained medical professionals.
This way, they will be able to use their knowledge and skills in practice.
Possible internships that fit medical assisting in Florida are the following:
Pulmonary Associates of St. Augustine – St. Augustine
Titan Medical Center – Tampa
Cleveland Clinic- Weston
BayCare Health – Tampa
Shands Healthcare – Gainesville
Treasure Coast Urgent and Family Care – Stuart
The Heart and Vascular Institute of Florida – Safety Harbor
Women's Care Florida- Winter Park
Palm Beach Gardens Medical Center – Palm Beach Gardens
Bayfront Health System-St Petersburg
The end result of your medical assistant program may be a certificate, diploma or degree, that may include:
Diploma in Medical Assisting
Diploma in Medical Assistant Technician
Diploma in Medical Assistant with Basic X-Ray
Associate of Science in Medical Assisting
Associate of Science in Health Sciences – Medical Assistant
Associate of Occupational Science in Medical Professional – Concentration in Medical Assisting
Step 2. Passing a Certification Examination
Certification in Medical Assisting is not a must to finding a job in Florida.
But it is an added value to employers since certified candidates will do better and be able to rise in their career in the future as well.
Certified Medical Assistant (CMA) of the American Association of Medical Assistants (AAMA).
This credential is earned by passing the CMA Certification/Recertification Exam.
The exam is held at Prometric centers.
These centers are located in these areas of Florida:
Jacksonville
Gainesville
Miami
Boca Raton
West Palm Beach
Fort Myers
Maitland
Sarasota
Tampa
Temple Terrace
Registered Medical Assistant (RMA) of the American Medical Technologists (AMT).
This credential is earned by passing the RMA Certification Exam.
The exam can be taken Pearson Vue test centers, which are located in these Florida cities:
Altamonte Springs
Orlando
Tampa
Sarasota
Avon Park
Ocala
Naples
Port St Lucie
Fort Myers
St Petersburg
Step 3. Maintaining Your Medical Assistant Credential
The journey of becoming a Medical Assistant in Florida is a bit long, but it is worth it.
After being done with the education, training, and practice, certification gives you the final embrace.
However, different credentials do not last forever.
They have an expiration date.
Hence CMAs must be renewed every 60 months.
In this matter are included payment for certification fee, retesting as well as finishing other additional education.
Choosing the latter, the credential holder must fulfill 60 recertification points in the upcoming five years.
While 30 points of them must be met from AAMA-approved continuing education units (CEUs).
The RMA credential, on the other hand, must be renewed every year.
Part of the renewal will also be continuing education with AMT's Certification Continuation Program (CCP).
Apart from that, payment of a fee yearly is required as well.
Professional Organizations for Medical Assistants in Florida
Networking is a great way of being in touch with novelties and job prospects in every field.
And the same happens in the medical assisting network in Florida.
Joining the Florida State Society of American Medical Technologists as an RMA, for instance, is a good idea.
In this group, the candidate will be able to find job opportunities and grow professionally in the state.
Whereas, being a CMA in Florida means the certificate holder can join The Florida Society of Medical Assistants.
In this organization, the person will have the chance to find AAMA continuing education approved by the state, as well as be in touch with many medical professionals in his field.
The Best Medical Assisting Schools in Florida
There are many school options to consider when pursuing a Medical Assisting career in Florida.
However, as an aspiring student in the field, one should always choose an accredited program.
And of course, choose his own preferred program as well.
| School Name | Address |
| --- | --- |
| American College for Medical Careers | Orlando, FL |
| American Health Institute | Port Richey, FL |
| American Institute-Margate | Margate, FL |
| ATA Career Education | Spring Hill, FL |
| Atlantic Technical College | Coconut Creek, FL |
| Broward College | Fort Lauderdale, FL |
| Brown Mackie College-Miami | Miramar, FL |
| Burnett International College | Boynton Beach, FL |
| Central Florida Institute | Palm Harbor, FL |
| City College-Altamonte Springs | Altamonte Springs, FL |
| City College-Fort Lauderdale | Fort Lauderdale, FL |
| City College-Gainesville | Gainesville, FL |
| City College-Miami | Miami, FL |
| College of Business and Technology-Cutler Bay | Cutler Bay, FL |
| College of Business and Technology-Flagler | Miami, FL |
| College of Business and Technology-Miami Gardens | Miami Gardens, FL |
| Concorde Career Institute-Jacksonville | Jacksonville, FL |
| Concorde Career Institute-Miramar | Miramar, FL |
| Concorde Career Institute-Orlando | Orlando, FL |
| Concorde Career Institute-Tampa | Tampa, FL |
Medical Assisting Salaries in Florida
Medical Assisting Salary in Florida is really satisfying.
Its what tempt candidates to enter the field.
However, the salary can vary from many factors.
The key factor is the educational level.
So, the more qualified you are in your profession, the better the salary you will get.
Annual Salary Range:
Annual Salary by Location:
| Location | Avg. Annual Salary |
| --- | --- |
| Jacksonville | $33,662 |
| Miami | $34,721 |
| Tampa | $33,893 |
| St. Petersburg | $33,954 |
| Hialeah | $34,454 |
| Orlando | $33,929 |
| Fort Lauderdale | $34,636 |
| Tallahassee | $32,349 |
| Hollywood | $34,636 |
| Pembroke Pines | $34,411 |
Medical Assisting by State
---