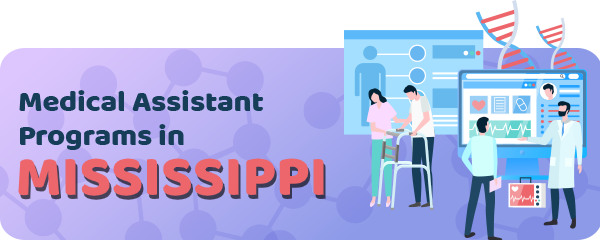 How to Become a Medical Assistant in Mississippi
If you've made your mind up to go for a medical assisting career in Mississippi, you've not gone wrong.
The state actually offers such an opportunity.
And while you're so close, why not use it!
I would like to begin with the good things, but let me be realistic.
In Mississippi, just like in other US states, medical assistants are not licensed.
This information comes from The Medical Assurance Company of the state.
Sponsored Listings
However, that's not a problem.
Medical Assistants have a future in the state already.
You can see that from how they are defined.
According to this company, medical assistants are medical professionals who perform their work under the supervision and guidance of the State Board of Medical Licensure in Mississippi.
The Board itself outlines the physician's responsibilities when it comes to their supervision of medical assistants.
Hence, when a medical assistant's actions are obligatory, the physician has the power to delegate him for this responsibility.
Though it is true that medical assistants are not licensed in the state, formal education is necessary for them to prosper in the field.
If you happen to be the one who wants to become a medical assistant in Mississippi, it is the time to do so.
You may wonder, how?
Well, the shortest route would be by completing the following steps:
Complete a Medical Assistant Education Program
Consider Pursuing National Certification
Look for a Job in Medical Assisting in Mississippi
Step 1. Complete a Medical Assistant Education Program
Education is crucial to professional preparation in any field.
When it comes to medical assisting in Mississippi, comprehensive education is the key.
In particular, you may attend a medical assisting program accredited from two major organizations in the state.
One of them is the Commission on Accreditation of Allied Health Education Programs (CAAHEP).
And the other is The Accrediting Bureau of Health Education Schools (ABHES).
These organizations are known to accredit many programs of medical assisting across the United States.
As such, these programs fulfill the requirements for national certification.
And they also prepare the candidate to become a competent and skilled entry-level medical assistant.
The degrees to be acquired in these programs can be diploma, certificate or associate degree programs.
The first, which is diploma programs, are usually shorter in length.
They take nearly one year to complete.
While associate degree programs, which can be A.S or A.S.S, take two years.
The third program, that of the associate degree may work well for those candidates who are interested to get more advanced degrees in the medical field.
These degrees can be nursing or medical administration.
To date, there are 2 programs accredited by CAAHEP and 4 programs accredited by ABHES in Mississippi.
Step 2. Consider Pursuing National Certification
In Mississippi, National Certification has become a symbol of advancement and competency in medical assisting.
Therefore, both employers and physicians ask for medical assistants who have acquired one or more national credentials.
In the state, the most searched credentials in the field of medical assisting are two.
The first one is the Certified Medical Assistant Credential, which can be taken through the American Association of Medical Assistants (AAMA).
While the second is the Registered Medical Assistant credential which can be taken through American Medical Technologists.
Both of these credentials demand an examination to get them.
Other recognized national certifications in medical assisting include:
• The Joint Commission on Allied Health Personnel In Ophthalmology: Certified Ophthalmic Assistant
• The American Society of Podiatric Medical Assistants: Podiatric Medical Assistant, Certified
• National Healthcare Association: Certified Clinical Medical Assistant
• National Center for Competency Testing: The National Certified Medical Assistant
Step 3. Look for a Job in Medical Assisting in Mississippi
After being done with education in medical assisting, finding a job is a must.
From the statistics of 2010, there were 3,020 medical assistants employed in the field.
This information was taken by the Mississippi Department of Employment Security.
The ten year period of employment, which will end in 2020, it is expected to grow into 3,370.
This means 350 medical assistant jobs, with a growth of 11.6%.
This number makes up an average of 80 job openings for these professionals in Mississippi.
However, the main job hunting for you as a prospective medical assistant is to look for hospital systems or physician groups.
While in the meantime, you may identify other professional organizations in the field, such as:
• University of Mississippi Medical Center
• University Physicians Pavilion, Jackson
• University Physicians, Grants Ferry, Flowood
• University Physicians, Lakewood Medical Center, Jackson
• University Physicians, Women's Specialty Care at Mirror Lake, Flowood
• University Physicians, Northeast Jackson
• Jackson Medical Mall, Jackson
• Keesler Medical Center at Keesler Air Force Base
• Baptist Memorial Hospital, Southaven
• Memorial Hospital at Gulfport
• Southwest Mississippi Medical Center, McComb
• Dominic Hospital, Jackson
The Best Medical Assistant Schools in Mississippi
Sometimes it's hard to do the right thing.
But when you have fewer options to choose from, it is easy.
In this case, there are only 11 Medical Assisting schools in Mississippi to choose from.
To choose right, you need to choose the right program and the location that is okay for you.
Then you can only study and do your best to succeed at it.
| School Name | Address |
| --- | --- |
| Antonelli College-Hattiesburg | Hattiesburg, MS |
| Antonelli College-Jackson | Jackson, MS |
| Blue Cliff College-Gulfport | Gulfport, MS |
| Delta Technical College | Horn Lake, MS |
| Healing Touch Career College | Hattiesburg, MS |
| Hinds Community College | Raymond, MS |
| Meridian Community College | Meridian, MS |
| Miller-Motte Technical College-Gulfport | Gulfport, MS |
| Northeast Mississippi Community College | Booneville, MS |
| Virginia College-Biloxi | Biloxi, MS |
| Virginia College-Jackson | Jackson, MS |
Sponsored Listings
Medical Assistant Salaries in Mississippi
After choosing the school, the salary will be a representation of the knowledge you've gained in it.
Because the more qualified and prepared in medical assisting, the better the salary you will get.
However, the salary does not depend on that solely.
It is also a matter of work experience, skills, and location.
Annual Salary Range: Annual Salary by Location:
| Location | Avg. Annual Salary |
| --- | --- |
| Jackson | $31,954 |
| Gulfport | $31,417 |
| Biloxi | $31,667 |
| Hattiesburg | $31,220 |
| Greenville | $31,763 |
| Meridian | $31,662 |
| Tupelo | $30,141 |
| Southaven | $33,060 |
| Vicksburg | $31,632 |
| Pascagoula | $31,413 |
Regional Salary in Mississippi
| Region | Employed | Avg. Annual Salary | Avg. Hourly Pay | Top 10% Annual Salary | Bottom 10% Annual Salary |
| --- | --- | --- | --- | --- | --- |
| Gulfport-Biloxi-Pascagoula, MS | 740 | $30,940 | $14.87 | $37,350 | $25,460 |
| Hattiesburg, MS | 350 | $30,670 | $14.74 | $37,290 | $26,520 |
| Jackson, MS | 750 | $33,170 | $15.95 | $41,500 | $27,480 |
* Salary information based on the May 2022 Occupational Employment Statistics (OES) Survey for Medical Assistants, OCC Code 31-9092, BLS.
* Employment conditions in your area may vary.
Medical Assisting by State
---