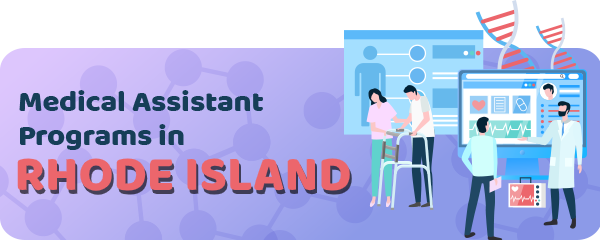 How to Become a Medical Assistant in Rhode Island
They say: "If you follow all the rules, you miss all the fun".
I reminded myself of this saying while looking for information related to medical assisting in Rhode Island.
Because obviously, medical assistants' issues here are not regulated by the state.
Whether that is good or bad, we will see it together.
First of all, when there are no rules set for the profession in the state, others will surely make some.
As a result, employers are allowed to set their own employment requirements for medical assistants.
Sponsored Listings
These minimum requirements are these:
Graduation from one of Rhode Island's medical assistant schools, resulting in a medical assistant degree at the associate's, bachelor's, or higher degree level
Completion of a medical assistant training program in Rhode Island that results in a diploma
Completion of a medical assistant certification program in Rhode Island, such as one resulting in the Certified Medical Assistant (CMA) credential.
Consider the following steps as you research how to become a medical assistant in Rhode Island:
Become  Well-Qualified Medical Assistant
Maintain and Develop Your Medical Assistant Qualifications
Consider the Job Market in Rhode Island
Step 1. Become a Well-Qualified Medical Assistant
In Rhode Island, medical assistants can complete their practice without the need for a license.
But they can perform only medical tasks that are related to their previous training.
However, if the tasks are related to laboratory work, they need to have a license as a laboratory professional or technician.
The license of the latter is a must if the medical assistants are required to do tests inside the laboratory and which do not need much free judgment.
In other words, the candidate needs to perform his or her tasks while a high ranking laboratory profession is supervising them.
In the state, the Rhode Island Department of Health is the key body to license laboratory professionals.
The licenses that are released for medical assistants are usually various laboratory licenses.
These licenses are so important that they have the opportunity of qualifying a medical assistant for a bachelor or an associate degree in science.
As we said earlier, employers have a role in the job prospect of medical assistants in the state.
They set the requirements for them.
Two of these requirements are crucial to employment and they open up opportunities for medical assistants to become competitive throughout the state's areas.
These are:
Clinical technician license
CMA credential
Clinical Technician License
To become a licensed Clinical Laboratory Technician you will need to meet one of the following conditions:
Have at least an associate's degree or 60-semester credits from a clinical laboratory or equivalent academic program
Have at least a high school diploma and have completed at least one year in an approved technician training program
Have achieved the title of Medical Laboratory Specialist in the military and completed an official military medical lab course at least 50 weeks in length
Other licensed medical assistants can receive in Rhode Island is the Licensed Clinical Histologic Technician.
To receive this license one needs to pass an exam approved by the Clinical Laboratory Science Board of the state.
As well as complete these requirements:
At least 60-semester credits or an associate's degree that includes:

Mathematics
12-semester credits of biology and chemistry
Histologic technique program or one year of histologic training conducted under the supervision of an experienced histopathologist

At least a high school diploma or it is equivalent and two years of full-time experience working under the supervision of an experienced histological professional in a licensed clinical lab
Receiving one of these clinical technician positions is possible through an online application.
After that, the candidate also has to submit the application with the Board of Clinical Laboratory Science of Rhode Island.
CMA Credential
This is the most commonly issued credential to medical assistants in Rhode Island.
The credential is acquired through the American Association of Medical Assistants (AAMA).
To become a CMA in the state, passing the exam for it is necessary.
The exam's aim is to test the knowledge of the candidate in three main areas of medical assisting.
These areas are:
General subjects
Administrative subjects
Clinical subjects
The exam will usually take 160 minutes to complete, with 200 questions to answer.
Just so you know, the questions are multiple-choice ones.
Before one takes this exam, it is necessary to have graduated first from a medical assisting academic program.
The program always needs to be accredited.
And if possible from these accrediting bodies in the state:
Commission on Accreditation of Allied Health Education Programs (CAAHEP)
Accrediting Bureau of Health Education Schools (ABHES)
Exam application so far can be done online.
While the test will be taken in Prometric testing centers across Rhode Island.
The areas to visit for the test are these:
Near Providence in Warwick at 2346 Post Road, Suite 104
Near Providence in Cumberland at 1300 Highland Corporate Drive, Suite 102A
Step 2. Maintain and Develop Your Medical Assistant Qualifications
Maintaining and developing further medical assistant qualifications are the first requirements of employers in Rhode Island.
But they do not stop HERE.
They consequently want to have their own continuing education and other professional development requirements for their candidates their hire as well.
For example, maintain the CMA credential through its sponsoring organization AAMA, the candidate must do a range of actions.
The credential, in essence, expires after 60 months.
Therefore, a renewal after this time is necessary.
For renewal, the CMA candidate must take an exam for the second time, as well as reach 60 points of certification.
These points are categorized like this:
10 points relating to administrative duties
10 points relating to clinical duties
10 points relating to general duties
30 points from AAMA-approved continuing education units
In addition, a candidate may also be required to maintain a clinical technician license as well.
These licenses are issued by the Rhode Island Department of health.
For this reason, a set of guidelines needs to be followed by the institution at the same time.
The license initially expires every two years.
Its expiration date is 1st January in even-numbered years.
Since a renewal is possible, the candidate must send a renewal fee to the Department of Health as well as meet these continuing education conditions:
Complete 30 hours of continuing education in the form of college courses, lectures, seminars, and training programs that are related to clinical laboratory practice
Meet the re-certification requirements for a national credential, which must include at least 15 hours of continuing education
Complete a continuing competency program offered by a national certification organization
For these credential renewal requirements, the candidates can also take college courses as fitting to the fields.
The college degree can, in fact, be a minimum requirement to be hired by employers as well.
So, medical assistants have several reasons to earn such a degree in medical sciences college.
This degree, in turn with reward the candidates with more knowledge and effective practices.
But also it can open their employment opportunities.
Usually, medical assistants who pursue such a college, end up choosing these careers in the future:
Physician assistant
Physical therapist
Registered nurse
Nurse practitioner
Medical doctor
Step 3. Pursue a Medical Assistant Job in Rhode Island
The demand for medical assistants in the state keeps growing.
And that for a few reasons.
First of all, the population of Rhode Island has greater access to health care services, which leads to interest and impact on them.
And second, the aging of the population.
Jut to give you a piece of evidence, there are 2,360 medical assistants in work relations across the entire state.
The highest number of them is focused in these cities:
2,690 in the Providence-Fall River-Warwick greater metropolitan area
490 in the Norwich-New London area
The wind of change comes everywhere.
And so does in medical assisting legislation order in Rhode Island too.
For this reason, a medical assistant is encouraged to stay in touch with the new changes therein.
Precisely, it is important to be in touch with changes in employment requirements, continuing education and license regulations.
Some of the state's largest employers of those working in the medical support industry include:
Miriam Hospital in Providence
Newport Hospital
Rhode Island Hospital in Providence
Roger Williams Medical Center in Providence
Westerly Hospital
Women and Infants Hospital of Rhode Island in Providence
Saint Joseph Health Services of Rhode Island in Providence
Kent County Memorial Hospital in Warwick
Memorial Hospital of Rhode Island in Pawtucket
South County Hospital Health Care System in Wakefield
Landmark Medical Center in Woonsocket
The Best Medical Assistant Schools in Rhode Island
If you choose to check Rhode Island for medical assisting education, it will not take you long.
So far, there are two schools offering programs in the field.
So, you only need to find the program you're interested in.
And see if it's properly accredited.
| School Name | Address |
| --- | --- |
| Lincoln Technical Institute-Lincoln | Lincoln, RI |
| Ridley-Lowell Business & Technical Institute | West Warwick, RI |
Medical Assistant Salaries in Rhode Island
Medical Assisting salaries in Rhode Island depend on many factors.
They depend on education, skills, work experience and the place you work at.
So, having or missing any of these will surely determine the salary you get by the end of the month.
Annual Salary Range:
Annual Salary by Location:
| Location | Avg. Annual Salary |
| --- | --- |
| Providence | $37,877 |
| Warwick | $37,837 |
| Cranston | $37,837 |
| Pawtucket | $37,837 |
| East Providence | $37,837 |
| Woonsocket | $37,801 |
| Coventry | $37,766 |
| North Providence | $37,837 |
| Cumberland | $37,837 |
| West Warwick | $37,837 |
Medical Assisting by State
---