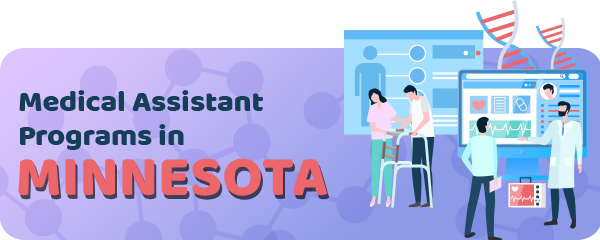 How to Become a Medical Assistant in Minnesota
The way to reach anything in life is through effort.
The effort in pursuing a Medical Assisting career path in Minnesota means following certain steps.
These steps are:
Complete an Education in Medical Assisting
Consider Testing for a National Credential
Enter the Workforce in Minnesota
Before anything else, let's see how the state defines medical assistants.
In Minnesota, Medical Assistants are considered unlicensed healthcare professionals.
They are in charge of doing a variety of medical instructional, financial, diagnostic, administrative and patient care tasks being directly supervised by a physician.
Sponsored Listings
Some of these duties, as recognized by the Minnesota Department of Employment and Economic Development are:
Preparing examination rooms for patients
Cleaning and sterilizing instrument
Performing laboratory tests
Giving injections and treatments to patients
Receiving payments
Completing insurance forms
Operating x-ray, EKG and other equipment for routine diagnostic tests
Giving physiotherapy treatments, including galvanic, hydrotherapy, and diathermy
Ordering medical supplies and materials
Scheduling appointments
Maintaining medical records
Step 1. Complete an Education in Medical Assisting
The first step to take towards a promising medical assisting career in Minnesota is enrolling a solid education inside the state.
According to the Minnesota Nurses Association, the role and the curriculum of the medical assistant are clearly known.
For instance, its role is to generally offer general assistance from the office.
Its role is far from rising any conflict between the roles of the number of licensed professionals at the same time.
As such, educational preparation for medical assistants in Minnesota is often focused on:
Communication
Legal concepts
Instruction
Operational tasks
Roles, functions, and responsibilities in the clinic
Patient care tasks under the direct supervision of a physician
Diagnostic procedures
Administrative procedures
Practice finance
In the state, medical programs are evaluated in terms of accreditation.
The most widely known national organizations in the state are two.
The first is the Commission on Accreditation of Allied Health Education Programs (ACCHEP).
While the second is the Accrediting Bureau of Health Education Schools (ABHES).
In two of them, diploma, certificate and two-year associate degree programs are accredited.
These programs, however, vary in length and in terms of clinical and administrative studies.
However, they are created to prepare skilled and competent entry-level medical assistants.
All of them, by the end, culminates with a clinical externship.
This externship prepares students to use their skills and knowledge in a real-world environment.
From the CAAHEP programs, 19 are accredited.
While 15 of them are ABHES.
Apart from there, there is also a host of associate degree programs (A.S. and A.A.S.) which are accredited by ABHES in Minnesota.
Many of these programs are blended programs that offer both on-site and distance coursework.
Step 2. Consider Testing for a National Credential
Certification is a voluntary step to the medical assisting title.
However, national certification is a requirement from the employers.
Options for voluntary national certification include:
The American Association of Medical Assistants: Certified Medical Assistant Credential
American Technologists: Registered Medical Assistant (RMA)
National Center for Competency Testing: The National Certified Medical Assistant
National Healthcare Association: Certified Clinical Medical Assistant
The American Society of Podiatric Medical Assistants: Podiatric Medical Assistant, Certified
The Joint Commission on Allied Health Personnel In Ophthalmology: Certified Ophthalmic Assistant
Apart from so many credentials, still, the CMA and RMA credentials are the major ones in the Minnesota healthcare industry.
To qualify for the CMA exam, the candidate needs to complete prior a CAAHEP or ABHES program.
Whereas qualifying for the RMA exam, is possible by completing a medical assisting program with 720 clock hours and a clinical externship of 160 hours as well.
Step 3. Enter the Workforce in Minnesota
Minnesota Department of Employment and Economic Development the number of medical assistants employed in Minnesota is 9,080.
This is the estimated number for the first quarter of 2014.
The most concentrated number of medical assistant there was the Minneapolis-Saint Paul metropolitan area (6,630).
One way to enter the workforce in the state is to become a member of the Minnesota Society of Medical Assistants.
Medical assistant jobs in Minnesota can be found throughout a number of settings, such as hospitals, physician groups, and ambulatory care centers.
Therefore, you may begin your job search by identifying some of the largest medical groups and hospital systems in the state, such as:
University of Minnesota Physicians, Minneapolis
Duluth Clinic, Duluth
Allina Health Medical Clinic, Coon Rapids
Park Nicollet Clinic, Burnsville
Mayo Clinic, Rochester
Abbott Northwestern Hospital, Minneapolis
Mercy Hospital, Coon Rapids
University of Minnesota Medical Center, Minneapolis
Cloud Hospital, St. Cloud
North Memorial Hospital, Robbinsdale
Johns Hospital, St. Paul
Fairview Southdale Hospital, Edina
The Best Medical Assisting Schools in Minnesota
Minnesota is home to over 20 medical assisting schools.
Its programs are accredited from different accrediting organizations.
Programs are usually mandatory to attend.
In them, you will be able to get various degrees, depending on your choice.
| School Name | Address |
| --- | --- |
| Academy College | Minneapolis, MN |
| Anoka Technical College | Anoka, MN |
| Argosy University-Twin Cities | Eagan, MN |
| Central Lakes College-Brainerd | Brainerd, MN |
| Century College | White Bear Lake, MN |
| Dakota County Technical College | Rosemount, MN |
| Duluth Business University | Duluth, MN |
| Everest Institute-Eagan | Eagan, MN |
| Globe University-Woodbury | Woodbury, MN |
| Hennepin Technical College | Brooklyn Park, MN |
| Lake Superior College | Duluth, MN |
| Minneapolis Business College | Roseville, MN |
| Minnesota School of Business-Blaine | Blaine, MN |
| Minnesota School of Business-Brooklyn Center | Brooklyn Center, MN |
| Minnesota School of Business-Elk River | Elk River, MN |
| Minnesota School of Business-Lakeville | Lakeville, MN |
| Minnesota School of Business-Moorhead | Moorhead, MN |
| Minnesota School of Business-Plymouth | Plymouth, MN |
| Minnesota School of Business-Rochester | Rochester, MN |
| Minnesota School of Business-Shakopee | Shakopee, MN |
| Minnesota School of Business-Waite Park | Waite Park, MN |
| Minnesota West Community and Technical College | Granite Falls, MN |
Minnesota Medical Assisting Salaries
Medical assisting job prospect is developed in Minnesota.
The salary usually shifts from a minimum to a maximum.
While an average overall state is always constant.
Annual Salary Range: Annual Salary by Location:
| Location | Avg. Annual Salary |
| --- | --- |
| Minneapolis | $37,998 |
| St. Paul | $37,998 |
| Duluth | $33,889 |
| Rochester | $34,604 |
| Bloomington | $33,675 |
| Brooklyn Park | $35,981 |
| Plymouth | $34,672 |
| Eagan | $33,883 |
| Coon Rapids | $35,788 |
| Burnsville | $37,981 |
Medical Assisting by State
---