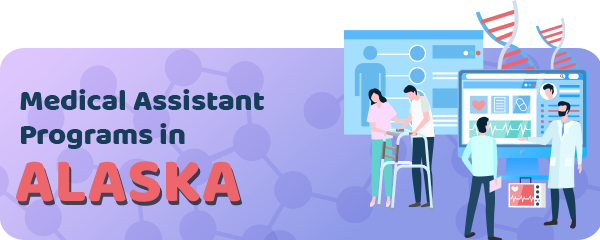 How to Become a Medical Assistant in Alaska
A great scholar once said: "The worth of any deed is proved by its fruits".
Hence, the fruit of a good education is always a prosperous life and a good job to spend it in.
In Alaska, the Medical Assisting field seems to have a good past, an amazing present, and definitely a promising future.
But my opinion does not come by default.
Because I base it on Alaska's Department of Labor and Workforce Development.
According to its findings, in May 2014, around 1,414 Medical Assistants were in job relations.
Sponsored Listings
While it also reports 66 job openings in a year.
And all this related to Medical Assistants in the state of Alaska.
But this is not the only Health Institution that deals with similar issues of the field.
Furthermore, The Alaska State Medical Board defines the Medical Assistant as well.
According to it, Medical Assistants enter the range of unlicensed assistive personnel, in whose charge office and clinical functions are given.
They work under the supervision of the Primary treating physicians, who are also in charge of patient care also.
Their duties are mainly routine ones, which sounds easy, right?
That's true because becoming a Medical Assistant in Alaska is primarily a matter of training.
But of course, the issue is elective.
Which means you can choose to also gain a diploma or certificate.
If you do the latter, you will surely be more professional and successful in your field.
So both ways are tempting and useful.
It depends on your aim.
However, becoming a Medical Assistant in Alaska is a matter of meeting a few conditions.
These are usually some requirements set from the state, which include:
Completing a Diploma or Degree Program in Medical Assisting
Considering National Certification
Connecting with other Professionals in Medical Assisting in Alaska
Completing a Diploma or Degree Program in Medical Assisting
Attending a degree Program in Medical Assisting is a must to receive a diploma or certificate in the end.
The program you choose needs to be of high-quality, which means it needs to be accredited.
In the United States in general, there are two major accrediting organizations to look for.
The first one is the Commission on Accreditation of Allied Health Education Programs (CAAHEO).
While the second is the Accrediting Bureau of Health Education Schools (ABHES).
If you look for them, you will see both accredit Medical Assisting programs that give diploma, certificate and associate degrees for its students.
All of the degrees help the students in the profession.
With either of them, a Medical Assisting student will be a clinical or administrative medical assistant.
Apart from that, medical assisting programs also offer a practical part.
This practice helps the students use their knowledge and skills in real-world settings.
The beauty of enrolling in a medical assisting program in Alaska is that you can enroll it online as well.
In this respect, two CAAHEP medical assistant programs are currently functioning in the state.
Both of them release certificates related to the program.
However, if you want to become a medical assistant in the state, you can do that and even more.
That is, you can administer medication.
To do so, you need to complete a training course as part of the administration of medication.
This training is prior approved by the Alaska Board of Nursing, which is okay for you.
National Certification
National Certification is a solution to many Medical Assisting students, due to the fact that Alaska does not offer practice in the state for a license.
So national certification shows that students are committed to education and profession in general.
National certifications are many.
Some require attending a medical assisting program, but some don't.
But the following certifications are some that can be achieved in medical assisting at a national level:
The Joint Commission on Allied Health Personnel In Ophthalmology: Certified Ophthalmic Assistant
The American Society of Podiatric Medical Assistants: Podiatric Medical Assistant Certified
The American Association of Medical Assistants: Certified Medical Assistant credential
National Healthcare Association: Certified Clinical Medical Assistant
National Center for Competency Testing: The National Certified Medical Assistant
The functions of Medical Assistants may seem routine, but sometimes they can have minor additional changes.
For instance, they can sometimes receive work of injectable medication from the nurse practitioners.
However, having the license, a medical assistant is considered as nationally certified in the field.
The certification will be made from a national body that is accreditation from the National Commission for Certifying Agencies (NCCA)
Students, however, can receive their Medical Assisting certification from certification programs such as American Medical Technologists (AMT), as well as the Registered Medical Assistant credential (RMA).
The road to certification, of course, is through an exam.
To take the certification exam, the student must meet some requirements that the credentialing organizations' sets for each candidate.
Connect with Other Professionals in Medical Assisting in Alaska
Connecting with other people is the easiest way to reach your goals.
If you befriend people who aim the same things as you, your inspiration will surely grow.
So connecting with Medical Assistants in Alaska can be done through the Alaska Medical Assistant Society.
This way, you will be aware of the changes and progress in your profession.
Apart from that, you will also be an active member in professional gatherings or associations.
The Alaska Medical Assistant Society has four chapters throughout the State, including:
The Anchorage Chapter
The Interior Region Chapter
The Mat-Su Valley Chapter
The Kenai Peninsula Chapter
The Southeast Alaska Chapter
While you may also look for job opportunities through the state's largest medical groups:
Providence Alaska Medical Center, Anchorage
PeaceHealth medical Groups, Ketchikan
Mat-Su Regional Medical Center, Palmer
The Best Medical Assisting Schools in Alaska
Medical Assisting Schools in Alaska can be searched at a national level.
Otherwise, a Medical Assisting student may also seek a diploma or certification, depending on the program choice.
| School Name | Address |
| --- | --- |
| Alaska Career College | Anchorage, AK |
| Charter College-Anchorage | Anchorage, AK |
| University of Alaska Anchorage | Anchorage, AK |
| University of Alaska Fairbanks | Fairbanks, AK |
Medical Assisting Salaries in Alaska
Because of so many job opportunities in the field, it is obvious that Medical Assisting Salaries in Alaska are not bad.
You can see that also based on an average of 39982 per year.
Though it is sure that the salary will have both ups and downs.
However, the salary depends on many factors.
Qualification, location, and work experience are some of these factors.
But one thing is sure, the work you do will be valued and also paid well.
So, do your best to receive the same back to you!
Annual Salary Range: Annual Salary by Location:
| Location | Avg. Annual Salary |
| --- | --- |
| Anchorage | $39,704 |
| Juneau | $39,315 |
| Fairbanks | $39,633 |
| Sitka | $38,780 |
| Ketchikan | $38,780 |
| Kenai | $39,169 |
| Kodiak | $39,169 |
| Bethel | $39,169 |
| Wasilla | $39,169 |
| Barrow | $39,098 |
Medical Assisting by State
---