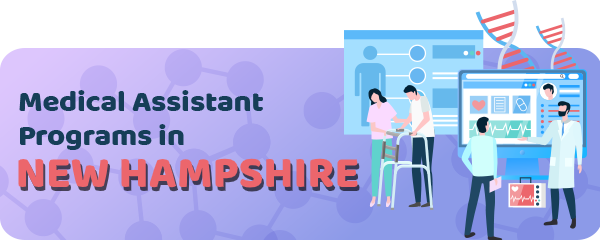 How to Become a Medical Assistant in New Hampshire
There's a nice quote: "Wherever you go, go with all your heart".
The next medical assisting destination is New Hampshire.
If you go there with the purpose of creating a medical assisting career, you will make it happen.
You may wonder, why?
Well, the New Hampshire Market Information Bureau reported that the perspective for medical assistants in this state is really promising.
In fact, it is expected that by 2012 and 2022, job opportunities in the state will increase to 22.6%, which means 80 jobs per year.
Sponsored Listings
However, that's not the only report.
The Bureau of Labor Statistics in the US Department of Labor indicated that in New Hampshire medical assistants earn an average salary per year of $32,180.
This report was done in 2013.
It is to be mentioned that in some areas of the state, workers earned even higher than the average.
An example worthy of mention is the Lowell-Billerica-Chelmsford MA-NH earned an average of $35,460 per year.
While in Haverhill-North Andover Amesbury MA-NH, medical assistants earned an average of $35,390.
To become a well-qualified medical assistant job candidate in New Hampshire, follow these steps:
Complete Medical Assistant Education
Pass a Certification Examination
Learn the Duties of a New Hampshire Medical Assistant
Maintain Your Medical Assistant Credential
Step 1. Complete a Medical Assistant Education
Since in New Hampshire medical assistants are not licensed, they need training and education cost what it may.
One reason they need these so much is that these features open their opportunities for employment.
The same happens with the national certification.
It is not a must in the state, but to build credentials it is necessary to have it.
There are two major accreditation bureaus for medical assistant programs nationally:
• Commission on Accreditation of Allied Health Education Programs (CAHEP):
o These programs are found within the following cities in New Hampshire:
 Berlin
 Claremont
 Manchester
o These programs lead to the following certificates/degrees in New Hampshire:
 Certificate – Medical Assistant Professional
 Diploma- Medical Assistant
 Certificate – Certified Medical Assistant
 Associate of Science- Medical Assistant
 Bachelor of Science – Health Care Management
• Accrediting Bureau of Health Education Schools (ABHES):
o These programs are found within the following city in New Hampshire:
 Manchester
o These programs lead to the following:
 Certificate – Professional Medical Assistant
You can expect to take the following classes as you work to become a medical assistant in New Hampshire:
• Introduction to Psychology
• Medical Law and Ethics
• Insurance for the Medical Office
• Medical Office Procedures
• Medical Terminology
• Human Body
• Introduction to Pharmacology
• Phlebotomy
• Practicum
Practicum is the last part of the Medical assisting program in New Hampshire.
Its length depends on the requirements the schools' set on the student.
By attaining it, the candidate will be able to work in a medical facility soon enough.
The candidate will basically, will work under the supervision of licensed health care professionals (such as nurses or physicians).
He or she will be performing the skills and duties they have learned in the medical assistant education program in New Hampshire.
Examples of possible practicum placement locations include:
• Family Care of Concord- Concord
• Frisbie Memorial Hospital – Rochester
• Lamprey Health Care – Nashua
• Ledgewood Bay Assisted Living and Memory Care – Milford
• Catholic Medical Center – Manchester
• Wentworth-Douglas Hospital – Dover
• Pleasant Street Family Medicine – Concord
• Huggins Hospital – Wolfeboro
• Southern New Hampshire Medical Center – Nashua
• Littleton Regional Healthcare- Littleton
Step 2. Pass a Certification Examination
National certification is not a must to work in medical assisting in New Hampshire.
Anyway, it is a reality that most of the education programs help the students prepare for the Certified Medical Assistant exam.
Or the CMA.
This credential can be taken by the American Association of Medical Assistants (AAMA).
The second credential is the Registered Medical Assistant (RMA).
This exam can be taken through the American Medical Technologists (AMT).
Considering these credentials, it is common that many employers are looking for candidates who have already one of these credentials.
However, the credential and the organization through which you take it is a personal choice.
In order to get the CMA credential, you need to be tested at it first.
This test is the CMA Certification, Recertification Exam, which is sponsored by AAMA.
To do well in the exam, you may consider study resources available in Prometric centers of New Hampshire.
As well as nearby states as these:
• Concord, NH
• North Andover, MA
• Portsmouth, NH
• Lowell, MA
• Burlington, MA
As soon as you pass the CMA exam, you will be qualified with the Certified Medical Assistant Credential.
The certificate will be sent by mail from the AAMA organization right away.
The same procedure applies to the RMA credential.
First, you need to pass the RMA exam through AMT.
To prepare for the exam, you may consider visiting testing centers at Pearson Vue and find available study resources.
These centers are located in:
• Concord, NH
• Waltham, MA
• Wellesley, MA
• Boston, MA
Passing this exam will earn you the RMA credential.
Step 3. Learn the Duties of a New Hampshire Medical Assistant
Medical Assistants in New Hampshire have their own share of duties at work.
These duties are regulated by law.
So, it needs to be known what is legal and what is not in relation to their medical aspect.
This regulation is done through certain documents that tell them what to perform in a medical setting.
The Medical Assistant Position Statement by the New Hampshire Board of Nursing specifies that medical assistants may perform the following duties under the supervision of a licensed nurse.
These duties are:
• Medication administration, as long as the medical assistant has completed formal education in pharmacology and is competent in this duty
• Suture removal if from a simple incision or superficial laceration
• Phone screening of patients to collect demographic data and document symptoms only
The position statement notes that medical assistants, on the other hand, are not allowed to:
• Administer narcotics
• Administer IV medications
• Administer controlled substances
• Insert IV's or conduct IV therapy, including central venous access
• Conduct telephone triage of patients to determine the urgency and complexity of conditions
Other duties that medical assistants may commonly perform in New Hampshire include:
• Drawing blood
• Collecting/preparing laboratory specimens
• Phone prescriptions to a pharmacy
• Prepare patients for examination, including taking vital signs and medical histories
• Assist physicians during examination
• Schedule appointments, fill out insurance forms, handle billing/bookkeeping and answer telephones
• Arrange laboratory services and hospital admissions by telephone
Step 4. Maintain Your Medical Assistant Credential
Getting a CMA or RMA credential is not the end.
You need to maintain it.
In essence, the CMA expires in 60 months.
Before the time of expiration comes, the candidate needs to do two things.
One of them is doing a continuing education of 60 units (CEUs), 30 of which need to be approved by the AAMA.
Or else, the candidate needs to certify or recertify through the exam again.
As an RMA, the candidate can renew his or her credentials once a year.
This can be done by completing 30 certification points every 36 months.
The procedure must be done under the AMT's Certification Continuation Program (CCP).
Professional Organizations for Medical Assistants in New Hampshire
In New Hampshire, you can find professional organizations where you can get a membership in.
If you happen to be a CMA, you may become a member of the AAMA's local chapter.
This is the New Hampshire State Society of Medical Assistants.
Its members are from the state itself, but also from other nearby states such as Maine, Vermont, and Massachusetts.
On the other hand, as an RMA, the candidates may join the local chapter of AMT.
This is the Maine New Hampshire State Society of American Medical Technologists.
As members of it, they can have networking and continuing education opportunities for long.
The Best Medical Assisting Schools in New Hampshire
Medical Assisting is quite developed in New Hampshire.
But that does not come without effort.
A good education is a key to success.
New Hampshire is home to 5 Medical Assisting schools.
To see them, follow the end of this article.
| School Name | Address |
| --- | --- |
| InterCoast Career Institute-Salem | Salem, NH |
| Manchester Community College | Manchester, NH |
| River Valley Community College | Claremont, NH |
| Seacoast Career School-Manchester Campus | Manchester, NH |
| White Mountains Community College | Berlin, NH |
New Hampshire Medical Assisting Salaries
Education and salaries are tightly connected to each other.
The first is the means to achieve the second.
However, medical assisting salaries depend on other factors as well.
These factors are work experience, skills and the place you work in.
Annual Salary Range: Annual Salary by Location:
| Location | Avg. Annual Salary |
| --- | --- |
| Manchester | $37,730 |
| Nashua | $38,730 |
| Concord | $36,872 |
| Derry | $38,188 |
| Rochester | $36,437 |
| Salem | $37,873 |
| Dover | $36,587 |
| Merrimack | $38,730 |
| Londonderry | $38,730 |
| Hudson | $38,730 |
Medical Assisting by State
---