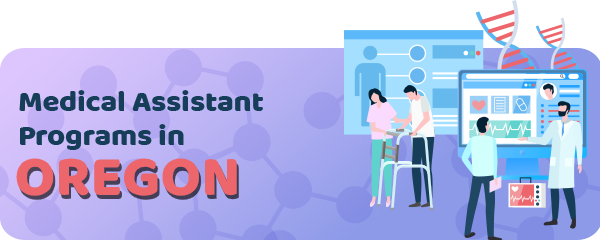 How to Become a Medical Assistant in Oregon
This life is most of the time cause and effect.
Something small leads to something bigger.
To become a medical assistant in Oregon you need to have previously graduated from high school.
The state does not regulate their issues, however, they are encouraged to stay in touch with the developments in the field.
But Oregon is not the only state in the US that does not regulate medical assistants' issues through law.
Many states have the same practice.
Sponsored Listings
But that does not stop any of them to make progress in the profession anyway.
As far as this profession is concerned, it takes knowledge and strategy to achieve the medical assistant title.
In simple words, you need to carefully follow certain steps to become one.
These steps are:
Meet the Medical Assistant Qualifications
Consider a Certified Medical Assistant (CMA) Credential
Maintain and Improve Your Medical Assistant Qualifications
Across the state you can expect to find medical assistants concentrated in the following areas:
Statewide – 7,940 medical assistants in total
4,880 in the Portland metropolitan area
910 in Salem
590 in Medford
550 in the Eugene and Salem area
480 in the southern Oregon-Linn metropolitan area
430 in Bend
320 in the coastal non-metropolitan area
310 in the north-central non-metropolitan area
220 in Corvallis
180 in the eastern non-metropolitan area
Step 1. Meet the Medical Assistant Qualifications
Graduating from a medical assisting program is a must to qualify for future work in medical assisting.
That's the first thing employers will check on the candidate they consider for work.
In addition, a credential will also be searched for.
For instance, the CMA credential.
This preference is present in many state's competitive markets in general.
In reality, the CMA Certified Medical Assistant is one of the most searched requirements of medical assisting.
In Oregon, this credential is offered by the American Association of Medical Assistants.
However, this credential also does not come alone.
You need to attach an associate or certificate degree of medical assisting program in the first place.
These degrees are usually accredited from two organizations in the state.
One of them is the Commission on Accreditation of Allied Health Education Programs (CAAHEP).
Or else, by the Accrediting Bureau of Health Education Schools (ABHES).
By the end of the coursework in the associate or certificate degree programs, you will have other classes.
These classes will be of various subjects such as:
Anatomy and physiology
Business mathematics
Business English
Fundamentals of medical insurance billing and coding
Medical assisting in a laboratory setting
Medical terminology
Pharmacology
Electronic medical administrative procedures
Medical assisting clinical procedures
Medical assistant software applications
Medical assisting practicum
Step 2. Consider a Certified Medical Assistant (CMA) Credential
The CMA credential comes with a price.
This price is always an exam to sit for and pass successfully.
The CMA credential can be taken after graduating from medical assistant schools.
The exam that comes by the end of the credential takes 160 minutes' time to finish.
While it is made up of 200 multiple-choice questions.
These questions cover three important areas of medical assisting:
General subjects

Psychology and communication
Medical terminology
Medical law and regulatory guidelines
Medical ethics and professionalism
Quality assurance, risk management, and safety

Administrative subjects

Medical reception and appointment scheduling
Patient advocate and navigator
Medical business practices and finance
Establishing a patient's medical record

Clinical subjects

Anatomy and physiology
Documentation of care and patient intake
Assisting the provider and patient preparation
Nutrition
Processing and collecting specimens
Diagnostic testing and infection control
Emergency management and first aid
Pharmacology
The CMA exam can be applied for online.
It is usually offered at Prometric testing centers in Oregon areas.
In Bend at 2150 Northeast Studio Road, Suite 10
In Eugene at 1020 Green Acres Road in the Delta Oaks Shopping Center, Suite 11
In Portland at two locations:

14623 Southeast Mcloughlin Boulevard
1122 Northeast 122ndAvenue, Suite A-107

In Medford at 101 South Bartlett Street
In La Grande near Baker City at 1901 Adams Avenue
Upon taking the exam, the candidate will be informed whether he or she has failed or passed it.
Ten weeks' time can take until he or she receives the pass notification.
Along with that, the candidate will also get the credential of Certified Medical Assistant as well.
However, if the candidate does not pass the exam, he or she can retake the CMA exam again.
He or she can do so three times.
The advantage of the CMA credential is that it is recognized nationally.
So if one moves to another US state, the credential will be recognized and applied the same there as well.
The most recent nationwide CMA Exam statistics reveal:
More than 16,000 candidates have taken the initial CMA Exam
Nearly 70 percent – 10,625 people – who took the exam last year passed
Last year than 26,000 medical assistants have re-certified as CMAs
Currently, there are 74,825 currently certified CMAs
Step 3. Maintain and Improve Your Medical Assistant Qualifications
Maintaining and improving medical assistant qualifications is something you need to do for yourself.
In Oregon, employers will let the employee maintain these credentials as they wish Usually, the CMA credential is the most important one to keep.
If a candidate has acquired this credential through the American Association of Medical Assistants (AAMA), he or she needs to renew it after 60 months.
He or she can do so by retaking the CMA exam.
Or else by making 60 recertification points as the model requires them to do:
At least 10 points relating to administrative duties
At least 10 points relating to clinical duties
At least 10 points relating to general duties
At least 30 points from AAMA-approved continuing education units
As far as the continuing education, you need to know that one college credit equals 15 re-certification points.
However, when talking about professional qualifications in medical assisting, there is always room for improvement.
This holds true especially when Oregon has become such an environment with highly increasing qualification opportunities in the field.
Some of the professional qualifications to improve there are:
Medical assistant certificates and diplomas
Medical assistant associate's of science degree
Bachelor's of Science degree in medicine or a related field
Master's degree of science or additional advanced degrees in the field of medicine
The variety of medical assistant qualifications to pursue in Oregon are also a relevant bachelor's and master's degree.
The classes held in these academic programs are equal to half the medical assistant's re-certification points.
Finishing a master's degree, however, will always be more appropriate since it will provide more health care positions in the field.
As a matter of fact, the frequency of credentials in medical assisting secures more employment opportunities as well.
On the other hand, a medical assistant also needs to think big and pass the initial medical assistant jobs in the state.
With the increase in qualifications, one may be able to have more opportunities in terms of specialization in the field.
You can always also consider obtaining additional education in a particular niche specialization of medical assisting.
The Medical Assistant Field in Oregon
Choosing ongoing qualification in medical assisting is a matter of choice for the candidates.
In this unregulated environment having competitive credentials can often be more important in terms of finding employment than it would be in a state with strict regulations in the field.
In pursuit of the medical assistant career in Oregon, a helpful step to take may be joining a professional organization such as the Oregon Society of Medical Assistants (OSMA).
This association has five local chapters throughout Oregon:
Central Oregon Chapter
Klamath Falls Chapter
Lane Chapter
Linn/Benton Chapter
River Cities Chapter
The OSMA is another professional support agency for medical assistants who perform both clinical and administrative duties in Oregon.
OSMA can provide you with useful information on a range of subjects, such as:
Information regarding the CMA credential and its maintenance
Continuing professional education and development opportunities
Employment information and resources
Quarterly reports regarding the strength of Oregon's medical assistant profession
Legislative news and updates pertaining to regulations governing the field of medical assisting
OSMA also encourages its members to obtain a CMA credential from the American Association of Medical Assistants.
The organization recently reported that Portland, in particular, is moving closer to adopting CMA as a minimum standard for employment as each year goes by.
The Best Medical Assisting Schools in Oregon
Below you can see 18 Medical Assisting schools across Oregon.
To help you find them, the addresses for each have been given.
| School Name | Address |
| --- | --- |
| Abdill Career College Inc | Medford, OR |
| Central Oregon Community College | Bend, OR |
| Chemeketa Community College | Salem, OR |
| Clackamas Community College | Oregon City, OR |
| Clatsop Community College | Astoria, OR |
| Columbia Gorge Community College | The Dalles, OR |
| Concorde Career College-Portland | Portland, OR |
| Everest College-Portland | Portland, OR |
| Everest Institute-Tigard | Tigard, OR |
| Institute of Technology Inc | Salem, OR |
| Lane Community College | Eugene, OR |
| Linn-Benton Community College | Albany, OR |
| Mt Hood Community College | Gresham, OR |
| Oregon Coast Community College | Newport, OR |
| Pioneer Pacific College | Wilsonville, OR |
| Portland Community College | Portland, OR |
| Southwestern Oregon Community College | Coos Bay, OR |
| Umpqua Community College | Roseburg, OR |
Medical Assisting Salaries in Oregon
Medical Assisting Salary in Oregon is to be discussed as well.
They do depend on a few factors.
These factors are education, skills, work experience and similar.
Annual Salary Range: Annual Salary by Location:
| Location | Avg. Annual Salary |
| --- | --- |
| Portland | $37,344 |
| Eugene | $35,022 |
| Salem | $36,047 |
| Gresham | $37,297 |
| Beaverton | $37,344 |
| Hillsboro | $37,225 |
| Medford | $33,474 |
| Springfield | $34,764 |
| Bend | $34,536 |
| Corvallis | $35,207 |
Medical Assisting by State
---