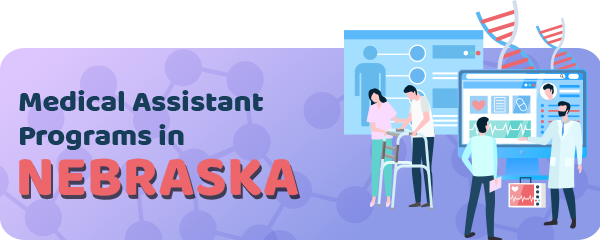 How to Become a Medical Assistant in Nebraska
Nebraska, known with its vibrant University capital, is home to Medical Assisting schools as well.
To prove that true, I will give you facts.
To begin with, the Nebraska Department of Labor gave a report of 3,170 medical assistants being in work relations in 2012.
The largest number of jobs was found out to be in the metropolitan areas where statistics were gathered.
These areas were Omaha and Lincoln.
Seeing these statistics back then, you may be interested to pursue a career in the field in the future.
Sponsored Listings
And there's never been a better time than now to do things that you want.
In concrete steps, you can start a career in medical assisting by following the following ones:
Learn about the Role of Medical Assistants in Nebraska
Complete an Accredited Program in Medical Assisting
Become a Nationally Certified Medical Assistant
Discover Employment Opportunities in Nebraska
Step 1: Learn about the Role of Medical Assistants in Nebraska
Before being anything, you need to know-how.
And also you need to know the thing you want to become.
The role of the medical assistants is one of these roles that need to be known if someone wishes to pursue a career in it.
However, in Nebraska, the medical assistants' role is not regulated by the state.
In other words, medical assistants do not even have a regulated practice either.
They lack licensing, certification and state registration.
Regardless of that, performing medical tasks, requires that medical assistants be authorized for them.
The services they offer in the state are mostly administration of medication administration.
Specifically, medical services performed by medical assistants in Nebraska is limited to:
Individuals who have the capability and capacity to make informed decisions about medications
Caretakers
Licensed healthcare professionals that have medication administration in their scope of practice
For the medical assistants to offer medication, the need to be part of the Nebraska Medication Aide Registry.
They need also to offer them according to the Nebraska Medication Aide Act.
This act is valid in all areas where medications are administered.
Home is an exception.
But if in-home administration of medication is given through a home agency that is licensed or certified or a community-based provider.
Step 2. Complete an Accredited Program in Medical Assisting
Completing an accredited medical assisting program in Nebraska is the first step to the career.
The program you attend needs to be accredited.
Accreditation can be taken from two organizations in the state.
One of them is the Commission on Accreditation of Allied Health Education Programs (CAAHEP).
While the second is the Accrediting Bureau of Health Education Schools (ABHES).
The two of them offer different programs such as certificate, diploma and associate programs.
Certificate and diploma programs take a year to finish.
As a result, they offer quick employment opportunities to the students.
On the other hand, associate degree programs take two years.
But they also prepare the students to prosper and advance in medical assisting soon after.
CAAHEP and ABHES programs offer administrative and clinical study in their programs.
They both also end up with clinical practice.
To let you know, there are 6 CAAHEP-accredited medical assistant programs and 1 ABHES-accredited medical assistant program in Nebraska.
Step 3. Become a Nationally Certified Medical Assistant
Right after the program, comes national certification.
In Nebraska, many organizations offer this certification.
The most widely accepted ones are the Certified Medical Assistant Credential (CMA).
This can be taken from the American Association of Medical Assistants.
While the second organization is the Registered Medical Assistant Credential (RMA).
This can be taken through the American Medical Technologists.
CMA and RMA credentials can be achieved in two ways.
First by completing an accredited medical assistant program.
And second, bypassing a national certification exam.
Other national credentials for medical assistants include:
National Center for Competency Testing: The National Certified Medical Assistant
National Healthcare Association: Certified Clinical Medical Assistant
The American Society of Podiatric Medical Assistants: Podiatric Medical Assistant, Certified
The Joint Commission on Allied Health Personnel In Ophthalmology: Certified Ophthalmic Assistant
Step 4. Discover Employment Opportunities in Nebraska
Medical assistants in Nebraska work in different locations and healthcare facilities.
These facilities are mainly physician's offices, ambulatory centers, and hospitals.
So, when pursuing a medical assisting career, these medical groups and hospital systems are the largest in the state which you should take into consideration for work:
Alegent Creighton Lakeside Hospital, Omaha
Alegent Creighton University Medical Center, Omaha
Bryan LGH Medical Center, Lincoln
Good Samaritan Hospital, Kearney
Methodist Hospital, Omaha
Nebraska Medical Center, Omaha
Nebraska Orthopedic Hospital, Omaha
Elizabeth Regional Medical Center, Lincoln
Apart from that, you can also become a member of any professional association.
An example of that can be the Nebraska Society of Medical Assistants.
Through becoming a member of it, you will have the opportunity to connect with other medical professionals in medical assisting.
As well as be in touch with the new advancement and happenings in the field.
Sound cool, right?
The Best Medical Assisting Schools in Nebraska
Nebraska has a relatively little number of medical assisting schools.
But you can easily finish there a quality education and graduate.
Education is crucial to this profession since it helps you grow in your career.
And also opens you more job opportunities in the future.
| School Name | Address |
| --- | --- |
| Central Community College | Grand Island, NE |
| Kaplan University-Lincoln Campus | Lincoln, NE |
| Kaplan University-Omaha Campus | Omaha, NE |
| Metropolitan Community College Area | Omaha, NE |
| National American University-Bellevue | Bellevue, NE |
| Nebraska Methodist College of Nursing & Allied Health | Omaha, NE |
| Southeast Community College Area | Lincoln, NE |
| Vatterott College-Spring Valley | Omaha, NE |
Medical Assisting Salaries in Nebraska
The medical assisting salaries in Nebraska are in accordance with your qualifications.
Qualification includes a variety of things.
To begin with, it includes education, work experience, skills and so on.
But these are not the only factors that determine the salary.
Location is also to be considered.
So, in general, you have to give your best to succeed.
As they say: Takes eat better, but givers sleep better!
Annual Salary Range: Annual Salary by Location:
| Location | Avg. Annual Salary |
| --- | --- |
| Omaha | $33,780 |
| Lincoln | $33,617 |
| Bellevue | $33,780 |
| Grand Island | $33,152 |
| Kearney | $33,152 |
| Fremont | $33,276 |
| Hastings | $33,152 |
| North Platte | $32,143 |
| Norfolk | $29,405 |
| Columbus | $33,152 |
Medical Assisting by State
---