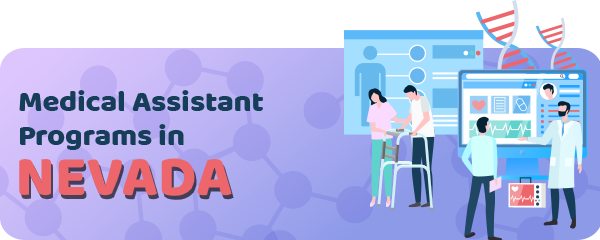 How to Become a Medical Assistant in Nevada
The number of medical assistants in Nevada is indeed huge.
For this reason, employers are constantly seeking prepared professionals who are both educated and trained in the field.
If you want to become one of these, it is not impossible.
You only need to complete a few steps.
These are:
Complete a Formal, Accredited Program in Medical Assisting
Achieve Nationally Recognized Credentials
Find a Job as a Medical Assistant in Nevada
Unlike other US states, Nevada recognizes medical assistant practice.
Sponsored Listings
As such it has a more complete career path.
For this reason, a medical assistant has been defined as well.
In short, medical assisting is considered someone who:
Performs clinical tasks under the supervision of a physician, osteopathic physician, or physician assistant;
Does not hold a license, certificate, or registration issued by a professional licensing board; and
Does not include a person who performs only administrative, clerical, executive, or other nonclinical tasks
After education, there's nothing wrong to trust medical assistants in their work.
So the state thinks the same.
The Nevada Legislature passed Senate Bill 294 in 2011.
Through it, it confirmed the authority of medical assistants to do and administer '' dangerous drugs''.
These drugs were considered as medications that require a prescription, except that they don't control substances.
So basically, there are allowed to complete these tasks as long as they're supervised by a physician or a physician assistant.
Step 1. Complete a Formal, Accredited Program in Medical Assisting
The first step to becoming a medical assisting is following a medical assisting program in the field.
You can either take a diploma, certificate or an associate degree program.
These programs are taken mostly by those who search for entry-level jobs in Nevada.
As for their length, associate degrees usually take two years to complete.
They work best for those who plant to pursue a post-secondary degree in healthcare in the future.
On the other hand, other degrees such as diploma and certificate programs have the same length and design.
Anyway, diploma programs seem to be more appropriate for those candidates who are interested to have another associate degree in medical assisting in the meantime.
It would be okay for them since they can transfer the coursework with the two quite easily.
Howsoever, all programs need accreditation to ensure the quality of education.
In Nevada, there are two major accrediting bodies to consider.
One of them is the Commission on Accreditation of Allied Health Education Programs (CAAHEP).
While the second is the Accrediting Bureau of Health Education Schools (ABHES).
Both of these programs offer the right coursework for those who want to become skilled and capable in medical assisting.
As such, they will also be able to do a variety of administrative and clinical tasks.
Of course, always being supervised by a physician or a medical professional.
As such, coursework often includes:
Human anatomy and physiology
Medical administration
Medical terminology
Coding and insurance processing
Pharmacology
Clinical and diagnostic procedures
Medical law and ethics
The programs end up with an externship.
At this point, a medical assistant will practice his or her knowledge and skills gained at the program in a real-world setting.
In Nevada, there is 1 CAAHEP-accredited medical assisting program and 5 ABHES-accredited medical assisting programs.
Step 2. Achieve Nationally Recognized Credentials
Voluntary national certification for medical assistants is available through a number of certifying bodies, including:
The American Association of Medical Assistants: Certified Medical Assistant credential
American Medical Technologists: Registered Medical Assistant
National Center for Competency Testing: The National Certified Medical Assistant
National healthcare Association: Certified Clinical Medical Assistant
The American Society of Podiatric Medical Assistants: Podiatric Medical Assistant, Certified
The Joint Commission on Allied Health Personnel in Ophthalmology: Certified Ophthalmic Assistant
The most streamlined route to eligibility is through the completion of an accredited medical assisting program.
Therefore, once you have completed a medical assisting program, you may apply to take a national certification examination and become nationally certified.
Step 3. Find a Job as a Medical Assistant in Nevada
The Nevada Workforce Informer reported a total of 5,370 medical assistants in the State, as of 2013.
The top employers of medical assistants during this time were:
Healthcare and social assistance
Ambulatory healthcare services
Offices of physicians
Outpatient care centers
Home healthcare services
Hospitals
Therefore, some of Nevada's largest employers of medical assistants are likely:
Valley Hospital Medical Center, Las Vegas
North Vista Hospital, North Las Vegas
Sunrise Hospital and Medical Center, Las Vegas
Desert Springs Hospital Medical Center, Las Vegas
Sunrise Children's Hospital, Las Vegas
South Virginia Medical Center, Reno
Carson Tahoe Regional Medical Center, Carson City
The Best Medical Assisting Schools in Nevada
Nevada offers accredited medical assisting programs to students.
In them, you can get different degrees.
So, as long as you're determined, you'll have enough options to choose from.
| School Name | Address |
| --- | --- |
| Everest College-Henderson | Henderson, NV |
| Healthcare Preparatory Institute | Las Vegas, NV |
| ITT Technical Institute-Henderson | Henderson, NV |
| Kaplan College-Las Vegas | Las Vegas, NV |
| Milan Institute-Las Vegas | Las Vegas, NV |
| Milan Institute-Sparks | Sparks, NV |
| Nevada Career Institute | Las Vegas, NV |
| Pima Medical Institute-Las Vegas | Las Vegas, NV |
Medical Assisting Salaries in Nevada
Whereas the salary will be in accordance with your qualifications.
This means you have to invest really well in the first, to get the second.
But the place also plays a huge role in the salary.
However, you should do your part, and then ask for what you deserve.
Annual Salary Range:
Annual Salary by Location:
| Location | Avg. Annual Salary |
| --- | --- |
| Las Vegas | $37,033 |
| Reno | $35,872 |
| Henderson | $36,890 |
| North Las Vegas | $37,033 |
| Sparks | $35,782 |
| Carson City | $36,015 |
| Elko | $30,405 |
| Boulder City | $36,533 |
| Mesquite | $36,497 |
| Fallon | $35,408 |
Medical Assisting by State
---