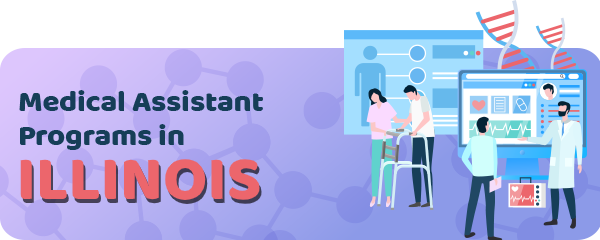 How to Become a Medical Assistant in Illinois
Michelle Obama wrote a whole book on the issue of Becoming!
I think that was a necessary call to all of us.
But of course, we all need to become in different ways.
Growing into a profession is just another prism of that journey.
And the US is giving everyone that opportunity in medical assisting.
But I just need to reach the right people.
Sponsored Listings
If you're the one reading this article and find yourself interested, keep reading.
To become a medical assistant in Illinois, you should consider completing the following steps:
Completing a Medical Assisting Education Program
Considering Pursuing National Certification
Learning More about Employment Opportunities for Medical Assistants in Illinois
Medical Assisting is quite empowered in Illinois.
To begin with, the Illinois Department of Employment Security reported 18,361 medical assistants who were in work relations back in 2012.
This number is expected to grow into 21,916 as we enter 2022.
This growth which is in a number of 3,555, is considered to be 19%.
Consequently, this will make great job opportunities and in general a successful career for those who enter the field.
However, the issue of the medical assistants in Illinois is regulated at the state level.
So in 2007, the legislature of the state proposed a revised Nurse Practice Act.
This act resolved many important issues related to medical assistants.
An important issue so far is still the delegation of tasks from physicians beyond registered nurses and licensed practical nurses.
The second time a similar act was repeated in regards to medical assisting as well.
This was the Illinois Medical Practice Act and the Illinois Administrative Code (Section 1285,335, Physician Delegation Authority).
According to these acts, a medical assistant can perform medical assisting tasks as long as physicians supervise their work directly.
However, these rules and regulations in the state, education is still mandatory to become a highly-qualified and professional medical assistant in the field.
Illinois does not yet provide license or certification in medical assisting.
So, education and training which are offered in many medical schools are crucial and prior to achieving success.
Step 1. Complete a Medical Assisting Education Program
A well-accredited program of Medical assisting in Illinois is made of exactly the necessary elements that are needed to make a qualified and prepared entry-level medical assistant.
Accrediting bodies that are available in the state are two.
One of them is the Commission on Accreditation of Allied Health Education Programs (CAAHEP).
While the second is the Accrediting Bureau of Health Education Schools (ABHES).
From the first organization, 19 programs are presently accredited.
While 12 of them are accredited by ABHES.
After the accreditation comes the degree choice.
Aspiring medical assistants in Illinois can choose to attend a program that offers certificate, diploma or an associate degree.
All of these end up with an externship.
This externship gives the students the opportunity to do their practice in the filed in a clinical setting.
Certificate and diploma degree take one year or less to complete.
Attending these programs means the students will be able to learn subjects such as anatomy and physiology, medical diagnostic basics, laboratory techniques as well as hands-on training.
The latter includes doing tasks such as taking vital signs, administering injections and similar.
An associate degree, on the other hand, can be finished in two years.
They are made of 60-semester units.
They have the same areas of study as the previous degrees, that is certificate and diploma ones.
But they also offer additional advanced studies in the field.
This study is focused on anatomy and physiology, medical administration, and human growth and development.
Associate degree programs can work best for those students who are keen on pursuing a bachelor's degree in a healthcare-related field in the future.
All of the programs end with graduation.
Upon graduation, a medical assistant in Illinois can extend their knowledge and skills by working in a physician or specialist's office, in a healthcare clinic, a hospital or in an outpatient care center.
Graduates are also ready to receive a national certification exam as well.
So, their career doors have just opened for them by finishing their studies.
Step 2. Consider Pursuing National Certification
Medical Assistant can take their National Certification through different credentials in Illinois.
They can also serve as a source of job opportunity and a competitive edge for those graduates who apply for it in the state.
Apart from that, having one or more national credentials in medical assisting has become a common practice.
So, you will only look surprising if you have one, not if you have two of them parallel.
Considering these, let me give you two most recognized credentials in the medical assisting in Illinois.
In both of them meeting certain requirements of eligibility is crucial.
These credentials are:
Certified Medical Assistant, American Association of Medical Assistants
The Registered Medical Assistant, American Medical Technologists
Other recognized medical assistant credentials in the state include:
National Center for Competency Testing: The National Certified Medical Assistant
National Healthcare Association: Certified Clinical Medical Assistant
The American Society of Podiatric Medical Assistants: Podiatric Medical Assistant, Certified
The Joint Commission on Allied Health Personnel in Ophthalmology: Certified Ophthalmic Assistant
Step 3. Learn More about Employment Opportunities for Medical Assistants
in Illinois
You can never find a job staying at home unless you seek online work.
So basically, working as a medical assistant in Illinois is not possible without making any connections with similar professionals in the field.
Or else, without becoming a member of any professional association.
For the latter, in Illinois, you can find the Illinois Society of Medical Assistants.
It also has its branches in many other US states such as:
Chicago
Illinois Valley
Aux Plaines
McLean County
Mississippi Valley
Rockford
Northwest Cook
Lincoln Land
Southern Illinois
Illinois' largest hospitals and physician groups are also some of the largest and most active employers of medical assistants.
You may consider beginning your job search by learning more about career opportunities with these organizations:
Advocate Medical Group, Park Ridge
Loyola University Medical Center, Maywood
Northwest Medical Faculty Foundation, Chicago
Northwestern Memorial Hospital, Chicago
Alexis Medical Center, Hoffman Estates
University of Chicago Medical Center, Chicago
Rush University Medical Center, Chicago
The Best Medical Assisting Schools in Illinois
Medical Assisting Schools are many in Illinois.
In them, you can get different degrees in the various time frames.
However, it is upon you to choose what is best for you by watching your own preferences.
| School Name | Address |
| --- | --- |
| BIR Training Center | Chicago, IL |
| Black Hawk College | Moline, IL |
| CALC Institute of Technology | Alton, IL |
| Carl Sandburg College | Galesburg, IL |
| CET-Chicago | Chicago, IL |
| Chicago ORT Technical Institute | Skokie, IL |
| City Colleges of Chicago-Harry S Truman College | Chicago, IL |
| City Colleges of Chicago-Olive-Harvey College | Chicago, IL |
| City Colleges of Chicago-Wilbur Wright College | Chicago, IL |
| College of DuPage | Glen Ellyn, IL |
| College of Lake County | Grayslake, IL |
| Computer Systems Institute | Skokie, IL |
| Coyne College | Chicago, IL |
| Everest College-Bedford Park | Bedford Park, IL |
| Everest College-Burr Ridge | Burr Ridge, IL |
| Everest College-Melrose Park | Melrose Park, IL |
| Everest College-Merrionette Park | Merrionette Park, IL |
| Everest College-North Aurora | North Aurora, IL |
| Everest College-Skokie | Skokie, IL |
| First Institute | Crystal Lake, IL |
Medical Assisting Salaries in Illinois
Medical Assisting Salaries, on the other hand, depends a lot on the school.
Precisely on the quality of your education.
But it also depends on other additional factors.
These factors are place, skills, and work experience.
Annual Salary Range: Annual Salary by Location:
| Location | Avg. Annual Salary |
| --- | --- |
| Chicago | $37,806 |
| Rockford | $35,306 |
| Aurora | $37,472 |
| Naperville | $37,041 |
| Peoria | $34,450 |
| Springfield | $32,920 |
| Joliet | $36,736 |
| Elgin | $37,198 |
| Waukegan | $35,654 |
| Cicero | $37,806 |
Medical Assisting by State
---