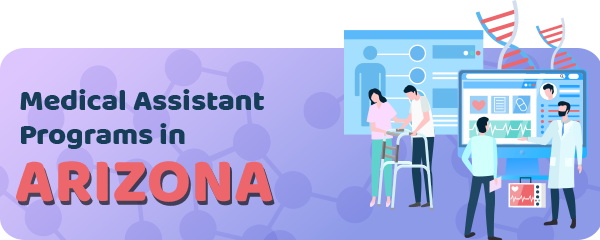 How to Become a Medical Assistant in Arizona
You probably saw the title, and you want to know more about the content.
That's normal.
You've had so much of Nursing with me and all I hope is it has been a pleasure.
This time we will go for a ride in Medical Assisting throughout the US.
Precisely, I will focus on Arizona.
So, follow me in this article for every question you may have related to it.
Sponsored Listings
First of all, there are some steps to steps to follow when deciding to become a Medical Assistant in the state.
These steps are narrowed down into three main ones:
Completing an Approved Medical Assistant Training Program
Earning a Medical Assistant National Credential
Finding a Job in Medical Assisting in Arizona
In general, this profession is popular in Arizona.
You know why?
Well, in 2013, there were 15,230 medical assistants working in its areas.
This report is given from the Arizona Department of Administration Office of Employment and Population Statistics.
So, there is a significant employment increase in the state.
But we have to move forward with education, to get to successful employment.
To begin with, you will not get a license as a Medical Assistant in the state.
However, the state offers a distinct language from the Arizona Medical Board.
This language is valid for the education and the practice of medical assistants.
According to this institution, a medical assistant is considered an unlicensed person who performs his or her medical practice under someone else's orders.
And he also does particular duties that are in accordance with his or her education and training.
These supervisors can be a nurse practitioner, a physician assistant or a physician himself.
The medical assistant does also other basic administrative and clinical duties.
But the Board allows the medical assistant to administer other treatments and procedures as long as a physician or physician assistant supervises them.
From these procedures, check these:
Whirlpool treatments
Ultrasound therapy
Transcutaneous nerve stimulation unit treatments
Traction treatments
Small volume nebulizer treatments
Massage therapy
Hot and cold pack treatments
Electronic galvation stimulation treatments
Diathermy treatments
While other medical assistant procedures can be performed without supervision.
These include:
Verifying insurance
Scheduling
Recording a doctor's findings in patient charts and transcribing materials in patient charts and records
Performing visual acuity screening as part of a routine physical
Making patient appointments
Billing and coding
Complete an Approved Medical Assistant Training Program
Attending an approved program in the Arizona Medical Board is a must to become a Medical Assistant.
The program needs to be accredited by the Commission on Accreditation of Allied Health Education Programs (CAAHEP).
But it can also be accredited from the Bureau of Health Education Schools (ABHES).
Or by any other accrediting agency that the U.S Department of Education recognizes its function inside its areas.
However, the Board can accept a medical assisting program that is wholly designed and offered by an allopathic physician.
It can be eligible as long as it is okay with the accrediting requirements of the program.
This can be verified from the physician, physician assistant or nurse practitioner.
Simply saying, sending a certificate of completion to the Board is not a must.
In Arizona, momentarily there are two schools that offer medical assistant programs that are actually accredited.
The first one is a program that offers an associate degree in the field.
While the second is a certificate program.
These are CAAHEP accredited.
On the other hand, there are 13 ABHES accredited medical assisting programs in the state as well.
6 of them offer certificates by the end of the program.
While three of them offer diploma in the end.
To end it with, 4 of them offer associate degree programs.
When considering the program length, I have to say that certificate and diploma programs are shorter.
Whereas programs that offer an associate degree, in the end, take approximately 2 years.
The latter may be appropriate for medical assistants who are interested to go further with knowledge.
They can be an interesting example of getting more advanced degrees in medical assisting branches.
These degrees may be medical assisting, nursing, physician assisting and similar.
The only way to be excluded from medical assistant training requirements is to meet the following conditions:
You completed an unapproved medical assistant program before February 2000 and were employed as a medical assistant since the completion of the program.
You worked as a medical assistant for the same physician or group of physicians for at least 2,000 hours before February 2000.
You completed a medical services training program in the U.S. Armed Forces.
Earn a Medical Assistant National Credential
After finishing the medical assisting program and training, all that is left for you is to prove that knowledge in practice.
And that's the best part of the journey.
To touch the invisible knowledge you've sought for long.
However, to do so you need to get the national certification first.
This certification has to be administered by two organizations.
The first one is the American Association of Medical Assistants.
While the second is the American Medical Technologists.
Both of them offer a certain certification:
The American Medical Technologist (AMT) offers the Registered Medical Assistant (RMA) credential.
The American Association of Medical Assistants offers the Certified Medical Assistant (CMA) credential.
Both RMA and CMA certifications can be earned only after passing the particular exam for each.
Both are also a way to expand knowledge and experience in the field.
So those who are eager to keep learning and doing progress, I suggest to take and pursue these credentials.
Find a Job in Medical Assisting in Arizona
Landing a job in your profession has become the new success.
Medical assistants in Arizona can work as physician practitioners, in ambulatory care centers and similar places.
However, for more job opportunities in the field, being a member of the Arizona Society of Medical Assistants is an ideal chance.
Some of the largest medical groups in Arizona are also among the top employers of medical assistants in the state.
Check them below:
Joseph's Medical Group, Phoenix
Valley Anesthesiology Consultants, Phoenix
Mayo Clinic, Scottsdale
Banner Medical Group, Phoenix
District Medical Group, Phoenix
Arizona Medical Group, Peoria
The Best Medical Assisting Schools in Arizona
There are two Medical Assisting Schools in Arizona.
However, you can also check for training and certification from other sources.
These are offered by other organizations inside the state.
| School Name | Address |
| --- | --- |
| Allen School-Phoenix | Phoenix, AZ |
| Arizona College-Glendale | Glendale, AZ |
| Arizona College-Mesa | Mesa, AZ |
| Brookline College-Tempe | Tempe, AZ |
| Brookline College-Tucson | Tucson, AZ |
| Brown Mackie College-Phoenix | Phoenix, AZ |
| Brown Mackie College-Tucson | Tucson, AZ |
| Central Arizona College | Coolidge, AZ |
| Cochise County Community College District | Douglas, AZ |
| CollegeAmerica-Flagstaff | Flagstaff, AZ |
| CollegeAmerica-Phoenix | Phoenix, AZ |
| Eastern Arizona College | Thatcher, AZ |
| Everest College-Mesa | Mesa, AZ |
| Everest College-Phoenix | Phoenix, AZ |
| Fortis College-Phoenix | Phoenix, AZ |
| ITT Technical Institute-Phoenix | Phoenix, AZ |
| Mohave Community College | Kingman, AZ |
| Northland Pioneer College | Holbrook, AZ |
| Phoenix College | Phoenix, AZ |
| Pima Medical Institute-East Valley | Mesa, AZ |
Medical Assisting Salaries in Arizona
Medical Assisting Salaries in Arizona have been given below.
There's an average that can have its shift in minimum or maximum.
But that's not a problem.
All you need to take care of are the factors that make this shift.
These factors are mostly qualification experience at work.
Location is also important.
So frankly, you need to work in yourself to get a better salary.
Then go wherever you want!
Annual Salary Range: Annual Salary by Location:
| Location | Avg. Annual Salary |
| --- | --- |
| Phoenix | $35,341 |
| Tucson | $33,512 |
| Mesa | $34,668 |
| Glendale | $35,341 |
| Scottsdale | $34,668 |
| Chandler | $34,668 |
| Tempe | $34,668 |
| Gilbert | $34,668 |
| Peoria | $35,270 |
| Yuma | $36,559 |
Medical Assisting by State
---