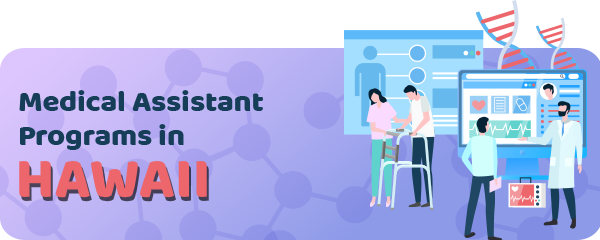 How to Become a Medical Assistant in Hawaii
Going through so many US states online, it's like a virtual journey.
As long as this journey is purposeful, it is always fruitful and worthy!
And my purpose is clear.
I just want to help you find yours!
As far as the Medical Assisting career in Hawaii is concerned, this article will help you a lot.
From A to Z, it will tell how and what to do once you've started your first preparation to enter the field.
Sponsored Listings
So let's start small.
You may prepare to become a medical assistant in Hawaii by completing the following steps:
Complete a Medical Assistant Training Program
Consider a Medical Assistant National Credential
Pursue a Career in Medical Assisting
Medical Assisting is not a new profession in Hawaii.
Their number was huge enough even back in 2010.
Wherein 3,240medical assistants were working in the state.
This was reported from The Hawaii Workforce Infonet.
However, that was not all.
Now it is predicted that this number will increase to 3,580between 2010and 2020.
The institution also showed the report results in September 2014.
According to this report, 68 job opportunities were located in Hawaii for medical assisting.
Most of these jobs were available in the Honolulu area.
With all this presence of medical assisting jobs in the state, the role of the medical assistant, however, is not specified in Hawaii's status.
But one thing is clear.
The physician will delegate certain duties to a non-licensed medical professional.
In this case, medical assistants are included.
So, they can perform any kind of medical task in the healthcare setting, as long as a physician is supervising their work.
Therefore, a medical assistant in Hawaii may perform tasks such as:
Answering telephones and greeting patients
Scheduling appointments
Filing insurance paperwork
Taking patient medical histories
Recording vital signs
Preparing patients for exam
Preparing lab specimens
Drawing blood
Administering medications
Removing sutures, changing dressings
Sterilizing medical equipment
Assisting physician during exams
Step 1. Complete a Medical Assistant Training Program
Post-secondary education is not mandatory in medical assisting, but it creates an easier path to employment.
Because oftentimes, physicians and employers in general, are interested in medical assistants who have a certain level of education, training, and certification.
Consequently, if you want to become a medical assistant in Hawaii, you need to attend an approved program in its areas.
You can choose to attend a diploma, certificate or an associate degree in the field.
Certificate and diploma degree take one year to complete and it can be transferred into another.
So, you can attend a program that offers an associate degree in medical assisting later.
The associate degree takes two years to complete and it is made of 60 semester hours.
Attending this program means you will get to study more in-depth aspects of medical assisting, as well as prepare for better opportunities in your medical career.
However, when choosing which program to attend,  you must be careful to choose programs that offer accreditation.
Medical assisting programs in Hawaii can be accredited by two organizations.
One of them is the Commission on Accreditation of Allied Health Education Programs (CAAHEP).
While the second may be The Accrediting Bureau of Health Education Schools (ABHES).
Which one you choose, will be in your favor.
With this accreditation, the program curriculum will make sure you get an entry-level medical assisting competence.
The curriculum accredited with CAAHEP includes aspects of medical assisting such as:
Anatomy and physiology
Medical terminology
Medical law and ethics
Psychology
Communications (oral and written)
Administrative procedures
Clinical procedures
Apart from the studies and knowledge gained during the program, a medical assistant must also take an externship that offers practice in the field.
In Hawaii however, you will find online learning as well.
So basically, medical assisting programs can be attended online too.
For instance, in the state, there are 2 CAAHEP and 1 ABHES medical assisting programs available.
Step 2. Consider a Medical Assistant National Credential
National Certification in Hawaii is an essential part of making advancement as a medical assistant.
The certification is voluntary, however, its importance is incomparable when it is gained by an accrediting body in the state.
As such, it shows that a person who acquires it had advanced knowledge in clinical and administrative aspects of the field.
But also it shows commitment to the profession in general and the ambition to always grow in it.
Some employers or their liability insurance carriers may require medical assistant employees to possess national certification when applying for jobs in their institutions.
National certification options available for medical assistants in the U.S. include:
Certified Medical Assistant (CMA): American Association of Medical Assistants
Registered Medical Assistant (RMA) credential, American Medical Technologists
National Certified Medical Assistant (NCMA), National Center for Competency Testing
Certified Clinical Medical Assistant (CCMA), National Healthcare Association
You may also seek specialty certification in medical assisting:
The Joint Commission on Allied Health Personnel in Ophthalmology: Certified Ophthalmic Assistant
The American Society of Podiatric Medical Assistants: Podiatric Medical Assistant, Certified
Step 3. Pursue a Career in Medical Assisting
Pursing a career in medical assisting is challenging.
But if you're determined, it will be easy.
In the past years, such as in 2010 the largest employer in the field was considered ambulatory services, hospitals, and administrative support services.
That was was Hawaii Workforce Infonet reported back then.
However, now are surely more opportunities to check for in the state.
So, you can begin considering the state's largest systems and physician groups such as:
Queen's Medical Center, Honolulu
Kaiser Permanente Moanalua Medical Center, Honolulu
Tripler Army Medical Center, Honolulu
Despite them, you can also head to the Hawaii State Society of Medical Assistants for job opportunities.
They offer the latest job openings in the field, so do your best any of them won't escape you without trying.
The Best Medical Assisting Schools in Hawaii
There are 4 Medical Assisting Schools located across Hawaii.
They are not many as in other US states, but they offer enough programs to choose from.
As an aspiring student, you can choose certificate, diploma or associate degree programs.
But what's most important, you have to choose an accredited program.
| School Name | Address |
| --- | --- |
| Hawaii Medical College | Honolulu, HI |
| Kapiolani Community College | Honolulu, HI |
| Med-Assist School of Hawaii Inc | Honolulu, HI |
| Remington College-Honolulu Campus | Honolulu, HI |
Medical Assisting Salaries in Hawaii
One of the key reasons you should start a Medical Assisting career in Hawaii is the salaries.
Though they vary from place to place, and from other factors, they are indeed nice.
However, it is sure that qualification is the key to a better salary.
So, you need to work on that a lot, then you will reap the fruits of your effort at work.
Then, I would willingly be the one to give you a huge Applause!
Annual Salary Range: Annual Salary by Location:
| Location | Avg. Annual Salary |
| --- | --- |
| Honolulu | $37,186 |
| Hilo | $36,936 |
| Kailua | $37,186 |
| Kaneohe | $37,186 |
| Waipahu | $37,169 |
| Pearl City | $27,186 |
| Waimalu | $28,954 |
| Mililani Town | $32,651 |
| Kahului | $36,936 |
| Kihei | $36,936 |
Medical Assisting by State
---