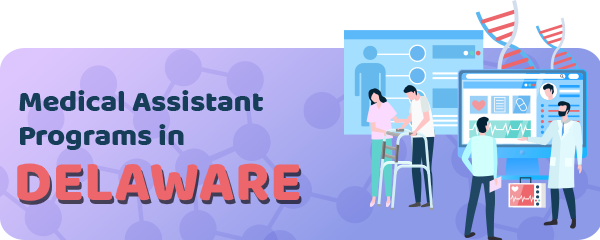 How to Become a Medical Assistant in Delaware
Great News!
Job opportunities are increasing each year more in Delaware.
And I am not talking from my own mind.
It's been made a research on this matter.
And from whom else but the Department Labor of United States!
According to this institution, 31% of employment growth will appear in the state between 2008 and 2018.
Sponsored Listings
The number of jobs will grow for both trained and certified medical assistants.
So basically, the works done in medical assisting, of course, are paid well.
The average salary in the state in 2013 was nearly $30,000.
However, in some areas of the state, this average can grow in $31,000 per year.
While it is to be noted that the medical assistants in Delaware, in general, get paid $39,000 per year.
This salary comes as a result of additional education and experience of the employees in the field.
Considering the satisfying salary in the state, you may easily be tempted to pursue a job there, or first education in Medical Assisting.
So, if you would like to learn how to become a well-qualified medical assistant job candidate in Delaware, follow these steps:
Completing a Medical Assistant Education Program in Delaware
Considering Earning National Certification
Pursuing Medical Assistant Jobs in Delaware
Maintaining Medical Assistant Jobs in Delaware
Step 1. Complete a Delaware Medical Assistant Education Program
The first step to enter the Medical Assisting Career is to attend an approved program in the state of medical assisting.
After that comes to practice and other certifications that you can equip yourself with for more success in the profession.
Unfortunately, a medical assistant is not given the opportunity to finish medical assisting a practice in the state, so attending a program is then mandatory to be considered for work.
One of the possible certifications in Delaware is the National Certification.
To get that credential, a medical assistant must be a graduate student from a Medical Assisting Program.
This program should be accredited from either the Commission on Accreditation of Allied Health Education Programs (CAAHEP).
Or else, by the Accrediting Bureau of Health Education Schools (ABHES).
These programs in the state can be accessed in Dover or Wilmington areas.
In them, you can gain diplomas and certificated such as:
Associate of Science-Medical Assistant
Diploma- Surgical Technology (Residential)
Certificate – Electroneurodiagnostic Technology (Residential and Distance)
These programs also provide courses in Medical Assisting.
Yes, you will learn everything about the field at this stage, because you need to think big and prepare for great things.
These courses are different from school to school.
But they will prepare you the same in terms of skills and knowledge related to medical assisting.
From them, you will find the following:
Effective verbal, written and nonverbal communication and education skills with patients, families, and professionals
Professional patterns of behavior consistent with the code of ethics
Use of independent judgment and critical thinking
Use of computer technology, scientific and mathematical reasoning
Use of information effectively
Good problem solving and reasoning skills
The internship/field experience is also part of the training program in Medical Assisting.
It is usually held at participating medical facilities.
The Internship will help the candidate refine his or her skills, including the following ones:
Administrative and clerical duties like scheduling, receiving patients, maintaining medical records, managing finances
Clinical duties like obtaining patient data for medical history and treatment, interviewing patients for medical histories, performing laboratory testing and collecting results/specimens, recording patient vital signs, and assisting health professionals with clinical procedures
Preparing the examination room
Filing insurance forms
Step 2. Consider Earning National Certification
Medical Assisting programs in Delaware prepare their students for the national certification which can be done from two organizations.
That is the American Association of Medical Assistants (AAMA), or the American Medical Technologists (AMT).
However, certification is not a must to finding a job in medical assisting in the state.
But it is for sure a clear indication for most employers.
They are always in search of candidates who hold a certificate in (CMA) through the AAMA.
Or else, candidates who are Registered Medical Assistants (RMA) through AMT.
The CMA certification comes after passing an exam of multiple-choice questions.
The candidate can take this exam being well prepared for it by reviewing the AAMA Certification/Recertification Examination Content Outline.
The test is usually taken in the Prometric center in Delaware, precisely in New Castle.
But the test can also be taken in other Prometric centers such as Maryland or in Pennsylvania.
RMA certification, on the other hand, has an exam as well.
The exam includes questions in medical assisting in Both clinical and administrative aspects.
The test can be taken in Pearson VUE testing centers.
You can take the test in Delaware, precisely in Newark and Dover.
But, a good idea is also New Jersey, Pennsylvania or Maryland.
It is all a matter of convenience.
Step 3. Pursue Medical Assistant Jobs in Delaware
After certification, the best news for a Medical Assistant is to tell them to start right away apply for a job.
But they cannot do so without being aware of the places where they can find a job in.
They can consider applying for jobs in hospitals, medical centers, physician's offices, insurance companies, outpatient clinics, schools, long-term care facilities, and similar places.
Some examples of prospective employers of medical assistants in Delaware include:
Beebe Healthcare – Lewes
Christiana Care – Newark and Camden
Westside Family Healthcare- Bear
Nanticoke Memorial Hospital – Seaford
Bayhealth Medical Center – Dover
Francis Hospital- Wilmington
Bayada Home Health Care – Hockessin
Delaware Hospice- Newark
HCR Manor Care – Wilmington
Dover Air Force Base – Dover
Fresenius Medical Care- Seaford
Urology Associates of Dover – Dover
Nemours- Wilmington
Department of Veterans Affairs- Wilmington
HealthSouth Corporation – Middletown
Liberty Health Care – Georgetown
Alfieri Cardiology – Wilmington
Brookdale – Newark
Step 4. Maintain Your Medical Assistant Credentials
After chasing something for long, you have to try to keep it in the long run.
This way, the CMA credential expires every five years.
After this period, the medical assistant must renew it.
He or she can do so by taking the exam again or meet the AAMMA's continuing education requirements.
There are 60 points to accumulate during the five upcoming years.
The RMA credential, on the other hand, expires every year.
To maintain it, the holder must acquire 30 certification points.
The AMT has a Certification Continuation Program (CCP) which is similar to that of AAMA.
Professional Organizations for Medical Assistants in Delaware
Delaware is not yet part of the American Association of Medical Assistants.
However, you're not alone.
As a medical assistant, you can become a member of the AAMA association.
To start a membership there, you can make use of their email: membership@aama-ntl.org to get in touch with the AAMA Membership Department.
American Medical Technologists have a DC/DE/MD State Society for RMAs working in Delaware who wish to join the local chapter.
The Best Medical Assisting Schools in Delaware
After carefully reading about and considering Medical Assisting in Delaware, it's time to decide where to go!
And believe me, the right school in this field, is the right destination for you so far.
You can check among the five schools I have listed for you below.
| School Name | Address |
| --- | --- |
| Dawn Career Institute Inc | Wilmington, DE |
| Delaware Technical Community College-Owens | Georgetown, DE |
| Delaware Technical Community College-Stanton/Wilmington | Wilmington, DE |
| Harris School of Business-Dover Campus | Dover, DE |
| Harris School of Business-Wilmington Campus | Wilmington, DE |
Medical Assisting Salaries in Delaware
After finishing the education and practice, of course, you will start job hunting.
But you will also consider salaries.
In Medical Assisting in Delaware, however, you will earn enough.
But you have to start thinking about this early when getting an education.
Because qualification is one of the key elements to a higher salary in the field.
Annual Salary Range: Annual Salary by Location:
| Location | Avg. Annual Salary |
| --- | --- |
| Wilmington | $38,020 |
| Dover | $37,963 |
| Newark | $37,992 |
| Milford | $38,056 |
| Seaford | $37,271 |
| Middletown | $37,904 |
| Elsmere | $37,891 |
| Smyrna | $37,921 |
| New Castle | $38,020 |
| Georgetown | $38,056 |
Medical Assisting by State
---