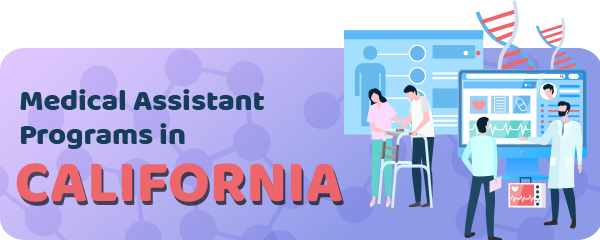 How to Become a Medical Assistant in California
There are so many ways to achieve something.
But the most common way is always through.
Similarly, when pursuing a career in Medical Assisting, an aspiring student must consider several issues along.
First of all, they need to know how a medical assistant is defined in California.
And what do they need to become one close to that definition.
When talking about it, the definition is given below for you to read.
Sponsored Listings
Medical Assistants in California are defined as unlicensed individuals who practice non-invasive technical support services that are routine under the supervision of medical professionals such as:
Nurse midwife
Nurse practitioner
Physician assistant
Physician/surgeon
Podiatrist
In the state, medical assistants are supervised by a licensed physician or nurse practitioner.
They are not allowed to performing any technical support services in a non-invasive way without their prior supervision.
However, before doing any kind of practice, you need to become a proper Medical Assistant first.
The way to this profession is through three major steps such as:
Receiving Training Recognized by the Medical Board of California
Earning Medical Assistant Certification
Receiving Training in Venipuncture/Injections
Step 1. Receiving Training Recognized by the Medical Board of California
Regardless of the fact that the California Medical Board does not provide licenses to medical assistants, still, an acceptable training in the field is required from the candidate.
As mentioned earlier, medical assistants work under supervision.
Hence, supervising professionals such as podiatrists, physicians or instructors are responsible for measuring that services and technical duties are done appropriately towards the patient.
The training that the medical assistants are asked to complete, can be administered in environments such as:
Under a licensed physician or podiatrist; or under a registered nurse, licensed vocational nurse, physician assistant, or qualified medical assistant or
In a secondary, post-secondary, or adult education program in a public school authorized by the Department of Education;
in a community college program,
in a post-secondary institution approved or accredited by the Bureau for Private Postsecondary and Vocational Education within the Department of Consumer Affairs
In the variety of all these school levels, post-secondary schools in medical assisting receive accreditation from the Commission on Accreditation of Allied Health Education Programs (CAAHEP).
While they also receive it from the Accrediting Bureau of Health Education Schools (ABHES).
In these schools, diploma, certificate or associate degree programs are accredited.
All these credentials offer adequate knowledge to Medical Assistant students to perform well in their profession.
Step 2. Earning a Medical Assistant Certification
Medical assistants' licenses are elective in California.
Yet, when it comes to being employed in the field, they need certification.
Usually, supervisors such as physicians or podiatrists will surely ask the medical assistant for this issue.
The shortest way to receive certification in California is to ask that from the Medical Board of California.
But that's not the only portal to certification.
They can also seek that from other certifying organizations across the nation.
Nationally, these certifications are recognized from California:
California Certifying Board for Medical Assistants: California Certified Medical Assistant (CCMA)
The American Association of Medical Assistants: Certified Medical Assistant
American Medical Technologist (AMT): Registered Medical Assistant (RMA)
The CCMA Exam
CMMA Exam is an exam to be taken as a final step to certification.
It is a practice since 1990 in the state.
The exam is usually administered by the California Certifying Board for Medical Assistants.
Whereas the test is offered by hand from the Pearson Vue testing locations all year long.
The test is focused on three areas of Medical Assisting:
Basic
Administrative
Clinical
In relation to the areas of examination, the new applicant must take the three of them, the Basic, Administrative and the Clinical aspect of Medical Assisting.
For certification, both the Basic and one of the rest is a must to pass.
The exam has a cost of course.
Its total cost is $115 for the Basic and one of the specialty examinations.
While $155 is for the three examinations.
Another thing to add as far as certification in Clinical Medical Assistant is concerned is proof of having done training in venipuncture or injections.
Eligibility Requirements
To be able to take the CCMA exam, you need to meet the requirements.
The first requirement is having a current CPR certification, as well as meeting the following conditions:
Be currently employed as a medical assistant by a licensed podiatrist or physician in the U.S.; OR
Have been employed as a medical assistant for at least 2 of the previous 5 years; OR
Have graduated from a medical assisting program through an accredited U.S. institution within the last year; OR
Be currently employed as a medical assistant instructor in an accredited U.S. institution; OR
Have received U.S. Military training
 Step 3. Receive Training in Venipuncture/Injections
Receiving a CCMA certification in Clinical Specialty requires sending proof that the candidate has completed training in venipuncture and injections.
The training, which can be part of the medical assisting curriculum or not, must meet some standards.
It initially needs to include:
10 clock hours of training in performing skin tests and administering injections; OR
10 clock hours of training in skin puncture and venipuncture for the purpose of withdrawing blood; AND
Satisfactory performance by the trainee of at least 10 each of subcutaneous, intramuscular, and intradermal injections and 10 skin tests, and/or at least 10 skin punctures and 10 venipuncture
Apart from this training, there is also another action to take.
The medical assistant can also choose to administer medication by inhalation method.
He or she can do so by taking minimally 10 clock hours on the same practice.
Training in the above must include instruction and demonstration in:
Anatomy and physiology pertinent to the procedures
California law and regulations regarding medical assistants
Choice of equipment
Emergency procedures
Hazards and complications
Patient care following treatment/tests
Proper technique, including sterilization
As soon as a medical assistant receives certification of CCMA, he or she can administer intramuscular, intradermal medications.
He can also perform skin tests and skin puncture, as well as venipuncture for withdrawing blood.
Anyway, for the medication and dosage used in the practice, a physician or podiatrist is in charge of verification.
Step 4. Pursue a Medical Assisting Job with One of California's Top Employers
Whether it is worth pursuing a job in Medical Assisting is a matter of considering the statistics of employment in California for years.
According to California's Employment Development Department, 82,450 medical assistants were in work relations in the state in the first years of 2014.
Whereas from 2005, employment in medical assisting has increased in 31,000, thus making significant progress in the profession.
Another way to become a medical assistant along with education and training is also making connections in the profession.
Medical Assistants can do that by making membership in the California Society of Medical Assistants, which is a professional association in the field.
In addition, several job settings will be available for getting a job in medical assisting.
These areas include hospitals, ambulatory care centers as well as physician groups.
The largest groups of physicians and hospital systems in California are these:
Kaiser Permanente Medical Group, Oakland
UCLA Medical Group, Los Angeles
EmCare Nationwide, Santa Barbara
Palo Alto Medical Foundation Clinic, Santa Cruz
UC Davis Medical Group, Roseville
California Emergency Physicians, Pomona
UC San Diego Medical Group, San Diego
The Best Medical Assisting Schools in California
California is home to 20 Medical Assisting Schools.
In them, you can have different types of programs, licenses, and credentials.
However, it is upon you to choose the program you're interested in.
| School Name | Address |
| --- | --- |
| Advanced College | South Gate, CA |
| Advanced Training Associates | El Cajon, CA |
| Allan Hancock College | Santa Maria, CA |
| American Career College-Anaheim | Anaheim, CA |
| American Career College-Long Beach | Long Beach, CA |
| American Career College-Los Angeles | Los Angeles, CA |
| American Career College-Ontario | Ontario, CA |
| Angeles College | Los Angeles, CA |
| Antelope Valley College | Lancaster, CA |
| Baldwin Park Adult & Community Education | Baldwin Park, CA |
| Bay Area Medical Academy | San Francisco, CA |
| Blake Austin College | Vacaville, CA |
| Cabrillo College | Aptos, CA |
| California Career Institute | Garden Grove, CA |
| California College San Diego | San Marcos, CA |
| California College San Diego | San Diego, CA |
| California Healing Arts College | Carson, CA |
| California Nurses Educational Institute | Palm Springs, CA |
| Cambridge Junior College-Woodland | Woodland, CA |
| Cambridge Junior College-Yuba City | Yuba City, CA |
Medical Assisting Salaries in California
Salaries are an important aspect of every profession.
It is the means through which an employee fuels his energy to work better.
In California, Medical Assisting salaries vary from place to place.
But they also vary from other factors.
However, one thing is certain, professional growth is the key to a better salary in the state.
Annual Salary Range: Annual Salary by Location:
| Location | Avg. Annual Salary |
| --- | --- |
| Los Angeles | $40,150 |
| San Diego | $38,347 |
| San Jose | $44,761 |
| San Francisco | $44,690 |
| Long Beach | $39,768 |
| Fresno | $35,738 |
| Sacramento | $38,552 |
| Oakland | $42,265 |
| Santa Ana | $39,804 |
| Anaheim | $39,857 |
Medical Assisting by State
---