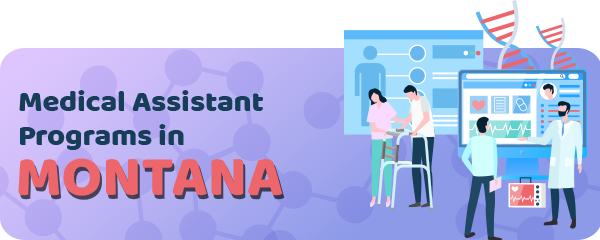 How to Become a Medical Assistant in Montana
When we want something truly, we find a way to go and get it.
Surely, there's a way to become a medical assistant in Montana too.
In case you don't know yet, I will tell you about it in more detail.
It is, in fact, a three steps' pathway:
Complete an Accredited Program in Medical Assisting
Achieve a National Credential in Medical Assisting
Pursue Medical Assistant Employment in Montana
Medical Assistants have a good position in Montana in terms of job prospects as well as in providing healthcare services.
The state defines them as unlicensed healthcare professionals who perform their services under the ruling of the physician or podiatrist.
Sponsored Listings
Both of them are responsible for giving administrative and clinical tasks to medical assistants.
Whatever duties they perform, they need to be specialty practice of the Physician first of all.
The supervision of both the podiatrist and the physician must continue and be active along the way.
However, their presence in the workplace is not a must, as long as they are available for consulting them each time medical assistants need their advice.
However, the physician must be onsite when a medical assistant performs the following:
Performs invasive procedures
Administers medicine
Performs allergy testing
Medical assistants in Montana are NOT allowed to perform the following tasks:
Invasive procedures in which human tissue is cut or altered by mechanical or energy forms (including electrical or laser energy or ionizing radiation) unless the physician or podiatrist is on-site
Care for an in-patient admitted to an acute care hospital facility licensed by DPHHS
Monitor conscious sedation, unless under the direct supervision of a physician or podiatrist
Administer fluids or medications through an IV, unless under the direct supervision of a physician or podiatrist
Administer blood products by IV
Step 1. Complete an Accredited Program in Medical Assisting
One of the key requirements of medical assistants to do their tasks well and to be admitted to work in the state is to be competent in both administrative and clinical tasks.
This cannot be possible without them having completed an accredited medical assisting program in the state.
In addition, experience, education or other training related to the field are also welcome.
This is a physician's requirement.
Especially, when it comes to medical assistants to do their assigned duties with due responsibility and safety.
The number of practices in medical assisting however is broad.
So, the first step to becoming a medical assistant in Montana is to complete an accredited program, which must be accredited by one of the two major accrediting bodies in the state.
One of them is the Commission on Accreditation of Allied Health Education Programs (CAAHEP).
While the other is the Accrediting Bureau of Health Education Schools (ABHES).
In these programs, you may get a diploma, certificate or associate degree.
But that's all a matter of personal choice.
The certificate degree can be finished in a quite short amount of time.
It takes less than a year.
A diploma program, on the other hand, takes a year.
It is made of coursework with a possibility of transferring it into an associate degree points in the future.
The associate degree takes 2 years to finish.
It usually provides the candidate with a competitive edge as well as prepares him or her to go for more advanced degrees along the career path.
Anyway, no matter the program you choose to attend, all of them contain clinical and administrative study.
They all also end up with an externship, which means you will apply your knowledge and skills gained in practice in a real-life environment.
In Montana, there are currently 2 CAAHEP-accredited medical assistant programs.
Step 2. Achieve a National Credential in Medical Assisting
National certification is gaining importance each day more in medical assisting.
It signifies effort and dedication to the profession and to the continuing education as well.
The shortest way to get national certification is to complete a medical assisting program in the first place.
Though, there may be other pathways as well.
Therefore, upon completion of a medical assistant program, you may sit for a number of national certification examinations, including:
The American Association of Medical Assistants: Certified Medical Assistant credential
American Medical Technologists: Registered Medical Assistant
National Center for Competency Testing: The National Certified Medical Assistant
National Healthcare Association: Certified Clinical Medical Assistant
The American Society of Podiatric Medical Assistants: Podiatric Medical Assistant, Certified
The Joint Commission on Allied Health Personnel In Ophthalmology: Certified Ophthalmic Assistant
Step 3. Pursue Medical Assistant Employment in Montana
Employment in medical assisting has gone through massive progress during the decade we're in.
As the Montana Department of Labor and Industry suggests, 831 medical assistants were employed in the state in 2013.
In 2015, this number was expected to grow into 872.
While in the future, precisely in 2022, it is expected to rise into 1,006.
Considering medical assisting employment in general, 35 annual job openings have been done in Montana areas.
According to the Montana Department of Labor and Industry, the top industries for the employment of medical assistants in Montana include:
Office of chiropractors
Offices of optometrists
Offices of specialty therapists
physical/engineering/biological research
Residential mental and substance abuse care
Outpatient mental health centers
Residential mental retardation facility
Offices of mental health practitioners
You may, therefore, find the largest number of medical assistant jobs through Montana's largest hospital systems:
Vincent Healthcare, Billings
Peter's Hospital, Helena
Patrick Hospital, Missoula
James Healthcare, Butte
Northwest Healthcare, Kalispell
Northern Montana Hospital, Havre
Holy Rosary Healthcare, Miles City
Community Medical Center, Missoula
Bozeman Deaconess Hospital
Billings Clinic
Benefits Health System, Great Falls
The Best Medical Assisting Schools in Montana
There are 4 Medical Assisting schools throughout Montana.
But hey, that's not a bad thing.
In fact, it is great to have everything gathered in four places.
You will make your education choice more easily.
In addition, the schools offer accredited programs.
So, quality over quantity is a value.
| School Name | Address |
| --- | --- |
| Flathead Valley Community College | Kalispell, MT |
| Great Falls College Montana State University | Great Falls, MT |
| Highlands College of Montana Tech | Butte, MT |
| Montana State University | Bozeman, MT |
Medical Assisting Salaries in Montana
After choosing which program you will attend, make sure you work hard.
Because the salary will depend on that later when you get a job.
Though the salary in medical assisting depends on many factors.
But qualifications are crucial to it.
Annual Salary Range: Annual Salary by Location:
| Location | Avg. Annual Salary |
| --- | --- |
| Billings | $34,217 |
| Missoula | $29,530 |
| Great Falls | $30,977 |
| Butte-Silver Bow | $30,871 |
| Bozeman | $29,530 |
| Helena | $30,661 |
| Kalispell | $31,710 |
| Havre | $30,441 |
| Anaconda-Deer Lodge County | $29,530 |
| Miles City | $33,681 |
Medical Assisting by State
---