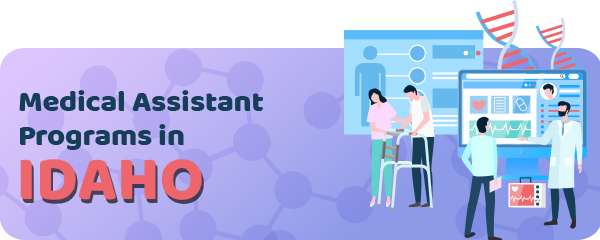 How to Become a Medical Assistant in Idaho
The route took me to Idaho.
My next Medical Assisting subject for this article.
But I will not prolong much.
Let's jump right away into the thing!
Initially, becoming a Medical Assistant in Idaho is a matter of meeting a few requirements.
To do so correctly, you should definitely complete the following steps:
Sponsored Listings
Complete an Educational Program in Medical Assisting
Consider National Certification
Research Employment Opportunities in Medical Assisting
Idaho boasts around with many employment opportunities in Medical Assisting.
These opportunities were present even back in 1013.
There were 2,364 medical assistants reported of being in work relations.
This report was done from the Idaho Department of Labor Communications and Research.
And honestly, it was realistic enough!
So job opportunities in this field in Idaho have always been promising.
But with time, they have become even better.
As the growth rate for medical assistants in the state is estimated to be 36% as the next decade progresses.
In the state, healthcare is considered as the second-largest private sector that secures employment for people.
This was reported by the Department of Labor.
For instance, Gem State is ranked second to Arizona as far as healthcare employment is concerned during 2003 and 2013.
However, Idaho is a relatively small state.
As a result, the medical assistant number is also the same compared to other states.
This can be an advantage for many aspiring medical assistants to find a place in Idaho to establish their medical careers successfully.
One thing for you to know however, is that Idaho does not license or register medical assistants at all.
But that does not prevent them from doing their practice in the state.
This practice is, of course, observed from physicians who are in charge of this duty.
Despite their medical duties, medical assistants can also indulge in administrative tasks as well.
They can make appointments, update and maintain medical records, bill insurance companies.
In addition, they will also be responsible for clinical tasks as well.
In these tasks, vital signs, preparing patients for examinations as well as administer various medications.
Step 1. Complete an Educational Program in Medical Assisting
Educational programs in medical assisting in Idaho are various.
As a student, you can choose from taking a diploma, certificate as well as an associate's degree.
Which one you choose, you won't lose since all of them have their own share of advantages in career development.
The certificate is the shortest program to attend in medical assisting in the state.
It usually takes from 9 to 12 months completion.
Diploma programs, on the other hand, take a year or even less time to finish.
While an associate degree in the field is also a flexible choice as it can be transferred with a diploma anytime.
The third program, which is the associate degree happens to be the longest medical assisting program in Idaho.
It is, in fact, a more in-depth study of the profession.
Furthermore, by finishing this program, as a medical assistant you will have more job opportunities on the go.
Each of the three programs is useful to complete.
Even though they prepare a person for an entry-level medical assistant.
The programs must be accredited as well.
In Idaho, two accrediting bodies are responsible for this matter.
One of them is the Commission on Accreditation of Allied Health Education Programs (CAAHEO).
While the second is the Accrediting Bureau of Health Education Schools (ABHES).
The programs that are accredited by either CAAHEP and ABHES organizations end up with a clinical externship.
At this time, the medical assistant will be able to make his or her practice wherein acquired skills and knowledge would be proved in a real-work setting.
Idaho is in fact home to 6 CAAHEP accredited programs.
While 3 ABHES programs are available as well.
Not to let aside the online programs as well.
Considering the medical assisting programs in the state, there's much to benefit from them.
They usually prepare the students in terms of cognitive knowledge, psychomotor skills as well as effective behavior learning.
Through them, a medical assistant will be able to finally take a certification exam and start practice in the field.
Step 2. Consider National Certification
A credential, in essence, is a sign of worth and effort to reach a degree.
In Idaho, credentials are given in medical assisting as well.
Especially to those who cannot take a license in the profession.
At this point, national certification is the most necessary and worth it.
And that happens for a few reasons.
First, it fulfills the employers' requirements.
Secondly, fulfill liability insurance provider requirements as well as health insurance company requirements.
Aside from these advantages, the certification also shows effort in pursuit of a profession.
But it surely shows a certain level of knowledge and skills gained in the medical assisting program during the education.
This certification can be taken by specific credentials.
The two most widely accepted credentials for medical assistants in Idaho are:
Certified Medical Assistant (CMA): American Association of Medical Assistants
The Registered Medical Assistant (RMA): American Medical Technologists
However, you may find that other national credentials better fit your needs, such as:
National Center for Competency Testing: The National Certified Medical Assistant
National Healthcare Association: Certified Clinical Medical Assistant
The American Society of Podiatric Medical Assistants: Podiatric Medical Assistant, Certified (PMAC)
The Joint Commission on Allied Health Personnel in Ophthalmology: Certified Ophthalmic Assistant (COA)
Most credentialing program eligibility requirements can be met by completing a medical assisting program.
This will give you the chance to sit for the required certification exams.
Step 3. Research Employment Opportunities in Medical Assisting
Being educated in medical assisting is a challenge but not impossible.
However, finding a job is the new success in any educational program.
To find a job in Idaho, a medical assistant should start job hunting.
He or she can do so by seeking the largest employer in healthcare in the state.
Usually, these employers are settings such as ambulatory care services and hospitals.
This has been reported from the Idaho Department of Labor.
As such, you may right away find job postings through these organizations:
Eastern Idaho Regional Medical Center, Idaho Falls
Kootenai Medical Center, Coeur D'Alene
Luke's Regional Medical Center, Boise
Alphonsus Regional Medical Center, Boise
Portneuf Medical Center, Pocatello
The Best Medical Assisting Programs in Idaho
Being home to many Medical Assisting schools, Idaho could be your next career destination.
Why not.
There are all possible degrees you can take in the field.
As well as flexible length per each.
| School Name | Address |
| --- | --- |
| Broadview University-Boise | Meridian, ID |
| Brown Mackie College-Boise | Boise, ID |
| College of Southern Idaho | Twin Falls, ID |
| Eastern Idaho Technical College | Idaho Falls, ID |
| Idaho State University | Pocatello, ID |
| ITT Technical Institute-Boise | Boise, ID |
| Lewis-Clark State College | Lewiston, ID |
| Milan Institute-Nampa | Nampa, ID |
| North Idaho College | Coeur d'Alene, ID |
| Stevens-Henager College | Idaho Falls, ID |
| Stevens-Henager College | Boise, ID |
Medical Assisting Salaries in Idaho
A good education will always reward you with a great job.
Consequently, with a satisfying salary as well.
In Idaho, medical assistant salaries vary from many factors.
The key factor being a qualification.
Annual Salary Range: Annual Salary by Location:
| Location | Avg. Annual Salary |
| --- | --- |
| Boise | $33,840 |
| Nampa | $33,484 |
| Pocatello | $30,994 |
| Idaho Falls | $32,423 |
| Meridian | $33,805 |
| Coeur d'Alene | $32,891 |
| Twin Falls | $30,887 |
| Lewiston | $35,213 |
| Caldwell | $33,448 |
| Moscow | $35,096 |
Medical Assisting by State
---