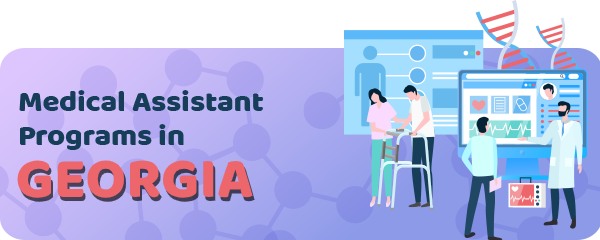 How to Become a Medical Assistant in Georgia
In life, you can choose to do anything, as long as you're serious about it.
We all remember days when we gathered with friends and sharing our dreams like fairytales.
But guess what?
Only those we were sure about and sincere, we were able to make true.
Choosing to study Medical Assisting in Georgia is a good opportunity to succeed.
And that, for two reasons.
Sponsored Listings
One reason is the educational opportunities the state offers to students.
And secondly, good salaries.
Both of these advantages come one after the other.
Just like in this article.
However, you cannot rise a career over the night.
So if you happen to be interested in Medical Assisting, you may consider completing the following steps:
Completing a Medical Assistant Program
Consider National Certification
Seeking Employment as a Medical Assistant
So, the chronology of the things you need to do to launch in this career is clear.
But some portion of motivation will do you good as well.
To be more precise, even back in 2012, there was a huge number of employees in the field.
The Department of Labor in Georgia noted 17,520 medical assistants working in the state.
Whereas this number is expected to grow into 26,270 as the same institution claims for 2020.
This is a 50 percent growth in employment.
However, this huge number of medical assistants in work relations in Georgia does not change some other issues.
These issues are related to the profession and the way you as an aspiring Medical Assistant can acquire it through education.
One of these issues is surely licensing.
Georgia does not certify or license the practice of the medical assistants in the state.
This is part of the legislature of the state-regulated by the Georgia Composite Medical Board in 2009.
This was part of the Medical Practice Act for the medical assistant's role.
According to this regulation, the duties of the medical assistant are set as well.
In Georgia, they will mainly perform the following tasks:
Administering subcutaneous and intramuscular injections
Taking vital signs
Administering nebulizer treatments
Removing sutures and changing dressings
Other tasks, provided they are under the supervision of a physician or advanced practice registered nurse
According to this rule, physicians allow medical assistants to perform only some services for which they are trained previously.
In fact, they seek those medical assistants with a special degree in education, training, and certification.
Step 1. Complete a Medical Assistant Program
Completing a Medical Assisting program in Georgia is necessary to draw more hiring offers in the field.
The state has not specified a level of training that medical assistants should meet to get employed.
But attending an accredited program is more likely to do so in the meantime.
These programs can be takes as diploma, certificate or associate programs.
The latter can be finished within two year's time, while a portion of 60 credits is necessary to be met as well.
However, the program may extend even more than two years.
Thus giving more in-depth study to the students who are eager to pursue more knowledge.
On the other hand, diploma and certificate programs take less to finish.
They make take 10 months to one year at most.
However, what makes them differ from the associate programs, they don't end up with a degree.
The three of the programs can be accredited from two accrediting organizations in Georgia.
The first is the Commission on Accreditation of Allied Health Education Programs (CAAHEP).
While the second is the Accrediting Bureau of Health Education Schools (ABHES).
For the medical assistant programs to receive accreditation from any of the two, they need to meet a few requirements for sure.
Consequently, these programs and students end up the most searched from employers and accrediting bodies in the state.
The medical assisting program anyway, will have an end.
In Georgia, these programs usually end up with an externship.
This externship includes finishing the hands-on experience in a clinical setting in which courses are attended and certain requirements are met from the medical assistant students.
Georgia also offers online opportunities to study in the field.
There are in total 28 CAAHEP accredited medical assisting programs.
As well as 12 of ABHES.
Anyway, a program in medical assisting prepares students to do certain medical duties.
Among them are included:
Perform clinical procedures related to a patient examination
Prepare specimens for analysis
Perform administrative and clerical functions, including record keeping, insurance billing, and medical coding
Interact with patients and communicate effectively
Understand policies, laws, and patient rights
Therefore, typical coursework often includes:
Medical terminology
Administrative office management
Medical finance management
Human biology
Medical transcription
Laboratory procedures
Pharmacology
Human growth and development
Step 2. Consider National Certification
National certification is the key to raise the medical assistant's level of competence at work.
National certification in Georgia offers two widely known credentials.
These credentials are:
Certified Medical Assistant (CMA) through the American Association of Medical Assistants
The Registered Medical Assistant (RMA) credential, through American Medical Technologies
In order to take any of these credentials, the student must have attended an accredited medical assisting program in their studies.
They also require passing the certification exam upon taking the credential title in the end.
Other professional credentials in this profession include:
The American Society of Podiatric Medical Assistants: Podiatric Medical Assistant, Certified (PMAC)
The Joint Commission on Allied Health Personnel In Ophthalmology: Certified Ophthalmic Assistant (COA)
National Center for Competency Testing: The National Certified Medical Assistant
National Healthcare Association: Certified Clinical Medical Assistant
Step 3. Seeking Employment as a Medical Assistant
The third step is the most important one since it ensures success after so much time and effort invested in the profession.
Hence, medical assistants can work in a variety of medical environments, such as hospitals, ambulatory care centers as well as Physicians' offices.
In particular, a graduate's search for employment as a medical assistant may begin at some of Georgia's largest medical centers, hospitals, and medical groups.
The well-known settings like these in Georgia are:
Medical Groups
Emory Clinic, Atlanta
Southeast Permanente Medical Group, Atlanta
WellStar Medical Group, Marietta
Piedmont Physicians Group, Atlanta
Emory Children's Center Inc., Atlanta
Hospital Systems
Emory University Hospital, Atlanta
Medical Center of Central Georgia, Macon
Shepherd Center, Atlanta
University Hospital, Augusta
The Best Medical Assisting Schools in Georgia
Georgia offers plenty of options regarding medical assisting education.
Over 10 schools are available in the state, which offers approved programs.
In them, you can either get a certificate, diploma or associate degree.
The choice is yours!
| School Name | Address |
| --- | --- |
| Albany Technical College | Albany, GA |
| Athens Technical College | Athens, GA |
| Atlanta Technical College | Atlanta, GA |
| Augusta Technical College | Augusta, GA |
| Bainbridge State College | Bainbridge, GA |
| Bauder College | Atlanta, GA |
| Brown Mackie College-Atlanta | Atlanta, GA |
| Central Georgia Technical College | Warner Robins, GA |
| Chattahoochee Technical College | Marietta, GA |
| Coastal Pines Technical College | Waycross, GA |
| Columbus Technical College | Columbus, GA |
| Dalton State College | Dalton, GA |
| Everest College-Atlanta West | Atlanta, GA |
| Everest Institute-Jonesboro | Jonesboro, GA |
| Everest Institute-Marietta | Marietta, GA |
| Everest Institute-Norcross | Norcross, GA |
| Fortis College-Smyrna | Smyrna, GA |
| Georgia Northwestern Technical College | Rome, GA |
Medical Assisting Salaries in Georgia
Medical assisting Salaries in Georgia are great for years.
And they are increasing with time.
Though the shift from minimum and the maximum is moving, an average is always constant.
Annual Salary Range: Annual Salary by Location:
| Location | Avg. Annual Salary |
| --- | --- |
| Atlanta | $35,280 |
| Augusta-Richmond County | $33,162 |
| Columbus | $32,223 |
| Savannah | $33,341 |
| Athens-Clarke County | $35,031 |
| Macon | $33,130 |
| Roswell | $35,147 |
| Albany | $32,785 |
| Marietta | $35,181 |
| Warner Robins | $33,030 |
Medical Assisting by State
---