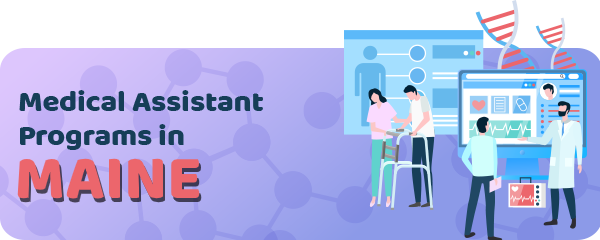 How to Become a Medical Assistant in Maine
Medical Assisting is a developed profession in Maine.
The Bureau Labor of Statistics so far has come up with the salary numbers.
The medical assistants there seem to earn a higher salary compared to the national average salary in the field.
According to the statistics of 2013, medical assistants in Maine has an average earning of 30,600.
While the national average in the field in a year was 29,600.
As it is seen, the United States is the foundation of job opportunities in medical assisting.
Sponsored Listings
Furthermore, they are expected to increase by nearly 29% between 2012 and 2022.
This good news is making many students are choosing Maine as the destination of a medical assisting education and certification.
To become a medical assistant in Maine, however, you need to follow a few concrete steps.
This article will describe them in detail.
These steps are:
Complete a Medical Assistant Education Program
Consider Certification
Look for Medical Assistant Jobs in Maine
Maintain Your Credentials
Step 1. Complete a Medical Assistant Education Program
In regards to medical assisting education, Maine does not have formal training for the candidates.
But it is normal that those who employ medical assistants in the state choose from the candidates who have an education in the field beyond the high school level.
However, you cannot get a credential either, without completing an accredited medical assisting program prior.
The CMA credential, for instance, has this requirement.
This credential is usually given through the American Association of Medical Assistants (AAMA).
The medical assisting programs in Maine are usually accredited from these accrediting bodies:
Accrediting Bureau of Health Education Schools (ABHES)
Commission on Accreditation of Allied Health Education Programs (CAAHEP) – Programs in Maine are located in:

Bangor
Presque Isle
Fairfield
Calais
Online
All of the CAAHEP accredited programs in Maine culminate in an associate degree, such as:
Associate in Applied Science in Medical Assisting
Associate in Applied Science in Allied Health – Medical Assisting
Associate of Science in Medical Assisting
Many of Maine's medical assistant education programs have prerequisites that include coursework in Algebra and Biology/Human Anatomy.
In addition, practice is one of the requirements of many medical assistant programs in the state.
The practice length varies from 200 to 500 hours.
It all depends on the certification and degree program that you attend.
Examples of some Maine medical facilities that might host your practicum include:
Medical Law and Ethics
Anatomy and Physiology
Medical Office Procedures
Insurance Coding
Technical Writing
Medical Terminology
Computer Applications
Medical Assistant Technology
Developmental Psychology
Apart from the practice, an internship is inseparable from a medical assisting program in Maine.
The internship includes working in a real-life environment, wherein the candidate does different tasks in his field.
As a medical assisting, hospitals, long-term facilities, outpatient clinics, ambulatory surgery clinics, medical centers, and physician's offices are the right settings to do the internship in.
Step 2. Consider Certification
After the medical assisting program, there comes certification.
Though the state of Maine does not give a certification mandate to the medical assistants, those who employ them often hesitate to do so.
A recognized certification is the Certified Medical Assistant (CMA).
This certification can be taken through the American Association of Medical Assistants (AAMA).
This certification credential can be taken by the end of the medical assistant program.
The programs may offer a candidate the chance to do so.
The verification of completion of CMA with AAMMA needs to be done with the program director.
And of course, there's a fee to pay for that.
This fee is $125.
It can be paid by credit card, check (cashier's, certified or institution only) or money order.
The application needs to be done before the exam.
The exam dates are usually published in the candidate's handbook wherein a month's time dates are given.
All documentation and fees must be sent to AAMA Certification, 7999 Eagle Way, Chicago, IL 60678-1079.
The application will surely be reviewed by the AAMA Certification Department.
This review will take 30 days to be sent by email.
That email will contain the Scheduling Permit as well.
Exams are usually offered at the following locations in Maine:
Bangor
South Portland
Presque Isle
The exam score will be known right after completing the test.
While official scores will be published online eight weeks after the exam.
With the passing score, the candidate will get the certificate and a wallet card.
Through them, one will be identified as a Certified Medical Assistant (CMA).
Registered Medical Assistant Certification
After the CMA, there comes another certification you can get in Maine through an organization.
This credential is the Registered Medical Assistant (RMA).
The credential is supported by the American Medical Technologists (AMT).
In order to take the exam for this credential, however, you need to meet a few requirements.
These requirements go as follows:
Completion of a medical assistant program that is accredited by an accreditation organization that is recognized by the S. Department of Education Council for Higher Education Accreditation
The program must be at least 720 clock hours in duration
The program must have included a 160 clock hour (minimum) field experience
Step 3. Look for Medical Assistant Jobs in Maine
Step by step, and here you are.
Nothing but a Certified Medical Assistant in Maine.
Having finished the education part, job hunting should be your next exciting journey.
A huge part of your hiring process will be the career development of your previous college.
I will enrich your resume through the quality education it has offered to you.
Then jobs will be found everywhere.
Examples of potential employers of medical assistants in Maine include, but are not limited to:
Mid Coast Hospital – Brunswick
Central Maine Medical Center- Lewiston
Bridgton Hospital – Bridgton
Mercy Hospital – Portland
Southern Maine Medical Center – Biddeford
York Hospital – Kittery
Maine General Health – Augusta
Eastern Maine Medical Center – Bangor
Western Maine Health – Belfast
Sebasticook Valley Hospital – Pittsfield
Another way to enter the right job market in Medical Assisting is through making connections.
In Maine, you can do so through the professional organization Maine State Society of Medical Assistants.
The organization has branches in Kennebec Valley and Penobscot areas.
It is also a source of professional development and networking opportunities for those who gain membership in it.
Step 4. Maintain Your Credentials
You may get things easy in life, but keeping them is a major issue.
However, a credential will never last forever.
The CMA credential, for instance, taken through AAMA, is valid for five years only.
To recertify, one needs to meet a few options as below:
Pass the Certification-Recertification Examination (the same test you took when you originally became certified) again
Complete continuing education – if you choose this route, follow these steps:

Download the AAMA Recertification by Continuing Education Application
Complete 60 recertification points during the five years your credential is valid, including:

10 general points
10 administrative points
10 clinical points
30 points combined from the above three categories
A minimum of 30 of your total 60 points must come from AAMA-approved continuing education units (CEUs)
Document your continuing education to mail to the AAMA with your recertification application. An AAMA
Registry Transcript is issued for AAMA-approved continuing education.
Other continuing education must be documented by providing a certificate of attendance/completion, date of activity, sponsor of activity, activity description, and credits earned
The RMA credential, on the other hand, taken through AMT, has an annual fee to be maintained.
It's $50.
You must also comply with the AMT's Certification Continuation Program (CCP), requiring that you complete 30 points every three years.
Professional education, formal education, employment verification, authorship of written works, instructional presentations, organizational participation or a combination of these categories are the means through which these points will be completed in the long run.
For more information, visiting the AMT CCP website is necessary.
The Best Medical Assisting Schools in Maine
The number of medical assisting schools in Maine is relatively small.
But educational and certification opportunities are many.
This makes any student apply for the program they choose as well as the credential.
This article has made sure you get informed of both of these issues in the state.
| School Name | Address |
| --- | --- |
| Beal College | Bangor, ME |
| Central Maine Community College | Auburn, ME |
| Eastern Maine Community College | Bangor, ME |
| InterCoast Career Institute-South Portland | South Portland, ME |
| Kaplan University-Augusta Campus | Augusta, ME |
| Kaplan University-Maine Campus | S Portland, ME |
| Kennebec Valley Community College | Fairfield, ME |
| Northeast Technical Institute | Scarborough, ME |
| Northern Maine Community College | Presque Isle, ME |
| Seacoast Career Schools-Sanford Campus | Sanford, ME |
| Southern Maine Community College | South Portland, ME |
| Washington County Community College | Calais, ME |
| York County Community College | Wells, ME |
Medical Assisting Salaries in Maine
In Maine, medical assisting is valued and making progress.
Therefore, salaries are expected to be the same.
But of course, they vary from many factors, such as work experience, education, skills and so on.
However, one thing is sure, you will get what you deserve.
Annual Salary Range: Annual Salary by Location:
| Location | Avg. Annual Salary |
| --- | --- |
| Portland | $35,753 |
| Lewiston | $35,396 |
| Bangor | $32,652 |
| South Portland | $35,753 |
| Auburn | $35,396 |
| Brunswick | $35,443 |
| Biddeford | $35,586 |
| Sanford | $36,149 |
| Augusta | $33,845 |
| Scarborough | $35,753 |
Medical Assisting by State
---