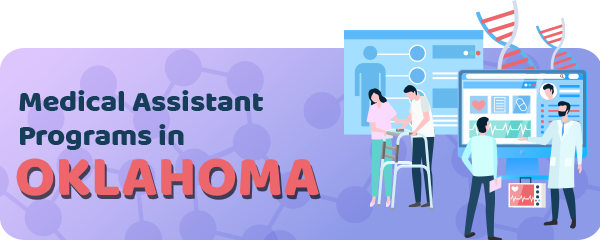 How to Become a Medical Assistant in Oklahoma
In life, we always tend to fix things.
But when someone does that for us in the first place, we feel flattered and privileged.
And we feel the same when we realize that…
In Oklahoma, Medical Assistants' issues are regulated by law.
The state recognizes them as unlicensed professionals who complete their practice under the direct supervision of a physician.
As a result, they are not allowed to offer services that belong to those medical assistants who hold a license in the field.
Sponsored Listings
Working by the guidelines of the state as well as from the supervision of physicians is necessary for medical assistants.
In fact, it is enough for them to get rid of the need for a license, certification or any other educational degree as a medical assistant.
Regardless of that, the lack of these requirements does not make a medical assistant less qualified in the field.
The state, in fact, boasts around with nearly 7,520 medical assistants in work relations due to their competitive professional preparation for the free positions.
To meet the demands of Oklahoma's top employers, consider these steps towards becoming a highly qualified medical assistant:
Pursue a Relevant Education
Consider National Credentials Available to Oklahoma Residents
Learn About the Local Job Market in Oklahoma
Maintain and Improve Your Professional Qualifications
Step 1. Pursue a Relevant Education
In Oklahoma, medical assistants can set their hiring conditions as they see them fit.
Three of the most common qualifications that are either required or preferred are:
Prior experience working as a medical assistant
Completion of a medical assistant military training program
Completion of a medical assistant certification or degree program
Apart from these hiring requirements, there's also some form of education that medical assistants need to meet in order to make them eligible for other medical opportunities.
First of all, a medical assisting program is necessary.
Through it, the graduates will be able to qualify for any national credentials of medical assisting in the state.
One of the credentials you can qualify for it the CMA credential.
This is indeed the most prominent credential in the field.
To be eligible for it, you will need to graduate from a school that is accredited by either of the following organizations in Oklahoma:
Commission on Accreditation of Allied Health Education Programs (CAAHEP)
Accrediting Bureau of Health Education Schools (ABHES)
As soon as you're done with your medical assistant associate's degree or certificate-level training program, there will be other courses for you to attend.
Usually, you can expect to take courses that include these subjects:
Medical terminology and communication
Medical law and ethics
Medical informatics
Medical insurance billing and coding
Medical assistant clinical procedures
Medical assistant computer programs and applications
Medical office laboratory procedures
Technical human anatomy and physiology
Pharmacology for medical assistants
Medical office procedures and administration
Medical assistant externship
Step 2. Consider National Credentials Available to Oklahoma Residents
In Oklahoma, there are many medical assisting credentials to check for.
The most well-known one is the Certified Medical Assistant (CMA).
This credential is acquired through the American Association of Medical Assistants (AAMA).
The candidate can take this credential through one of the accrediting organizations in the country.
Precisely, from CAAHEP or ABHES.
As such, he or she will be eligible to take the Certified Medical Assisting Exam.
Bypassing this exam, the credential title will be acquired too.
The exam application can be done online.
There will be 160 minutes' time to answer the 200 multiple-choice questions.
These questions are of various topics such as:
General subjects

Psychology
Communication
Medical law and regulatory guidelines
Professionalism and medical ethics
Quality assurance, risk management, and safety
Medical terminology

Administrative subjects

Medical reception and patient assistance
Medical business practices
Establishing a patient's medical record
Appointment scheduling
Medical office finances

Clinical subjects

Anatomy and physiology
Documentation of patient intake and care
Infection control, emergency management, and first aid
Assisting the provider and patient preparation
Nutrition
Processing and collecting specimens
Diagnostic testing
Medical assistant pharmacology
There are several other national agencies that offer professional medical assistant credentials.
These agencies include:
American Medical Technologists (AMT) – sponsor of the Registered Medical Assistant (RMA) credential
National Center for Competency Testing (NCCT) – sponsor of the National Certified Medical Assistant (NCMA) credential
National Healthcareer Association (NHA) – sponsor of the Certified Clinical Medical Assistant (CCMA) credential
National Association of Health Professionals (NAHP) – sponsor of the Nationally Registered Certified Medical Assistant (NRCMA) credential
To qualify for these credentials you will need to pass a qualifying exam offered by the sponsoring agency.
While eventually, you have to meet one of the following conditions:
Graduate from an approved and accredited medical assistant academic program
Be the equivalent of a medical assistant as part of your service in the US Military
Have several years of experience working as a medical assistant
Have several years of experience teaching medical assistants
Have already earned another agency's medical assistant credential
Step 3. Learn About the Local Job Market in Oklahoma
Job requirements and qualifications vary from the employers in Oklahoma.
To know what these employers look for in the medical assistant requirements, you need to actually take a look at the latest job requirements.
The following is a sampling of vacancy announcement postings for medical assistant jobs in Oklahoma:
The Oklahoma Heart Institute in Tulsa recently posted a medical assistant job description that specified a preference for candidates with a professional medical assistant credential.
For instance, the Mercy Memorial Health Center in Ardmore was noted as seeking a medical assistant with high school education.
While the preferred medical assistants seem to be those who have a BLS Certification taken by the American Heart Association.
Prior work experience as far as these medical assistants are concerned is also an advantage.
On the other hand, Utica Park Clinic in Broken Arrow was recently seeking a medical assistant who possessed the following minimum qualifications:
Professional medical assistant credential
Current CPR certification
High school diploma or equivalent
The mercy health system in Edmond, in addition, was recently hiring for a Medical Assistant I and Medical Assistant II.
Initially, they were looking for professionals with the following qualifications:
Medical Assistant I – high school education and CPR certification, and a preference for candidates with a CMA or RMA credential, prior work-related experience, or Certified Nursing Assistant (CNA) training
Medical Assistant II – minimum requirements included having a medical assistant credential from the AAMA, AMT, or NCCT
Medical assistants work at locations all across Oklahoma.
These professionals are distributed as follows:
3,720 medical assistants in Oklahoma City
1,800 medical assistants in Tulsa
210 medical assistants in Lawton
560 medical assistants in the southeastern Oklahoma non-metro area
530 medical assistants in the northeastern Oklahoma non-metro area
380 medical assistants in the northwestern Oklahoma non-metro area
280 medical assistants in the southwestern Oklahoma non-metro area
Step 4. Maintain and Improve Your Professional Qualifications
Maintaining credentials and improving professional qualifications is a challenge for the medical assistant.
It seeks more patience and dedication that education.
This maintaining is the first thing an employer will basically look for in a candidate.
But it is not impossible.
You can keep your credentials easily by meeting the requirements your sponsoring agency has set on you when taking the credential for the first time.
In the variety of these requirements in terms of different credentials, you have to consider the following ones.
To maintain your CMA, every five years you must either earn 60 re-certification points with at least 30 of these from AAMA-Approved continuing education units or retake the CMA Exam
To maintain your RMA you must annually renew your membership with AMT and complete 30 Certification Continuing Program (CCP) points every three years
To maintain your NCMA you will need to complete annual Continuing Education (CE) courses that are approved by the NCCT
To maintain your CCMA you must earn at least 10 Continuing Education (CE) credits biannually
To maintain your NRCMA credential you will need annually renew your membership with the NAHP, maintain a valid CPR certification, and earn two Class-A Continuing Education Units (CEUs) each year
The national organizations that offer medical assistant credentials can also be a valuable resource for local resources in Oklahoma, including information about:
Upcoming continuing education and professional development events
Legislative issues that may affect the field of medical assisting
Current employment opportunities at locations across the state
The Best Medical Assisting Schools in Oklahoma
There are enough Medical Assisting salaries in Oklahoma.
To be more precise there are 20 of them welcoming aspiring Medical Assisting students.
By attending any of them, students will be able to choose an accredited program in the field.
After completing the program, they are free then to look for additional credentials.
So basically, a medical assisting school is the key to all other doors in the profession.
| School Name | Address |
| --- | --- |
| Autry Technology Center | Enid, OK |
| Brown Mackie College-Oklahoma City | Oklahoma City, OK |
| Brown Mackie College-Tulsa | Tulsa, OK |
| Chisholm Trail Technology Center | Omega, OK |
| Community Care College | Tulsa, OK |
| Francis Tuttle Technology Center | Oklahoma City, OK |
| High Plains Technology Center | Woodward, OK |
| ITT Technical Institute-Oklahoma City | Oklahoma City, OK |
| ITT Technical Institute-Tulsa | Tulsa, OK |
| Meridian Technology Center | Stillwater, OK |
| Metro Technology Centers | Oklahoma City, OK |
| Mid-America Technology Center | Wayne, OK |
| Moore Norman Technology Center | Norman, OK |
| National American University-Tulsa | Tulsa, OK |
| Northwest Technology Center-Fairview | Fairview, OK |
| Oklahoma City Community College | Oklahoma City, OK |
| Pioneer Technology Center | Ponca City, OK |
| Platt College-Central OKC | Oklahoma City, OK |
| Platt College-Lawton | Lawton, OK |
| Platt College-Moore | Moore, OK |
| Platt College-North OKC | Oklahoma City, OK |
| Platt College-Tulsa | Tulsa, OK |
| Pontotoc Technology Center | Ada, OK |
| Tulsa Community College | Tulsa, OK |
| Tulsa Technology Center-Lemley Campus | Tulsa, OK |
| Tulsa Technology Center-Owasso Campus | Owasso, OK |
| Vatterott College-Oklahoma City | Warr Acres, OK |
| Vatterott College-Tulsa | Tulsa, OK |
| Virginia College-Tulsa | Tulsa, OK |
| Western Technology Center | Burns Flat, OK |
Medical Assisting Salaries in Oklahoma
The salary comes and goes.
But a good salary remains.
I said this to myself when waiting for the next month's salary.
On the other hand, a salary in medical assisting will be good as long as your qualifications are the same.
In qualifications, I mean work experience, education, and skills.
While the place is also an important factor that determines salary in this field.
Annual Salary Range: Annual Salary by Location:
| Location | Avg. Annual Salary |
| --- | --- |
| Oklahoma City | $33,882 |
| Tulsa | $34,278 |
| Norman | $33,668 |
| Lawton | $30,405 |
| Broken Arrow | $34,171 |
| Edmond | $33,775 |
| Midwest City | $32,891 |
| Enid | $33,560 |
| Moore | $31,769 |
| Stillwater | $33,560 |
Medical Assisting by State
---