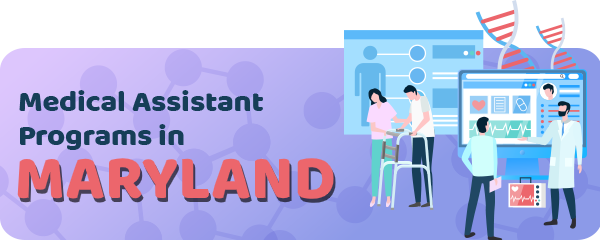 How to Become a Medical Assistant in Maryland
No one knows everything, so we need to learn.
Learning then takes patience and guidance.
In the same way, pursuing a medical assisting career needs an education.
This article will make sure you get the right guidance in this direction.
And as always, I hope to be as close to your understanding as well.
Let's scroll.
Sponsored Listings
First and foremost, becoming a medical assistant in Maryland is a matter of following the steps.
The main steps toward a successful medical career path are the following ones:
Complete a Medical Assistant Education Program in Maryland
Consider the Certification Examination
Network for Employment and Maintain Your Credentials
Knowing these steps will make the rest easy.
Especially when medical assisting jobs and progress are followed by state statistics in a matter of years.
Hence, the Maryland Department of Labor, Licensing and Regulation foresees an increase in medical assistant jobs in the state close to 597.
In this respect, both replacements and job openings are included.
This increase will happen in the following year, precisely in 2022.
According to this statistic, 60 new jobs will be opened.
When it comes to working, in Maryland all the work medical assistants do is done under the direct supervision of the physician.
Some of the technical practices they are legally permitted to do under the supervision are:
Surgical technical acts
Nonsurgical technical acts
Patient preparation for the physical exam
Collection of and processing specimens/phlebotomy
Patient history interview
Microbiology specimens
Clinical tests like electrocardiography, TB tests
Preparation of and administration of oral drugs
Injecting of intravenous drugs with supervision
A Maryland medical assistant, however, may not be allowed to do these:
Conduct a physical exam
Administer an anesthetic agent of conscious sedation (other than topical or local anesthetic)
Dispense medications
Provide physical therapy services
Give medical advice without consulting physician
Initiate independent treatment except for CPR
Maine's Medical Assisting is part of the Health Manpower Shortage Program.
This program is created by the Maryland Higher Education Commission (MHEC).
As such, it makes a medical assistant eligible to receive reimbursement for some educational costs.
In other words, this is the benefit it offers to a medical assistant career path in Maine.
Step 1. Complete a Medical Assistant Education Program in Maryland
Completion of an accredited medical assistant program is necessary in order to take the certification test given by the American Association of Medical Assistants (AAMA).
The second step below is a requirement of many of the state's healthcare providers when hiring medical assistants.
Medical assistant program in Maryland is recognized by accreditation bodies are located in the following cities:
Accrediting Bureau of Health Education Schools (ABHES) recognizes a campus-based program in Towson, as well as online.
Commission on Accreditation of Allied Health Education Programs (CAAHEP) recognizes online programs, as well as campus-based programs located in:

North East
Hagerstown
Bel Air
Arnold
Cumberland
The Medical Assisting programs in Maine offer you any kind of degree that you choose in the field.
You can either get a diploma or a certificate.
The main issue is to attend an accredited program in the first place.
As soon as you do that, you're ready to go for the AAMA certification exam.
Some of the degrees available in Maine in terms of Medical Assisting are:
Certificate in Medical Assisting
Associate of Applied Science in Medical Assistant
Associate of Arts in Medical Assisting
Regardless of the certificate or degree you earn, a medical assistant program in Maryland will include classes on the following subjects:
Patient education
Medical law, Health Insurance Portability and Accountability Act (HIPA)
Pharmacology
Medication administration
Office practices and administration
First aid and CPR
Ethics
Electronic Health Records
EKG testing
Clinical and diagnostic procedures
Laboratory techniques
Computer applications
Medical terminology
Human anatomy, pathology, and physiology
An inseparable part of all medical assisting programs in Maryland is also the practicum part.
In this practicum, the candidate will be able to put his skills and knowledge in a real-life setting.
The amount of it turned in hours will be from 200 to 500.
It all depends on the certificate or degree program you've applied for.
Examples of some Maryland medical facilities that might host your practicum include:
University of Maryland Medical Center – Baltimore
Johns Hopkins Hospital – Baltimore
Cumberland Outpatient Clinic – Cumberland
Doctor's offices in any Maryland city
Allergy and Asthma Center – Silver Spring
Cardiology Associates – Olney
Saint Agnes Hospital – Columbia
Patient First – Owings Mills
Step 2. Consider the Certification Examination
Being certified in Maryland for medical assisting is important in terms of the quality of the certification.
The majority of the employers in the state need to know that the certification you hold is of the ''gold standard'' certification agency.
Of this kind is considered the American Association of Medical Assistants (AAMA).
This agency is one of those from which the program director of the medical assisting program, by the end of it will direct you too.
As soon as you do so, you will have the chance to take the exam.
When you finish your accredited medical assisting program in Maryland, the program director will recommend you to the AAMA, and you will be eligible to take the exam.
The period of application may vary and change the course of certification.
For example, if a candidate has graduated from a medical assisting program 12 months before exam application, they are considered a non-recent graduate.
As such, they must send an official transcript in their application.
Or else, they can apply online.
However it may be, they must make sure they:
Send in your application fee of $125 via money order, cashier/certified check, institution check, credit or debit card
Apply in a timely matter-see the Candidate Application and Handbook – for example, to take the exam in January you must have your application mailed by September 20 of the previous year
The candidate must send the mail fees, application as well as any possible documentation of transcripts to the AAMA Certification.
He or she can send these items to the organization's address: 7999 Eagle Way, Chicago, IL 60678-1079.
When the AAMA Certification Department gets the candidate's application, he or she will get an email from them in 30 days' time.
If the application is fine and complete, he or she will also be given a testing period of 90 days in order to be considered as Registered.
If the opposite happens, the candidate is only asked to fill in the gaps and move on.
However, for the test, there is a schedule.
Through it, the candidate will be informed when the exam will take place and where.
Usually, the exam is taken in a Prometric center.
In Maryland, the test is offered at centers located in:
Columbia
Landover
Baltimore
Bethesda
Towson
Salisbury
The exam score will be known in the Prometric center as well.
While official scores are always made known online in eight weeks within the test.
Upon passing, the certificate and a wallet card will be sent to the candidate through the mail from the AAMA.
At this point, the candidate is officially a Certified Medical Assistant (CMA).
Other Certification Options in Maryland
There are other organizations that offer certification for medical assistants in Maryland besides the AAMA. They include:
American Medical Technologists – offers the RMA (Registered Medical Assistant) Requires graduation from a medical assistant program accredited by a regional or national agency recognized by the U.S. Department of Education Council for Higher Education Accreditation. The program must be 720 clock hours long and include a practicum of at least 160 hours.
National Center for Competency Testing – offers the NCMA (Nationally Certified Medical Assistant) You must be a recent graduate or student at a recognized school to take the exam.
National Health Career Association – offers the CCMA (Certified Clinical Medical Assistant)
Step 3. Network for Employment and Maintain Your Credentials
The CMA credential is valid for 60 months.
Recertification through the AAMA requires that you hold a current CMA credential and complete one of the following routes:
Recertification by Examination– this involves passing the same certification examination you originally took to become certified.
Recertification by Continuing Education – complete the AAMA Recertification by Continuing Education Application. If you choose this route, you must have accumulated 60 recertification points over the five years of your CMA credential's validity. These must include:

10 administrative points
10 general points
10 clinical points
30 points from a combination of the above categories
At least 30 of the 60 points must be from AAMA-approved continuing education units
Continuing education must be documented:

For AAMA-approved CEUs, you will receive an AAMA Registry Transcript
For non-AAMA points, you must have official documentation from the activity, including the date, name of a sponsor, course description, amount/type of credit, and a certificate of attendance or completion
This documentation must be mailed to the AAMA when you recertify
Professional Organizations for Medical Assistants in Maryland
After graduation and certification, you're left with no choice but to find a job and give meaning to all the time spent in seeking knowledge.
By joining a professional organization in the field, at this stage, is the best way to open yourself to new job opportunities, continuing education and networking opportunities.
One of the top organizations to be found in Maryland is the Maryland Society of Medical Assistants.
Its meetings are held in Baltimore and Glen Burnie (Chesapeake Bay Chapter).
The Best Medical Assisting Schools in Maryland
Maryland offers a variety of programs in Medical Assisting.
By attending any of them, aspiring students will be able to prepare the foundation of their profession.
It is only after the program, that they are ready to pursue certification.
| School Name | Address |
| --- | --- |
| Allegany College of Maryland | Cumberland, MD |
| Everest Institute-Silver Spring | Silver Spring, MD |
| Fortis College-Landover | Landover, MD |
| Fortis Institute-Baltimore | Baltimore, MD |
| Fortis Institute-Towson | Towson, MD |
| Frederick Community College | Frederick, MD |
| Harford Community College | Bel Air, MD |
| Kaplan University-Hagerstown Campus | Hagerstown, MD |
| TESST College of Technology-Baltimore | Baltimore, MD |
| TESST College of Technology-Beltsville | Beltsville, MD |
| TESST College of Technology-Towson | Towson, MD |
Maryland Medical Assisting Salaries in Maryland
Medical Assisting Salaries in Maryland vary from place to place.
But they also vary from other factors.
These factors include work experience, skills, and education.
The more of these in the background of the candidate, the better the salary he or she will get.
Annual Salary Range: Annual Salary by Location:
| Location | Avg. Annual Salary |
| --- | --- |
| Baltimore | $36,729 |
| Frederick | $38,238 |
| Gaithersburg | $39,434 |
| Bowie | $39,458 |
| Rockville | $39,494 |
| Hagerstown | $36,189 |
| Annapolis | $37,761 |
| College Park | $39,541 |
| Salisbury | $38,012 |
| Cumberland | $32,785 |
Medical Assisting by State
---