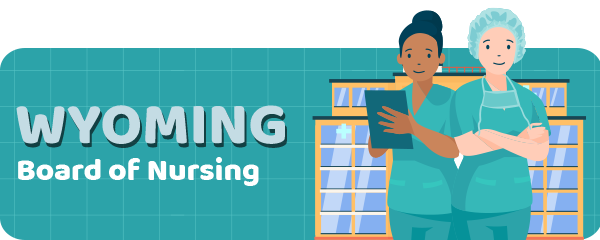 The medical field is in dire need of personnel, especially doctors and nurses.
Becoming a nurse in Wyoming involves you also getting more familiar with the Wyoming State Board of Nursing.
The purpose of this article is just that, so read on!
What Does the Board Do?
In Wyoming, like in most other states, the Board of Nursing manages and oversees the activity of nurses.
Here are its main responsibilities:
Ensuring the integrity of the public health, safety, and welfare
Issuing licenses
Approving nursing training programs
Renewing the credentials
Ensuring the candidates meet the requirements
Imposing disciplinary actions
Promulgating the rules and regulations
Maintaining accurate records
Registering advanced practice nurses
Offering APRN practice information
The Board issues credentials to:
Getting Approval to Take the NCLEX
The NCLEX, short for National Council Licensure Examination, is how you become a nurse in Wyoming.
This is an exam offered by the National Council of State Boards of Nursing, through the Pearson Vue testing centers.
Other countries also offer and recognize this exam.
These other countries are:
You can only take the exam if you perform these actions simultaneously:
Apply for a license with the Board
Sign up with Pearson Vue
Both of these actions involve some paperwork and some fees.
The process can only be completed with:
An application form
Graduating from a nurse training school
A clean criminal background
Official school transcripts
Some other documents
Passport-style photo
Proof of citizenship
The transcripts have to be sent directly by the training school to the Board.
Those who get accepted will receive a letter with a code that allows you to sit through the exam.
Make sure to apply for licensure within 2 years of completing your training course.
Additionally, the application has a validity of a year.
Some candidates may fail this exam, but they can retake it after 45 days, and up to 8 times until the application expires.
However, they have to sign up with Pearson Vue every time.
This also means you'll have to pay the sign-up fee every time.
Unfortunately, none of the fees you pay are refundable.
Renewing Your License
In Wyoming, licenses and certificates are renewed every even-numbered year, by October 1st.
For this, you'll have:
To pay some fees
To submit an application
To continue your education
The following document has more information about the renewal process:
https://drive.google.com/file/d/1hUyYziVhCEfHELDEnIvjYxWztDTcaVHo/view
How to do a Licence Lookup
On the official website of the Board, which we'll share later, you can verify nurses and CNAs, but separately.
Nurses are verified through the Nursys system.
By nurses, we refer to RNs, LPNs, and APRNs.
The Nursys website gives visitors these options:
Get updates for themselves or their nurses, including renewal notifications
See the licensure and discipline status information for any nurse
Verify a license as part of licensure by endorsement process
Each option has its own instructions as to how you must proceed.
There are 3 states that are not part of Nursys.
The states are California, Michigan, and Pennsylvania.
For nurses from these states, you'll need the following form:
https://drive.google.com/file/d/1DiOoUB9lNdKRW6E7nlsip7du454oD-UQ/view
CNAs are verified at the next link:
https://wybn.boardsofnursing.org/licenselookup
This link has these search options:
By name
By license number
By NCSBN ID
The options are in separate tabs.
Depending on which option you choose, the info you have to provide will differ.
These options will ask you to prove you're not a robot as well.
Wyoming State Board of Nursing Contact Information
Individuals can find the Wyoming State Board of Nursing at this address:
130 Hobbs Ave B, Cheyenne, WY 82002
This is the phone number you can use to contact the Board at, +1 307-777-7601.
The Board operates starting 7:30 am until 4 pm on weekdays, except if it's a holiday.
There are also a few emails for folks to use depending on what they need:
Compliance Department Email: bon-wsbncompliance@wyo.gov
Licensing Department Email: wsbn-info-licensing@wyo.gov
Practice and Education Department Email: wsbn-pe-info@wyo.gov
Everyone can find plenty of information on the Board's website, https://wsbn.wyo.gov/.
Conclusion
The website of the Board has all the information you need to prepare you for a career as a nurse.