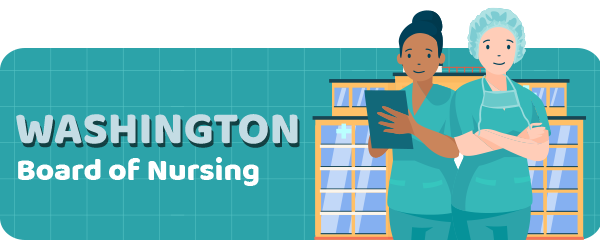 Have you decided to become a nurse in Washington?
Should this be the case, you need to learn more about the state's nursing board.
You're lucky because this is exactly what this article is all about, so read on!
What Does the Board Do?
In Washington, the State Department of Health oversees the Board of Nursing.
In a similar way, the Board oversees nurses and their activities.
This institution has duties such as:
Ensuring the integrity of the public health, safety, and welfare
Issuing licenses
Approving nursing training programs
Renewing the credentials
Ensuring the candidates meet the requirements
Imposing disciplinary actions
Promulgating the rules and regulations
Maintaining accurate records
Registering advanced practice nurses
Offering APRN practice information
Here are the professionals that will be supervised by the Board:
Advanced Registered Nurse Practitioners
Licensed Practical Nurses
Nursing Technicians
Registered Nurses
Getting Approval to Take the NCLEX
The National Council Licensure Examination, referred to shortly as NCLEX, is the way to become a nurse in Washington.
This exam was started and is still offered by the National Council of State Boards of Nursing, through the Pearson Vue testing centers.
These countries also recognize and offer this test:
When you apply for a license with the Board you also have to sign up with Pearson Vue.
Both entities will require you to send in some documents as well as some fees.
You can't complete the process without:
An application form
Graduating from a nurse training school
A clean criminal background
Official school transcripts
Some other documents
Passport-style photo
Proof of citizenship
The training center or school has to send your transcripts directly.
Should you be approved for the exam, you'll receive a letter with a code.
Nobody can take the exam without this code.
You'll need to pay attention to the timeline as well.
For starters, your application is valid for just 1 year.
Next, you can apply only for up to 2 years since you graduated from the training program.
You don't need to worry too much as those who fail the exam, can retake it after 45 days.
You have up to 8 tries in a year.
All retries involve you having to resign up with Pearson Vue.
Renewing Your License
Depending on the type of credential you have, the renewal conditions will vary.
They include:
Working a certain amount of hours per year
Continuing your education
Paying a fee
Work Hours Requirement
The hours you have to work for your license to be renewed are:
Active RNs and LPNs: a minimum of 96, yearly
Retired Active: minimum 24, but not more than 90, yearly
Expired or inactive < 3 years: a least 96, annually
Continuing Education Requirement
You'll have to attend the following number of continuing education:
Active RNs and LPNs: minimum 8, yearly
Retired Active: minimum 8, yearly
Expired or inactive < 3 years: minimum 8, yearly
Fees Expected
You'll have to pay the following fees to renew your license:
LPNs: $85
Retired active RNs and LPNs: $65
Nursing technicians: $25 before the birthday, $50 after birthday
RNs: $120
Inactive RNs and LPNs: $65
ARNPs: $125, though the inactive renewal is just $40
How to do a Licence Lookup
The process of looking up a license is rather fast forward.
You can either use the Nursys system on its official website.
Here, you'll be able to have a look at several aspects:
Get updates for you or your nurses, including renewal notifications
See the licensure and discipline status information for any nurse
Verify a license as part of licensure by endorsement process
You can also use this page:
https://www.doh.wa.gov/licensespermitsandcertificates/providercredentialsearch
Here, you can use the following criteria to verify a license:
Credential number
Individual name
Business name
In this state, this page is the primary source for the verification of diplomas.
Washington Board of Nursing Contact Information
The Board of Nursing of the Washington state is located at 111 Israel Rd SE, Tumwater, WA 98501.
If you need to call about any issue, use its phone number at +1 360-236-4703.
You'll be able to talk to someone there only between 8 am and 5 pm on weekdays, with the exception of the holidays.
Emails, however, can be sent at any hour, at this address nursing@doh.wa.gov.
The Board has much more useful information on its website at:
https://www.doh.wa.gov/licensespermitsandcertificates/nursingcommission/nurselicensing
Conclusion
We hope you find this information useful and you'll be more prepared to become a nurse in Washington.