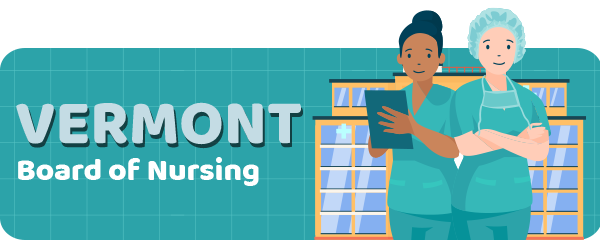 Do you want to work as a nurse in Vermont?
First of all, you will need to get a license offered by the Board of Nursing in this state.
So, read on so that you can learn more about getting and renewing your license online.
What Does the Board Do?
The Vermont Board of Nursing is officially known as the Office of Professional Regulation Nursing Section.
This is the association that oversees the nursing job and releases certifications.
The Board has to:
Issue licenses to future nurses
Renew the credentials of already licensed personnel
Ensure the candidates meet the requirements by analyzing the submitted documents
Issue disciplinary actions
Maintain the rules and regulations up-to-date
Maintain accurate records
RNs, LPNs, LNAs, and APRNs, are the professionals that receive credentials from this Board, or Office.
Getting Approval to Take the NCLEX
In Vermont, you have to get a nursing license.
To have it issued, you must take the NCLEX exam.
This exam is recognized in the US.
This is also the case in Canada and in Australia.
It is available from The National Council of State Boards of Nursing.
It is not hard to make an appointment for the exam at a Pearson Vue testing center close to where you are.
Pearson Vue testing centers are found in any city.
Before you sit the exam, you should do the following:
Complete first a training course for nurses
Complete the CGFNS International Certification Program – if you're a foreigner
Fill out the online application
Pay the fee – 180 USD
Have a clean criminal record
You must send the exam registration while also submitting the certification application.
In Vermont, nurse licenses are released and renewed online.
After getting the papers, mail them to:
89 Main St 3rd Floor, Montpelier, VT 05620, United States
The Council and the Board will view your submission and approve it.
The results will be posted on the official site of the Vermont Nursing Board, and that is when they are considered official.
Vermont is a compact state, so once you hold a license in another jurisdiction, you don't need to take the test again.
Renewing Your License
Your Vermont nurse license needs to be renewed every 2 years.
You should make an account utilizing the Vermont Nurse Portal.
The certification must be renewed within your birth month.
You will have to pay the renewal costs using either a debit or credit card.
You can find the renewal fees on the page below:
https://cms.sec.state.vt.us:8443/share/s/CGke4unlTAO8AHheKP4VVw
Regarding the hours of continuing education that you have to take, the state of Vermont requires:
400 hours once at 2 years, or
960 hours within 5 years after the ongoing licensing period has ended
You will need to create an account by visiting the following page:
https://sos.vermont.gov/opr/online-services/
You can choose to renew your license as fast as 6 weeks before it expires.
It will take about 5 working days for your application to be processed by the system.
The cost of renewing your nurse license in Vermont varies by type of credential.
How To Do A License Lookup
Keep in mind that the state of Vermont belongs to the Nursys system.
So, you can easily do a license verification for yourself or for someone else.
The page you should visit in order to do a license lookup through Nursys is:
https://www.nursys.com/LQC/LQCTerms.aspx
You can also use the Vermont Nurse Portal.
You will need to create an account first, after which you can log in and view your information.
To do a license verification, you can view the page below:
https://cms.sec.state.vt.us:8443/share/s/SIm29CVnQoSHDJrmT1sWAA
You can view your certification in several ways.
You should select the name, license number, or NCSBN ID.
You can search for a particular certification with a part of its number followed by an asterisk as well.
Vermont Board of Nursing Contact Information
You can also contact the Vermont Board of Examiners by using their address:
89 Main St 3rd Floor, Montpelier, VT 05620, United States
The phone number of the Vermont Board of Nursing is +1 802-828-2396.
The fax number is 801.530.6511
The Board of Nursing in Vermont can be found at this website https://sos.vermont.gov/nursing/.
You can also find a contact form on this page, at this URL https://sos.vermont.gov/opr/about-opr/contact-us/.
Conclusion
Hopefully, this info was helpful to you in finding out how to renew your nurse license in Vermont.