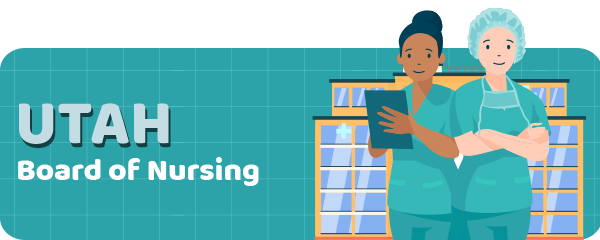 In order to start a career as a nurse in Utah, you first need to take some steps.
First of all, you have to learn more about the Utah Board of Nursing.
This article will show you everything you need to know in order to start your career.
What Does the Board Do?
The Utah Board of Nursing is the organization that handles the nursing profession and releases certifications.
The Board is overseen by the Division of Occupational & Professional Licensing.
The Board has to:
Issue licenses to future nurses
Renew the credentials of already licensed personnel
Ensure the candidates meet the requirements by analyzing the submitted documents
Issue disciplinary actions
Maintain the rules and regulations up-to-date
Maintain accurate records
Getting Approval to Take the NCLEX
In Utah, you have to hold a nursing license.
To have it released, you need to take the NCLEX exam first.
This exam is recognized in the US, Canada, and Australia.
It is provided by The National Council of State Boards of Nursing.
It is not difficult to take the exam at a Pearson Vue testing center close to your place.
Pearson Vue testing centers are found all over America.
Before you take the exam, you must do the following:
Complete a training course for nurses
Complete the CGFNS International Certification Program – if you're a foreigner
Fill out the online application
Pay the fee – 180 USD
Have a clean criminal record
You should send the test registration at the same time you send the license application.
In Utah, nurse licenses are only released and renewed online.
After meeting the criteria, you have to mail the paperwork to:
Heber M. Wells Bldg., 4th Floor, 160 East 300 South Salt Lake City, UT 84111
The Council and the Board will see your submission and accept it.
The results will show up on the official site of the Utah Nursing Board.
At this point, they will be made official.
Utah is a compact state, so if you hold a certification in another jurisdiction, you don't have to retake it.
Renewing Your License
Your Utah nurse license has to be renewed once in 2 years.
You also need to make an account with the Board through the Utah Nurse Portal.
The license has to be renewed until the last day of your birth month.
Keep in mind that you will need to cover the renewal costs with a debit or credit card.
Regarding the continuing education you need to take, Utah requires:
15 extra hours of education if you have 400 hours of work experience after licensure
30 extra hours of education if you have 200 hours of work experience after licensure
The costs to renewing your nurse license in Utah is as follows:
$58 if you renew on time
$78 if you renew it within a month of expiration
$108 if you renew it later than a month after it expires
How To Do A License Lookup
Perhaps you need to look up your license or even that of someone else.
First, you need to start using the Utah Nurse Portal.
If you made a Utah Nurse Portal account, you will find info about your license by logging in to your account.
If you don't have one, you should create an account.
To do a license verification, you should check out the page below:
https://secure.utah.gov/llv/search/index.html
You can view your certification in several ways.
You can choose the name, license number, or NCSBN ID.
You can also search for a particular certification with an asterisk after some of the letters or digits if you aren't sure of the full name or number.
This will be helpful if you lack information regarding the particular license you are looking for.
Utah Board of Nursing Contact Information
You can also contact the Utah Board of Examiners as well.
The physical address is Heber M. Wells Bldg., 4th Floor, 160 East 300 South Salt Lake City, UT 84111.
The phone number of the Utah Board of Nursing is 801.530.6628.
Its fax number is 801.530.6511.
Conclusion
If you get enough knowledge about the Board of Nursing in Utah, you will be able to start the career you always wanted.
Getting your license renewed online will also save you some trips, and the process will go smoother.