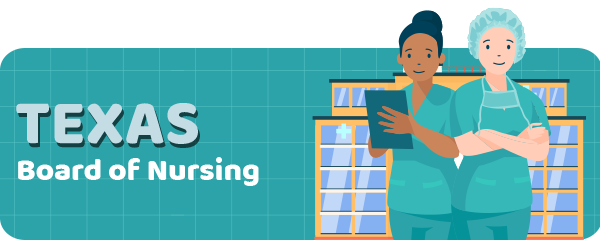 If you wish to build a career as a nurse in Texas, there are some steps you need to take first.
First of all, you need to know more about the Texas Board of Nursing.
So, what do you have to do to launch your career?
What Does the Board Do?
The Texas Board of Nursing is the organization that manages the nursing profession and releases licenses.
The Board has to:
Issue licenses to future nurses
Renew the credentials of already licensed personnel
Ensure the candidates meet the requirements by analyzing the submitted documents
Issue disciplinary actions
Maintain the rules and regulations up-to-date
Maintain accurate records
Getting Approval to Take the NCLEX
In Texas, you are required to hold a nursing license.
To be able to have it released, you have to take the NCLEX exam.
This exam is recognized in the US, Canada, and Australia.
This exam is offered by The National Council of State Boards of Nursing.
It will be easy to take the exam at a Pearson Vue testing center nearby your residence.
Pearson Vue testing centers are available all over the country.
Before you can sit for the exam, you need to:
Complete a training course for nurses
Complete the CGFNS International Certification Program – if you're a foreigner
Fill out the online application
Pay the fee – 180 USD
Have a clean criminal record
It will be good to send the test registration with the license application, in order to ease the process.
In Texas, you can only get your nurse license released and renewed online.
After meeting the requirements, you can send the paperwork to:
333 Guadalupe St #3-460, Austin, TX 78701
The Council and the Board will review your submission.
First of all, you should wait for your application to be accepted.
The results will appear on the official site of the Texas Nursing Board.
Texas is a compact state, so once you have a license in a state, you don't need to retake it in Texas.
This means that you don't have to retake the exam once you have a license in another state.
Renewing Your License
After you receive your license, you have to renew it once in 2 years.
You will have to renew your license 2 months days before the expiration date.
You will have to register and make an account with the Board using the Texas Nurse Portal.
The certification needs to be renewed on the month of your birth date and not later than the last day of that month.
You can check out the below page for more info on how to renew your certification:
https://txbn.boardsofnursing.org/txbn
Remember that you will also have to pay a renewal fee using a credit or debit card.
How To Do A License Lookup
Maybe you have to do a lookup of your nursing license or another person.
You can find more about the status of applications for nursing licensing by using the Texas Nurse Portal.
If you have a Texas Nurse Portal account, you can find info about your application by logging in to your account.
If you don't have a Texas Nurse Portal account, you need to make one first.
If you need help, check out the videos available on the Board site.
After you get an account with the Texas Nurse Portal, you can view your status.
To do a license lookup, you need to check out this page:
https://txbn.boardsofnursing.org/licenselookup
You can check your license in various ways.
You can select the name, license number, or NCSBN ID.
You can also look for a license with an asterisk if you do not have enough info.
Texas Board of Nursing Contact Information
You can also contact the Texas Board of Examiners if you need to.
The physical address of the Board is 333 Guadalupe St #3-460, Austin, TX 78701.
By phone, you can reach the Board at +1 512-305-7400.
The Board also has a fax number, which is (512) 305-7401.
For additional ways to contact the Board visit this link:
https://www.bon.texas.gov/contact_us.asp
Make sure to use these contact details only between 8 am and 5 pm local time during weekdays.
Also, be aware that during various holidays, the Board will be closed.
Conclusion
Once you have enough information about the Board of Nursing in Texas, you can start a flourishing career in the medical field.