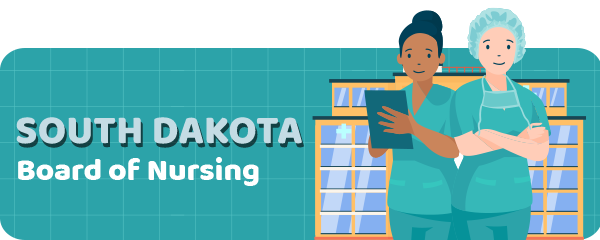 If you plan on becoming a nurse in South Dakota, you should know that this state requires a license.
In order to get a license, you have to go through a process.
This process involves getting your license issued and renewed online by the South Dakota Nursing Board.
So, what do you need to do in order to start your career?
What Does the Board Do?
The South Dakota Board of Nursing is the facility that oversees nurses and releases licenses.
The Board in South Dakota is part of the state's Department of Health.
The Board has to:
Issue licenses to future nurses
Renew the credentials of already licensed personnel
Ensure the candidates meet the requirements by analyzing the submitted documents
Issue disciplinary actions
Maintain the rules and regulations up-to-date
Maintain accurate records
In this state, the following personnel will obtain diplomas from this Board:
RNs
LPNs
APRNs
CNAs
Dialysis Technicians
Med Aides
Diabetes Aides
Getting Approval to Take the NCLEX
In South Dakota, you need a certification to work as a nurse.
For that, you need to take the NCLEX exam.
This exam will be recognized in the USA, but also in Canada and in Australia.
This test is available through The National Council of State Boards of Nursing.
It is easy to take the exam at a Pearson Vue testing center nearby where you live.
Pearson Vue testing centers are easily found everywhere in the country.
In order to take the exam, you should:
Complete a training course for nurses
Complete the CGFNS International Certification Program – if you're a foreigner
Fill out the online application
Pay the fee – 180 USD
Have a clean criminal record
You should submit the test registration along with the license application, to make the process easier.
In South Dakota, it is better to have your nursing license released online.
After, getting all the documents, you can send them to:
4305 S Louise Ave, Sioux Falls, SD 57106
The Council and the Board will look over your submission.
First, you need to wait for your application to be approved.
The test results will be published on the official site of the South Dakota Nursing Board.
South Dakota is one of the compact states.
This means that you don't have to retake the exam once you have a license in another state.
Renewing Your License
So, after you get your license, you will also have to renew it.
Keep in mind that you will need 1,040 hours of practice.
In this state, the nurse licenses have to be renewed once every 2 years.
The license has to be renewed on the month of your birth date and not later than the last day of that month.
You can check out the below page for more info on how to renew your certification:
https://doh.sd.gov/boards/nursing/nurselicensing.aspx
Remember that you need to pay a renewal fee in South Dakota, which is $115.
How To Do A License Lookup
Maybe you have to do a lookup of your nursing license or another person's license.
The Board in South Dakota has a section where you can look for licenses.
You need to select the profession, license type, or license status.
Another way to search is by name or license number.
If you don't know the full name or license number, a good option is searching by using an asterisk.
To do a license lookup, you have to check out the page below:
https://doh.sd.gov/boards/nursing/verificationlink.aspx
South Dakota's Board of Nursing Contact Information
South Dakota's Board can be reached in a few different ways.
First of all, you can use the address below:
4305 S Louise Ave, Sioux Falls, SD 57106, United States
The phone number of the South Dakota Board of Nursing is +1 605-362-2760.
The address and the phone number can be used only during weekdays between 8 am and 5 pm.
The Board doesn't operate during holidays.
The website of the Board in this state is https://doh.sd.gov/boards/nursing/.
The Board prepared a page where you can send emails based on the type of question you have.
The page is at https://doh.sd.gov/boards/nursing/contactsdbon.aspx.
Conclusion
It is not complicated to get an online license in South Dakota.
By choosing to renew it online, you can save time which you can spend on something else related to your career.
After you get all the info you need about the South Dakota Nursing Board, you can build a successful career in the field.