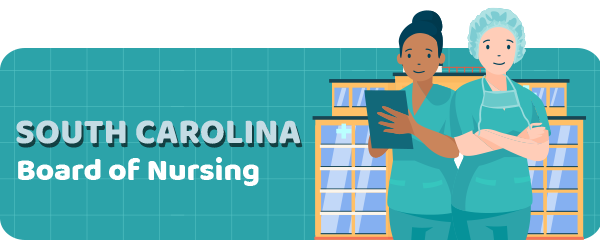 The medical industry is overseen by many institutions.
This is also true for the medical personnel, including nurses.
What Does the Board Do?
The correct name for the institution is (the) State Board of Nursing for South Carolina.
The State Board of Nursing for South Carolina is usually in charge of the following activities:
Ensuring the integrity of the public health, safety, and welfare
Issuing licenses
Approving nursing training programs
Renewing the credentials
Ensuring the candidates meet the requirements
Imposing disciplinary actions
Promulgating the rules and regulations
Maintaining accurate records
Registering advanced practice nurses
Offering APRN practice information
In South Carolina, individuals will need a license from this body if they consider becoming:
RNs
CNAs
APRNs
LPNs
APRNs with Prescriptive Authority
Getting Approval to Take the NCLEX
If you want to become a nurse in South Carolina, you have to pass the National Council Licensure Examination.
Usually, the name of the exam is shortened to NCLEX.
This test is offered through the Pearson Vue testing centers by the National Council of State Boards of Nursing.
The NCLEX is also recognized in:
You can't take the exam without first applying for the license and signing up with the testing center.
For this, you'll need some paperwork and to pay some fees.
Not all the fees are for the same institution.
Here are some of the documents you'll be asked for:
An application form
A clean criminal background
Official school transcripts
Some other documents
Passport-style photo
The transcripts are usually sent directly by the school to the Board.
A letter of acceptance should be received in close to 7 days.
The letter will contain a code that you'll need on the exam day.
Of course, some candidates may not pass the exam on their first or second attempt.
You have a year to pass the exam and you must wait 45 days until you can try again.
If you calculate, this gives you 8 attempts per year.
You'll have to resign up with Pearson Vue for each attempt.
However, you won't have to re-apply with the Board as well until the year passes.
Each exam try will cost you $2oo.
Renewing Your License
In South Carolina, nurses have to renew their license every even-numbered year by April 30th.
You could be notified in advance, though it's your responsibility to stay informed on the status of your license.
The process can be completed online.
For this, you'll have to visit https://eservice.llr.sc.gov/OnlineRenewals/, though you also have to create an account first.
You'll be expected to pay some fees, as it follows:
LPNs and RNs – $75
APRNs – $105
APRNs with Prescriptive Authority – $145
You should receive an email confirming the renewal of your credential.
Any issues can be reported and talked about through this email address NurseRenewal@llr.sc.gov.
You also need to continue your education through approved classes.
You'll have to complete 30 hours of continuing education.
How to do a Licence Lookup
Licenses can be verified online in South Carolina as well.
One of the options is to use the Nursys system, on its official website.
Nursys allows you to:
Get updates for you or your nurses, including renewal notifications
See the licensure and discipline status information for any nurse
Verify a license as part of licensure by endorsement process
You can verify a license on the Board's website as well.
For this, you'll need at least the last and first names, along with the license number.
The information has to be precise or else you'll receive an error message.
State Board of Nursing for South Carolina Contact Information
There are several ways in which you can come in contact with the Board.
One of them was already mentioned.
Another one is by visiting the Board's office at 110 Centerview Dr, Columbia, SC 29210.
The Synergy Business Park is located at this address, and the Board is found in this Park.
The Board is open on weekdays from 8:30 am to 5 pm.
However, mail should be sent to this address: 
P.O. Box 12367
Columbia, SC 29211
Here are the Board's numbers:
Phone: 803.896.4550
Fax: 803.896.4515
Conclusion
Here are some extra resources:
South Carolina Nurses Foundation
National Student Nurses Association
The Upstate Nurse Practitioner Association
South Carolina Nurses Association