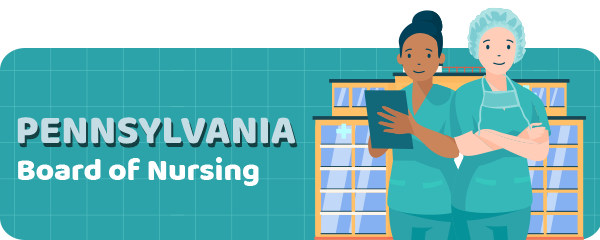 If you want to become a nurse in Pennsylvania, you will first need to get a license.
The nursing license will allow you to practice in this state.
So, you will need to find out how the State Board of Nursing in Pennsylvania works.
The nursing licenses in this state are issued and renewed online by the Nursing Board.
What Does the Board Do?
The Pennsylvania Board of Examiners for Nursing is the association that handles the nursing profession.
Here, the Board is part of the Pennsylvania Department of State.
The Board has many responsibilities, such as:
Issue licenses to future nurses
Renew the credentials of already licensed personnel
Ensure the candidates meet the requirements by analyzing the submitted documents
Issue disciplinary actions
Maintain the rules and regulations up-to-date
Maintain accurate records
Getting Approval to Take the NCLEX
In Pennsylvania, you need a license to be able to work.
You also have to pass the NCLEX exam.
This test is recognized across the USA, as well as in Canada and Australia.
This exam is offered by The National Council of State Boards of Nursing.
You can make an appointment and take it at a Pearson Vue testing center close to where you live.
Pearson Vue testing centers are available in almost any US area.
To take the exam, you should follow the below criteria:
Complete first a training course for nurses
Complete the CGFNS International Certification Program – if you're a foreigner
Fill out the online application
Pay some fees
Have a clean criminal record
You can send the test registration along with the application for your license.
In Pennsylvania, it is easy to get your nursing license issued on the internet.
You should first get the documents and submit them to:
2601 N 3rd St, Harrisburg, PA 17110, United States
The Council and the Board will review your application and approve it.
The results of your exam will be posted on the official site of the Pennsylvania Nursing Board.
You don't have to retake the exam if you have a license in another state.
Renewing Your License
After you get your license, you will need to get it renewed once every 2 years.
A notice for renewal will be sent to your email address before your license expires.
If you change your address, you need to let the Board know within 2 weeks.
The certification will be mailed to the address you provided.
This is the page you should visit in order to renew your nurse license:
https://www.pals.pa.gov/#/page/login
If you do not submit renewal requirements by the deadline, will have to mail a reactivation application.
Keep in mind that you will have to take 30 hours of additional education to get your license renewed.
How To Do A License Lookup
In Pennsylvania, you have several options for a license lookup.
Verification/Certification of License
You can ask for a license lookup online at www.pals.pa.gov.
To ask the Board to send an online Verification of License with History to another jurisdiction licensing agency, you need to:
Log in to your account with your User ID and password
Find the "Professional License Details" section
Look for "Verification/Certification" in the dropdown request selection.
Choose the license associated with the verification you want to do.
Keep in mind that you are now allowed to send any paper form.
The entire process takes place online.
You can check out the status of your license if you go on this page:
https://www.pals.pa.gov/#/page/default
Pennsylvania State Board of Nursing Resources Contact Information
You should also know how to reach out to the Pennsylvania State Board of Nursing.
The Board is located at 2601 N 3rd St, Harrisburg, PA 17110.
The Board of Nursing in Pennsylvania has the following mailing address:
P.O. Box 2649
Harrisburg, PA 17105-2649
Their phone number for the Board of Pennsylvania is (717) 783-7142.
You can also reach them by fax at (717) 783-0822.
Another way to reach the Board is by email at ST-NURSE@pa.gov.
If you think the Board's website can be of better help, visit it at https://www.dos.pa.gov/ProfessionalLicensing/BoardsCommissions/Nursing/Pages/default.aspx.
Conclusion
Once you have all the knowledge you need, you can easily get your license and also renew it easier online.
So, this will help you build a long and fruitful career in the medical field.