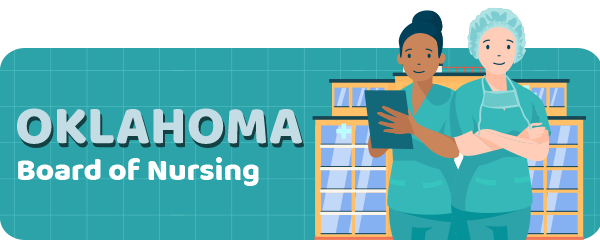 So, you want to work as a nurse in Oklahoma.
This profession will bring you many benefits, but there are some steps you should take first.
One of these steps is getting a license through the Nursing Board of Oklahoma.
These days, you can also renew your license online rather than make different trips.
However, you should first learn more about the Board in this state and how it can help you achieve your dream.
What Does the Board Do?
The Oklahoma Board of Nursing is the organization that oversees the nursing profession.
The Board needs to:
Issue licenses to future nurses
Renew the credentials of already licensed personnel
Ensure the candidates meet the requirements by analyzing the submitted documents
Issue disciplinary actions
Maintain the rules and regulations up-to-date
Maintain accurate records
Getting Approval to Take the NCLEX
In Oklahoma, you should have a license to practice.
You also need to take the NCLEX exam.
This exam is recognized everywhere in the USA, but also in Canada and Australia.
This exam is offered by the National Council of State Boards of Nursing.
You can schedule the exam at a Pearson Vue testing center.
One can find these centers all over the country, including in Oklahoma.
To be able to take the exam, you need to:
Complete a training course for nurses
Complete the CGFNS International Certification Program – if you're a foreigner
Fill out the online application
Pay the fee – 180 USD
Have a clean criminal record
It is good to send the exam registration at the same with the license application.
In Oklahoma, you can have your nursing license issued online.
You should gather the needed documents first and then submit them to:
2915 N Classen Blvd Ste 524, Oklahoma City, OK 73106, United States
The Council and the Board will review your application and accept it.
The results will be posted on the official site of the Oklahoma Nursing Board.
You don't need to pass the exam again if you have a certification in another state.
Renewing Your License
If you want to continue working, you must get your license renewed online.
The process is easy if you know where to start.
Once you mail evidence of alien status, you will be sent a renewal form.
You will also be sent an Evidence of Status form to fill out at the Board office.
This should also be sent in, along with a $75 renewal fee.
The nursing license should be renewed once in two years, during your birthday month.
Registered Nurses have to renew in even years.
Licensed Practical Nurses will renew their license in odd years.
You will also have to take 24 hours of extra education before you renew your license.
How To Do A License Lookup
If you need to know if your license as a nurse is active, you have to do a license lookup.
To search by name, complete the information and press 'Search'.
The information you asked for will appear at the bottom of the page.
Keep in mind you can also do a search by clicking "Search by License Number" or "Search by NCSBN ID".
You can easily do a license lookup if you visit the following page:
https://okbn.boardsofnursing.org/licenselookup
Keep in mind that in this state, you can also do a license verification through the NURSYS system.
For that, you should first access the NURSYS website and search for the information you are looking for.
Oklahoma's Board of Nursing Contact Information
You should also know how to reach out to the Oklahoma board.
The Board of Nursing in Oklahoma has the following address:
2915 N Classen Blvd Ste 524, Oklahoma City, OK 73106
The Board is located in the Cameron Building.
You should make an appointment if you need to speak with someone in person.
The Board of Oklahoma has 2 phone numbers:
Sometimes a robot might answer.
In this case, you're expected to leave your contact details, such as a name and a phone number.
You can also send a fax to the Board at 405.962.1821.
The Board's website is at https://nursing.ok.gov.
It might be easier to reach the Board by email at obnwebmaster@nursing.ok.gov.
Conclusion
Once you get all the information you need, it will be easier to issue and renew your nurse license online.
This way, you can be sure you will have a long and stable career in the medical field.