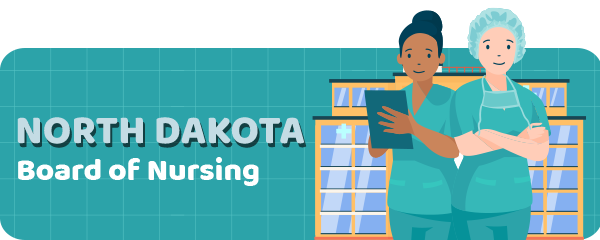 It's good to become familiar with the Board of Nursing if you want to become a nurse.
Through this guide, you'll learn more about North Dakota's Board of Nursing.
Buckle up and keep on reading!
What Does the Board Do?
The Board has to ensure nurses follow the rules and laws governing this profession.
It is also in charge of various other activities, such as:
Ensuring the integrity of the public health, safety, and welfare
Issuing licenses
Approving nursing training programs
Renewing the credentials
Ensuring the candidates meet the requirements
Imposing disciplinary actions
Promulgating the rules and regulations
Maintaining accurate records
Registering advanced practice nurses
Offering APRN Nursing Practice Information
You'll need a license from the Board if you want to become one of the following:
Registered Nurse (RN)
Advanced Practice Registered Nurse (APRN)
Licensed Practical Nurse (LPN)
Nurse Practitioner (NP)
Certified Nurse Aide (CNA)
Getting Approval to Take the NCLEX
You can't become a nurse in North Dakota without passing the National Council Licensure Examination, usually referred to as NCLEX.
The Pearson Vue testing center is where this exam is available at.
The organizer of the licensing exam is the National Council of State Boards of Nursing.
The Council offers this exam in other countries too.
These countries are:
To take the exam in the US, you'll have to sign up with Pearson Vue as well as apply for a license.
You'll need to pay several separate fees that are non-refundable.
These processes will require some paperwork, like:
An application form
Paying some extra fees
A clean criminal background
Proof you completed an approved training course for nurses
Some other documents
If you get accepted, you'll receive a letter in about 7 days.
This letter will contain a code and it's called Approval To Test (ATT).
You can only take the exam if you receive the ATT.
All this process has to take place in a maximum of 2 years since you graduated from your nursing training program.
You also have up to a year to pass the test, and you can retake it up to 8 times during that time frame.
This is because you have to wait for a minimum of 45 days between retries.
Pearson Vue expects candidates to sign up again for each attempt.
The fee for retaking the exam is $200.
Should a person fail all the attempts in a year, they have to restart the application process from the beginning.
Renewing Your License
All the professionals that obtain a license from the Board will have to renew their credentials.
In North Dakota, you'll have to renew your credentials every year by the end of the year.
The renewal process can be started at the beginning of October.
There are requirements that go along with this process.
These are:
Continuing your education
Paying a renewal fee
As far as the continuing education classes go, you'll have to complete the following number, based on your specialty:
RNs – 12 contact hours
LPNs – 12 contact hours
APRNs – 15 contact hours

These hours have to be in pharmacotherapy.
The fees are as follows:
RNs – $210
LPNs – $200
APRNs – $290
How to do a Licence Lookup
If you want to look up a license in North Dakota, you'll have to use this link:
https://www.ndbon.org/verify_renew/verify_nurse.asp
You can also use the Nursys system.
You'll need to know the person's name and license number.
Nursys is perfect for those who want to become licensed in a different state by using the endorsement method.
This system also helps you remember if you have to renew or license or not, through the notifications it sends out.
North Dakota Board of Nursing Contact Information
The Board of Nursing in North Dakota has the following address:
919 S 7th St #504, Bismarck, ND 58504
All physical mail can also be sent to this address.
If you want to speak to the Board's staff, you can use these numbers:
Phone: 701.328.9777
Fax: 701.328.9785
The Board also has a website, found at https://www.ndbon.org.
Conclusion
The North Dakota Nurses Association (NDNA) is another resource you can use for your future profession.
However, this Association requires individuals to become members by signing up and paying a monthly fee.