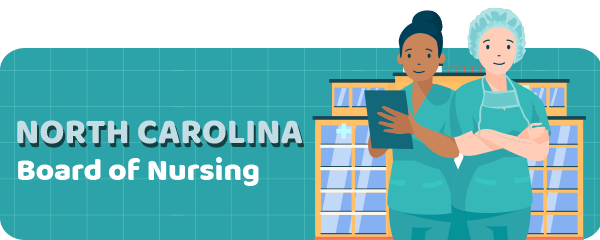 Want to start a nurse career in North Carolina but you don't know where to start?
You should first know that this state requires a license, and for that, you need to take an exam.
The nurse licenses in this state are provided by the Board of Nursing.
Read on in order to learn what steps you need to take first.
What Does the Board Do?
The North Carolina Board of Examiners for Nursing is the facility that handles the nursing profession and issuing licenses.
The Board needs to:
Issue licenses to future nurses
Renew the credentials of already licensed personnel
Ensure the candidates meet the requirements by analyzing the submitted documents
Issue disciplinary actions
Maintain the rules and regulations up-to-date
Maintain accurate records
Getting Approval to Take the NCLEX
In North Carolina, you need a license so you can get a job in the field.
You also have to take and pass the NCLEX exam.
The NCLEX exam is recognized all over the US.
It is also recognized in Canada and in Australia.
The exam is offered by the National Council of State Boards of Nursing.
You can make an appointment for your exam at a Pearson Vue testing center nearby you.
The Pearson Vue testing centers can be found all over the state.
However, first, you need to fulfill some requirements, which are:
Completing a training course for nurses
Complete the CGFNS International Certification Program – if you're a foreigner
Fill out the online application
Pay the fee – 180 USD
Have a clean criminal record
You are encouraged to submit the test registration while mailing the license application.
In this state, you can apply on the internet for your nursing license.
But, you first have to mail the needed paperwork.
The address you should send it to is:
4516 Lake Boone Trail, Raleigh, NC 27607
The Council and the Board have to accept the application first.
You should wait for the results will appear on the official site of the North Carolina Nursing Board.
If you hold a license in another state, the exam is not a requirement.
Renewing Your License
Your nurse license will expire once at 2 years, so you need to renew it in order to keep it active.
You need to renew your certification until the last day of the month in were born.
If you do not renew by then, your license will expire at midnight that day.
Once it expires, you are not allowed to work as a Registered Nurse or Licensed Practical Nurse.
Before you can work again, you need to get licensed again and fill in the Reinstatement application.
If your license is not active, the only way you can work in is if you have a multi-state nursing certification.
If you are caught working with an expired license, disciplinary action could be taken.
How To Do A License Lookup
In order to know whether your license is active, you may need to do a license verification.
For that, you should have a License Number or Listing Number.
If you choose to, you can also do a search by name.
If you want to renew your nurse license online, you should visit the link below:
https://portal.ncbon.com/
On this page, you will get several options, which are:
Searching by North Carolina License/Listing Number
Searching by Social Security Number
Searching by Name/City
This state is a part of the Nursys system.
This means that you can also do a license lookup on the Nursys website.
North Carolina's Board of Nursing Contact Information
You should also know how to reach out to the North Carolina board.
The Board of Nursing in North Carolina has the following address:
4516 Lake Boone Trail, Raleigh, NC 27607
The mailing address of the Board is the same one.
Their phone number is +1 919-782-3211.
The fax number is (919) 781-9461.
The Board operates between 8 am and 5 pm, on all weekdays.
You can also contact the form by filling out this form below:
https://www.ncbon.com/contact-contact-information#onlineContactForm
This page is part of the Board's official website, www.ncbon.com.
Conclusion
Now that you got the info you needed, you can be sure to have a smooth licensing process.
Keep in mind that applying to your license online will save you both time and money.