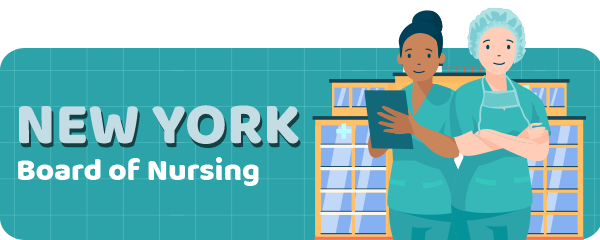 All professionals must be familiar with all aspects of their work, including the laws governing them and who makes them.
This applies also to those who wish to enter a certain profession.
Learning about these aspects ahead of time makes everything easier.
Let's learn more about the Board of Nursing in the State of New York!
What Does the Board Do?
In New York, the Board of Nursing is under the jurisdiction of the Office of the Professions.
This is what the Board of Nursing is in charge of:
Ensuring the integrity of the public health, safety, and welfare
Issuing licenses
Approving nursing training programs
Renewing the credentials
Ensuring the candidates meet the requirements
Imposing disciplinary actions
Promulgating the rules and regulations
Maintaining accurate records
Registering advanced practice nurses
Offering APRN Nursing Practice Information
These nurses need a license in the State of New York:
Registered Professional Nurse (RN)
Licensed Practical Nurse (LPN)
Nurse Practitioner (NP)
Clinical Nurse Specialist (CNS)
Getting Approval to Take the NCLEX
To become a nurse, you'll have to make sure you pass the National Council Licensure Examination, usually shortened to NCLEX.
This exam is made available at the Pearson Vue testing centers by the National Council of State Boards of Nursing.
Other countries also recognize and offer this exam.
These other countries are:
Pearson Vue expects candidates to sign up for the NCLEX.
This has to be done when you also apply for your license to be issued.
Getting accepted means you'll receive a number through your Approval To Test (ATT) letter.
It shouldn't take more than 7 days to receive this letter.
To sign up and to apply for a license involve you having to pay some fees that cannot be returned.
You'll also need these papers:
An application form
Paying some extra fees
A clean criminal background
Proof you completed an approved training course for nurses
Some other documents
Applicants to licensure have no more than a year to pass the NCLEX.
This also has to be done within 2 years of graduating from the training course.
In case you fail the exam, you can take it up to 8 times in a year.
However, you'll have to re-sign up with Pearson Vue and pay the $200 fee.
The test can only be repeated after 45 days have passed since the previous attempt.
In case you happen to fail all the allowed times, you have to start the whole process all over again.
Renewing Your License
It is well known that nurses have to renew their licenses.
This usually happens every 2 years and you'll be required to also continue your education.
The process can be completed online at this link:
https://eservices.nysed.gov/profs/loginDialog.do?method=showLogin
You'll have to create an account first.
For this, you'll be required to provide your profession, license number, and PIN.
You can do this either:
up to 5 months before the license expires
up to 4 months after it expired
How to do a Licence Lookup
You'll need to verify your license from time to time, or an employer might want to do that.
For this, you'll have to access this URL:
http://www.op.nysed.gov/opsearches.htm
The steps to follow are simple.
First, you'll choose the profession you're interested in.
The next step is to type in the first 3 letters of the individual's last name.
Some last names might only contain 2 letters.
In this case, after the last name, you'll enter a space and the first letter of the person's first name.
This option includes individuals who are sole practitioners.
You can also search by license number after you first select the profession.
For permits, you need to know the profession and the holder's name.
Another search option is for businesses, establishments, and names.
Here you can choose:
Establishment type
Its name – trade or legal
County
Status
The last option is to use the registration number to find a license.
New York Board of Nursing Contact Information
Should you need to go to the office of the Board, you'll have to arrive at the Education Bldg., 89 Washington Avenue, 2nd Floor West Wing, Albany, NY 12234.
Anything you need to mail to the Board, you'll have to send to the same address.
You can find more information regarding this profession can be found at http://www.op.nysed.gov/prof/nurse.
For phone calls and faxes, you'll have to use these numbers:
Phone: 518.474.3817, Ext. 120
Fax: 518.474.3706
Conclusion
At this point, you should be more familiar with the Board of Nursing in New York.
This will definitely help you in your career as a nurse.