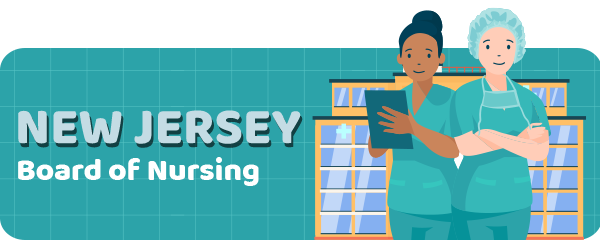 If you want to become a nurse in New Jersey, you'll need to be more familiar with the Board of Nursing.
You're in luck because this article will help you out with just that, so read on!
What Does the Board Do?
In New Jersey, the Board of Nursing is part of the Division of Consumer Affairs.
The New Jersey Board of Nursing is also associated with the Department of Health.
The Board has many responsibilities to take care of.
Among the most important ones we can mention the following:
Ensuring the integrity of the public health, safety, and welfare
Issuing licenses
Approving nursing training programs
Renewing the credentials
Ensuring the candidates meet the requirements
Imposing disciplinary actions
Promulgating the rules and regulations
Maintaining accurate records
Registering advanced practice nurses
Offering APRN Nursing Practice Information
In New Jersey, you can earn a license as:
Certified Homemaker Home Health Aides (CHHAs)
Advanced Practice Nurses (APNs)
Getting Approval to Take the NCLEX
Passing the National Council Licensure Examination, or NCLEX for short is how you become a licensed nurse in the US.
Your future job will be that of a registered nurse (RN) or licensed practical nurse (LPN).
The National Council of State Boards of Nursing offers this test that has recognition abroad as well.
Australia and Canada are the other countries where the exam is made available.
In the US, you can take this exam at the Pearson Vue testing centers.
For this, you must sign up with the center, pay a fee, and apply for licensure as well.
Receiving the Approval To Test (ATT) letter is how you know you can take the exam.
This letter is usually received in about a week.
The licensure application should be accompanied by a fee and some documents.
You cannot receive the fees back.
The paperwork includes:
An application form
Paying some extra fees
A clean criminal background
Proof you completed an approved training course for nurses
You have up to a year to pass the exam.
If you fail on your first attempt, you can retake the exam after 45 days.
You can take the exam up to 8 times.
Once the year passes and you still didn't succeed, you have to restart the whole process again.
Renewing Your License
Like in most other states, nurses in New Jersey will have to renew their licenses every 2 years.
The process involves continuing their education as well as paying a fee.
Nurses have to complete 30 contact hours of continuing education during the renewal period.
Even those who are retired will have to complete this requirement.
This is only valid for those who want to continue working as nurses.
Luckily, these hours can be completed online as well.
You can also carry over up to 15 hours from the previous renewal period if you completed more.
How to do a Licence Lookup
On the Board's website, which you'll find out in two seconds, you can verify the license of a nurse.
You can search for either an individual or a business.
Those who need to check more licenses will have to download the whole roster.
The page has the link to where you can do so.
There are some occupations that are licensed as businesses, and others as individuals.
You'll be informed of these differences on the respective page.
Nurses are individually licensed, so you'll have to search for a person.
On the new page, you'll have to provide some information, like:
Type of license
Profession
Name

First and middle names go together in one field, and the last name on a separate field.

City
License number
New Jersey Board of Nursing Contact Information
The Board of Nursing in New Jersey is located in the Rutgers University in its Newark Campus.
The address of this location is 124 Halsey St, Newark, NJ 07102.
If you wish to make a call to the Board, use this number +1 973-504-6430.
You'll have to keep in mind the Board's operating hours, between 9 am and 3:30 pm, from Monday to Friday.
The Board also has a website at https://www.njconsumeraffairs.gov/nur.
You can also contact the Board through the contact form at the following URL:
https://www.njconsumeraffairs.gov/nur/Pages/contactus.aspx
Conclusion
At this point, you're better prepared for a career as a nurse in New Jersey.