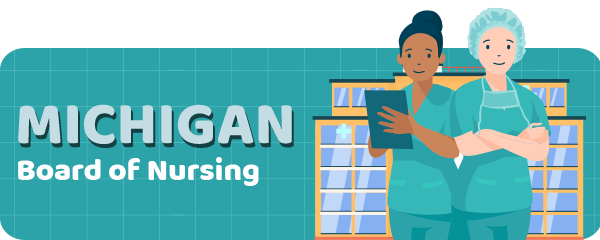 Do you want to become a nurse in Michigan?
To start your career in this field, you need to be issued a license from the Michigan Nursing Board.
So, you should first know more about what the Board can do for you and how it works.
Read on this article where we provide info on that.
What Does the Board Do?
The Michigan Board of Examiners for Nursing is the entity that oversees the nursing profession, including licenses.
The Board has to:
Issue licenses to future nurses
Renew the credentials of already licensed personnel
Ensure the candidates meet the requirements by analyzing the submitted documents
Issue disciplinary actions
Maintain the rules and regulations up-to-date
Maintain accurate records
Getting Approval to Take the NCLEX
To be able to look for a job as a nurse in Maine, you are required to pass the NCLEX exam.
The NCLEX exam is recognized in the US, Canada, and Australia.
The exam is provided by The National Council of State Boards of Nursing.
You can sit for the test at any Pearson Vue testing center close to where you live.
Remember that you need to match some criteria to take the test.
The requirements include:
Completing a training course for nurses
Complete the CGFNS International Certification Program – if you're a foreigner
Fill out the online application
Pay the fee – 180 USD
Have a clean criminal record
You may want to confirm your exam registration while mailing your nursing license application.
In Michigan, the licensing process is completed online.
This also means you will need to gather the required paperwork and submit it.
The paperwork is to be submitted to the next address:
Department of Licensing and Regulatory Affairs
Bureau of Professional Licensing
PO Box 30670
Lansing, MI 48909
After submission, the Council and the Board have to approve it.
After it has been accepted, you can go and take the needed exam.
The results of the exam are only official after they appear on the official site of the Michigan nursing board.
Some nurses might already have a license in another state.
These nurses do not need to take the exam again in this state.
Renewing Your License
In Michigan, your nursing license will have to be renewed every once in 2 years.
This is valid for the first licensing period but also the following ones.
There are also some fees associated with renewing your license.
Three months before your license expires, you will be notified by mail and you will also be sent an email.
Maine does not allow nurses a grace period, so keep in mind to renew your license on time.
You need to go into your MiPLUS account and start the renewal process here:
https://www.michigan.gov/lara
You will also have to put in your credit card details.
Michigan offers a 2 month grace period.
This gives you more time to renew your license without having to apply again.
However, you will also have to pay $20 more if you choose to renew during this period.
While you are actively practicing and before renewing your license, you have to take 25 extra hours of education.
How To Do A License Lookup
If you want to check whether your or someone else's nursing license is in good standing, you can do a license verification.
For that, you need to follow some specific steps.
First of all, you should check out the following link:
https://www.michigan.gov/lara/0,4601,7-154-89334_72600_73835—,00.html
After that, you can choose between looking up a license or verifying a license.
These options are at the top of the page and they each open up different pages with additional choices.
You will be able to verify your license after you submit your name and license number.
Keep in mind that you will also have to cover a $15 fee.
Michigan's Board of Examiners for Nursing Contact Information
The address of the Michigan Board of Nursing is:
Department of Licensing and Regulatory Affairs
Bureau of Professional Licensing
611 W. Ottawa
Lansing, MI 48933
The phone number of the organization is:
Its fax number is 517-349-5818.
The Board's URL was mentioned earlier.
Conclusion
After you read all the info you might need to start your career, you can start taking the steps to become a nurse.
Completing the process online will make it easier for you to find your first job with ease.