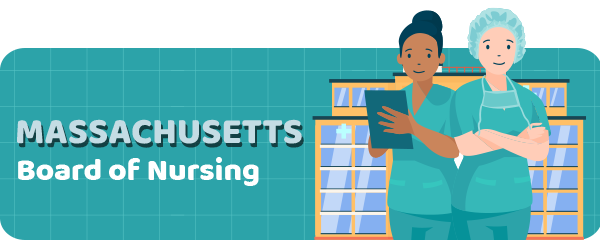 Most professions are under the jurisdiction of an overseeing body.
Nurses are overseen by the board of nursing in the state they live and work.
What Does the Board Do?
The Board of Registration in Nursing in Massachusetts has several roles, not just ensuring nurses follow the rules set out for them.
Below is a list of the most important roles of this Board:
Ensuring the integrity of the public health, safety, and welfare
Issuing licenses
Renewing the credentials
Ensuring the candidates meet the requirements
Imposing disciplinary actions
Promulgating the rules and regulations
Maintaining accurate records
The Board licenses the following types of nurses:
Getting Approval to Take the NCLEX
The NCLEX is recognized across the US as well as in:
The National Council of State Boards of Nursing offers this exam through the Pearson Vue testing centers.
Usually, future nurses have to sit through this exam in their home state.
To be allowed to take this exam, you'll need to:
Sign up with Pearson Vue

This action is not free of charge.

Prove you have a clean criminal record
Apply for licensure

For this, you'll have to complete a training course that is approved.
Prove you have a good moral character.
Those who are accepted to take the exam, have a year to pass it.
Nurses who come from a different country, need to prove they can speak and understand English.
For this, these candidates will have to pass the English proficiency test.
You can also become licensed in Massachusetts by Reciprocity if you got your nursing credentials in a different country.
For this, you'll need to pass the Commission on Graduates of Foreign Nursing Schools (CGFNS) evaluation.
Renewing Your License
In Massachusetts, licenses expire on the birthday of their holders, every 2 years.
The difference is that RNs and APRNs will have to renew in even-numbered years.
LPNs will renew in odd-numbered years.
You can renew your license online for up to 3 months before your current one expires.
The process requires you to create an account with the Board.
This is the URL where you can do so:
https://madph.mylicense.com/eGov/Login.aspx?ReturnUrl=%2FeGov%2F
You can sign up as a professional or as a facility.
You'll also have to pay some fees, as follows:
RNs and LPNs: $120
APRNs: $180
Licensed nurses, regardless of the type, are also expected to complete 15 hours of continuing education per renewal period.
The Help Desk reachable at (617) 973-0935, can offer more details if you need them.
How To Do A License Lookup
You can look up the status of any nurse in the US, on the Board's website.
To check the license of a nurse who earned her license in Massachusetts, you must visit this page:
https://madph.mylicense.com/verification/
On the new page, you'll need to at least have the last name of the person as well as the number of their license.
The number of the license also has a prefix, such as RN or LN.
The prefix has to be included in the search.
If the nurse is licensed in a different state, you'll have to use the Nursys system.
If you need help with Nursys, you can call either one of these two numbers (312) 525–3600 or (866) 819–1700.
The second one is toll-free.
You can also lookup the license of someone who obtained it in a foreign country.
This requires a fee of $15 that has to be sent to the Board.
Massachusetts Board of Registration in Nursing Contact Information
The physical address of the Board of Registration in Nursing in Massachusetts is 250 Washington Street
Boston, MA 02108.
The Board is part of the Department of Public Health.
It is also known as the Bureau of Health Professions Licensure.
Online, you can find the Board at the following URL:
https://www.mass.gov/orgs/board-of-registration-in-nursing
The Board can also be contacted by phone or by fax.
There are 2 numbers available for both of these options, as follows:
Main phone number: (800) 414-0168
Alternate phone number: (617) 973-0900
Board of Registration in Nursing fax number: 617-973-0984
Board of Registration in Nursing – SARP fax number: 617-887-8786
Furthermore, you can email the Board to these emails, depending on your problem:
Administration: nursing.admin@state.ma.us
Public Records Requests: publicrecordsadmin@massmail.state.ma.us
Licensure by exam: nursebyexam@pcshq.com
Licensure by reciprocity: nursebyreciprocity@pcshq.com
License renewal: renew.bymail@state.ma.us
Good Moral Character (GMC): GMCliaison@state.ma.us
VALOR Act: valoractliaison@massmail.state.ma.us
Conclusion
Hopefully, at this point, you're more familiar with the Board of Registration in Nursing in Massachusetts, if you want to become a nurse in this state.