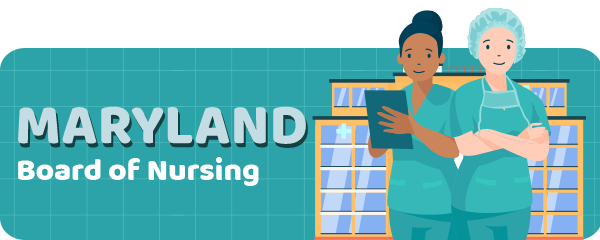 When you become a nurse in Maryland, you'll deal with the Board of Nursing quite a lot.
Through this article, you'll learn more about the Board in this state, including the ways of contacting it.
What Does the Board Do?
As the name might suggest, the Board of Nursing oversees the activity of nurses.
It does this by a number of other activities that usually happen behind the scenes.
The following are probably the most important:
Ensuring the integrity of the public health, safety, and welfare
Issuing licenses
Renewing the credentials
Ensuring the candidates meet the requirements
Imposing disciplinary actions
Promulgating the rules and regulations
Maintaining accurate records
The nurses that come under the jurisdiction of the Board are:
RNs (Registered Nurses)
LPNs (Licensed Practical Nurses)
CNAs (Nursing Assistants)
Getting Approval to Take the NCLEX
Interestingly enough, Maryland joined the NCL (National Council Licensure) first.
Currently, there are 25 states who are part of it, along with the following countries:
The NCL exam can be taken at the Pearson Vue testing centers.
Candidates must take and pass this exam in their home state.
Otherwise, they can't become registered or licensed practical nurses.
The test is organized by the National Council of State Boards of Nursing.
Those who can take the exam in Maryland must do the following:
Sign up with Pearson Vue

This involves paying a fee.
Prove they have a clean criminal record

Apply for licensure

Provide your social security number
Fill out the application
Graduate from a training program
Have a clean criminal record
Provide a set of fingerprints
Prove you completed a clinical preceptorship if you got trained in a different state
Prove you can speak English – if your training was completed outside the US
Once you send your application, you have 365 days to pass the exam.
If you can't pass the exam on your first try, you have to wait 45 days until you can retake the exam.
Renewing Your License
In Maryland, you can renew your nurse license or certification online.
When you need to renew your license in this state, you'll need to provide some details.
These are:
To provide your social security number
To complete a background check
A copy of your current national certification – for Advanced Practice Nurses

Either faxed to (410) 358-3530 – Attention: Advanced Practice Certification
Or emailed to mbon.advancedpractice@maryland.gov

To pay a renewal fee
An application
Individuals can no longer change their names through this license renewal application, despite what's written on the form.
Those who want to change their name need to do so through a judge and attach a copy of the document.
How To Do A License Lookup
There are many cases in which you'll need to verify the status of a license.
The Board of Nursing in Maryland offers this service online.
It also designed this page optimized for the browser you'll be using.
On the new page, you'll have 2 search options:
If you choose the first option, you'll need to:
Type the number without any spaces
Choose the profession
When you get your result, you'll have to click on the name to see the details.
If you want to use the second option, you'll need to:
Choose the profession
Type in your full name and add an "*" after your first name, without spaces
Like earlier, you'll have to click on the name to see the details.
Maryland Board of Nursing Contact Information
It's easy to find the Board of Nursing in Maryland by using the internet, by accessing the next link:
https://mbon.maryland.gov/
If you need to visit the office of the Board, this is its address:
4140 Patterson Avenue
Baltimore, Maryland, 21215-2254
The location is in Reisterstown Road Plaza Mall, where the Burlington Coat Factory is.
You can call or visit according to the next schedule:
Monday, Tuesday, Thursday, and Friday from 8:30 am – 4:30 pm
Wednesday from 9:30 am – 4:30 pm
These are the numbers you can call, based on your needs:
RN/LPN Main Telephone Number​ – ​​410-585-1900
RN/LPN Toll-Free Number​ – ​​888-202-9861​
RN/​LPN Renewal Desk – ​​​410-585-1900
​RN/LPN Fax Number – ​​410-358-3530
​Nursing Assistant ​Certification Main Number – ​​410-585-1900
​Nursing Assistant Toll-Free Number – ​​877-847-0626
​Nursing Assistant Renewal Desk – ​​410-585-1900
​Nursing Assistant Fax Number – ​​410-764-8042
Sometimes, communication through emails is recommended, so you need the right addresses.
You can see them at the next link:
https://mbon.maryland.gov/Pages/departmental-emails.aspx
Conclusion
With so many details in your hands, it will be easier to become a nurse in Maryland.