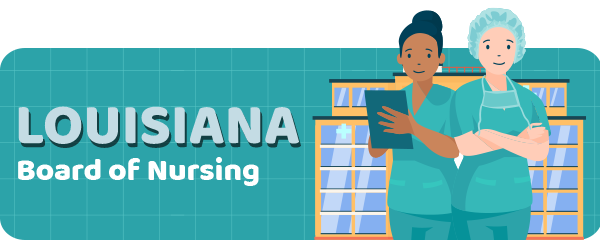 Maybe you want to become a nurse in Louisiana.
For that, you will first need to get a license which is issued by the state's board of nursing.
The first thing you should do is have more knowledge about the board.
What Does the Board Do?
The Louisiana Board of Examiners for Nursing is the organization that handles nursing licenses and manages nurses.
The Board's attributes are:
Issue licenses to future nurses
Renew the credentials of already licensed personnel
Ensure the candidates meet the requirements by analyzing the submitted documents
Issue disciplinary actions
Maintain the rules and regulations up-to-date
Maintain accurate records
Getting Approval to Take the NCLEX
If you plan on working as a nurse in Louisiana, you are required to take and pass the NCLEX exam.
The NCLEX exam is recognized all over the country but also in Canada and Australia.
The exam is provided through The National Council of State Boards of Nursing.
The test can be taken at various Pearson Vue testing centers in the country, depending on your region.
There are some requirements for attending the test.
These requirements are the following:
Completing a training course for nurses
Complete the CGFNS International Certification Program – if you're a foreigner
Fill out the online application
Pay the fee – 180 USD
Have a clean criminal record
Usually, candidates prefer to register for the test but also send a license application at the same time.
You should know that in this state, you can send your license application online.
Remember that you will need to send in the needed paperwork too.
The paperwork has to be submitted to the next address:
17373 Perkins Rd, Baton Rouge, LA 70810, United States
Then, you need to wait for the Council and the Board to accept the submission you made.
Right after that, you can schedule the exam at a date that is more convenient for you.
Keep in mind that the results will only be valid once they appear on the official site of the state board.
Nurses that have an active license in another state are not required to take this exam.
Renewing Your License
In Louisiana, the nursing license you have needs to be renewed from time to time.
In order to renew your nursing license, you will also have to cover a fee.
In this state, you can get your license renewed online.
This makes things easier if you don't have the time to renew in physical.
You can renew your license online from October 1st until December 31st.
If you choose to renew it later than that, you will need to pay an extra fee of $50.
In order to renew it online, you will have to complete an online form.
The online renewal form can be found if you go to this page:
https://lsbn.boardsofnursing.org/lsbn
This is a portal that will help you start the license renewal process.
How To Do A License Lookup
You may have to see the status of your nursing license, and for that, you need to do a license verification.
In this state, the license lookup is provided by Nursys.
You can find their website here:
You can easily find out the status of your nursing license through the QuickConfirm system, which Iowa is a part of.
If you need to know more, you can access the link below:
https://www.nursys.com/Help/HelpVideoPlayer.aspx?VID=LQC
You will need to access the 'Nurse License Verification for Endorsement' if you have a license in this state but want to apply in another state.
If you just need to get a license lookup, you will need to use 'LSBN's Licensure Verification service'.
Louisiana's State Board of Nursing Contact Information
The address of the Louisiana Board of Nursing is:
Louisiana State Board of Nursing
17373 Perkins Road
Baton Rouge, LA 70810
The phone number of the facility is below:
Its fax is:
The Boards website is at https://www.lsbn.state.la.us.
You can contact the organization by email at:
General email: lsbn@lsbn.state.la.us
RN Endorsements/Volunteer Nurses/Foreign Nurses: endorsements@lsbn.state.la.us
RN Nursing Practice: practice@lsbn.state.la.us
License Verifications/Reinstatements: verifications@lsbn.state.la.us
Annual License Renewals:renewals@lsbn.state.la.us
If you need to send electronic mail to a specific person or department not mentioned here, use the information on the contact page of the website.
Conclusion
Now that you have all the info you need, you can start your career as a nurse with ease.