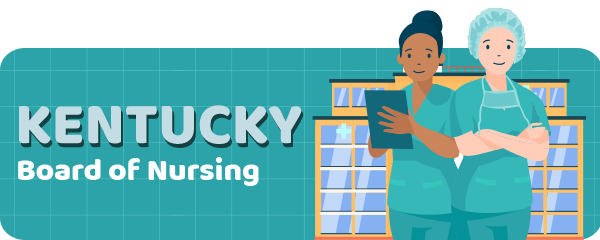 In the medical field, professionals interact with a wide range of people and institutions.
Nurses, for instance, have to deal rather often with the Board of Nursing in their state.
Let's learn a bit more about the Board of Nursing in Kentucky!
What Does the Board Do?
This institution has many responsibilities.
Here are some of them:
Ensuring the integrity of the public health, safety, and welfare
Issuing licenses
Renewing the credentials
Ensuring the candidates meet the requirements
Imposing disciplinary actions
Promulgating the rules and regulations
Maintaining accurate records
In Kentucky, the Board of Nursing issues licenses to this personnel:
RNs (or professional nurses)
LPNs (or practical nurses)
APRNs (or Advanced Practice Registered Nurses)
These professionals can obtain:
Temporary permits
Provisional licenses
Temporary authorizations
It usually takes up to 14 days for licenses to be issued.
In rare cases, the process can take up to 3 months.
Getting Approval to Take the NCLEX
Everyone who hopes to become an Rn or an LPN must pass an exam.
The National Council of State Boards of Nursing organizes through Pearson Vue, the National Council Licensure Examination.
If you pass this test you could be allowed to work as a nurse in:
You can only sith through the exam if you receive the "Approval to Test" letter.
For this you need to:
Graduate from a training program
Apply for the license with the Board, at the same time
Fill out the online application
Have a clean criminal record
Provide a copy of your fingerprints
Get a score above 80% on the jurisprudence exam
You must try to take the exam within a year of sending your application.
The license application costs $125 if you fill it out online.
If you want a paper application, you'll have to pay an additional $40.
The fees are not refundable.
You'll have to reapply if you fail the test.
Renewing Your License
The renewal period in Kentucky is between September 15 and October 31 of every year.
To maintain an active license, RNs and LPNs must complete annually a minimum of 14 contact hours of continuing education.
These professionals have, in Kentucky, 7 other alternatives to these hours.
Most of the alternative ways to complete this requirement are more difficult and could take more time.
APRNs don't need to continue their education if their certification was obtained:
During the licensure period, or
Was in effect during the entire licensure period, or
Was renewed during the licensure period
APRNs may have additional credentials.
They must complete 5 contact hours of approved pharmacology CE:
Pursuant of the 201 KAR 20:215(5)(b) must ensure 1.5 hours are on the use of KASPER, pain management, or addiction disorders
Pursuant of the 201 KAR 20:065 have to ensure 4 hours are on addiction disorders

1.5 hours must be in addiction disorder pharmacology
How To Do A License Lookup
In Kentucky, those who want to look up the license of an RN or LPN must use the Nursys system.
Doing so means also paying the fee related to this search, which is $30.
The fee has to be paid directly to Nursys and it could change at any point in time.
These results can be seen only by a Board of Nursing.
If another person needs to verify the credentials of a licensed nurse in Kentucky, they need to fill out an application.
The form can be found here:
https://kbn.ky.gov/General/Documents/verification-of-licensure-to-another-entity.pdf
This service costs $50.
If you need to verify the license of an APRN professional, you'll have to check out the APRN Coordinator.
This is found at https://secure.kentucky.gov/FormServices/Nursing/APRNCred and it's free of charge.
The new page has many fields to fill out, and all of them are mandatory.
Kentucky Board of Nursing Contact Information
If you ever need to visit the Board of Nursing, you need its address.
The Board is located at 312 Whittington Pkwy # 300, Louisville, KY 40222.
Through the Board's website at https://kbn.ky.gov, you can find out all the desired information.
You can also reach out to the Board through these numbers:
KBN office phone: 502-429-3300 or 1-800-305-2042 (Toll-Free)
General fax: 502-429-3311 (Louisville Exchange)
Kentucky nurse aide registry: 1-888-530-1919 (Toll-Free)
Calling the office phone number, you'll have an automated phone service responding.
You'll have to press the "*" button and then the 9 digits of the person you're interested in talking to.
The https://kbn.ky.gov/about/Pages/contact-staff.aspx page has all these numbers listed.
Conclusion
We hope you're now more familiar with the Board of Nursing in Kentucky.