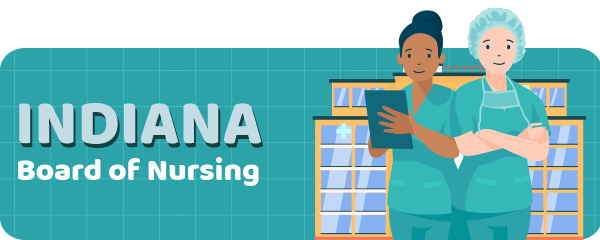 Are you searching to start off a new career as a nurse in Indiana?
If so, you will need to know that you have to get a license.
In order to get a nurse license, you will also need to be in contact with the Board of Nursing in this state.
By doing this, you will be able to get your license faster and find your first job as a nurse.
So, all you need to do is read the article below.
What Does the Board Do?
The Indiana Board of Examiners for Nursing is the institution that handles matters regarding nurses.
The Board needs to:
Issue licenses to future nurses
Renew the credentials of already licensed personnel
Ensure the candidates meet the requirements by analyzing the submitted documents
Issue disciplinary actions
Maintain the rules and regulations up-to-date
Maintain accurate records
Getting Approval to Take the NCLEX
In order to become a nurse, passing the NCLEX exam is needed.
This exam is recognized all over the US, but also in Canada and Australia.
The National Council of State Boards of Nursing offers the exam.
The testing process is organized at the Pearson Vue testing centers in any state you are in.
You'll need to take the exam if you want to become:
Registered Nurse
Licensed Practical Nurse
Advanced Practice Registered Nurse
Nurse Midwife
If you plan on taking the test, you have to meet certain criteria, which includes:
Completing a training course for nurses
Complete the CGFNS International Certification Program – if you're a foreigner
Fill out the online application
Pay the fee – 180 USD
Have a clean criminal record
Generally, it is a good idea to register for the exam and apply for a license at once.
The license application can be found online, where you will be asked to send in the necessary paperwork.
The documents are to be sent to the Board's address we'll share later on.
When the Council and the Board approve your request, you can make an appointment to take your exam.
However, to be made official, the results have to first be published on the Board's website.
If you are a certified nurse in another part of the country, you can skip the exam and you will still be able to practice.
Renewing Your License
In Indiana, just like in most states, your license has to be renewed periodically.
First of all, you have to send in a fee that covers the renewal costs.
You can choose to renew your license online if not more than 1.5 years passed since it stopped being valid.
If your license expired more than 1.5 years back, you need to submit a renewal form and start a physical process.
This form would also need to be printed and sent together with a $100 fee, payable to the IPLA.
In the case that your nursing license is expired for over 3 years, you need to:
Submit a renewal form
Send a $100 check payable to the IPLA
Submit the copy of a valid nursing license in another state
Those who do not have an active certification in any state have to make a Personal Appearance with the Board.
You will also need to take some extra education hours before your license expires.
How To Do A License Lookup
In Indiana, you should first do a Verification of Licensure.
This will help you find out more about the status of your license and when it expires.
In order to do a license lookup, you need to complete a form.
The form can be found if you access the following address:
file:///Users/admin/Downloads/07143%20fill-in.pdf
Indiana's Board of Examiners for Nursing Contact Information
The Board of Examiners for Nursing in Indiana is located in Indianapolis, Indiana.
The address of the Indiana Board of Nursing is:
402 W Washington St w072, Indianapolis, IN 46204, United States
It is situated in the State of Indiana's Information Center.
The phone number you can reach the staff of the Board is:
Online, the Board of nursing in Indiana is found at https://www.in.gov/pla/professions/indiana-state-board-of-nursing.
You can also send the Board an email to pla2@pla.in.gov.
Conclusion
Once you have the right information about the board of nursing in this state, you will know what steps to take next.
This will help you get your new license with ease, and start on this new nursing career that you love.