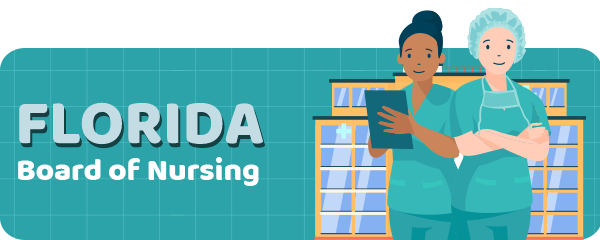 Not everyone who wants to become a nurse in Florida knows the contact information of the nursing board in this state.
You'll find out just that and not only, so read on!
What Does the Board Do?
Nurses are overseen by a nursing board in all the states.
The Florida Board of Nursing has to:
Ensure the integrity of the public health, safety, and welfare
Issue licenses
Renew the credentials
Ensure the candidates meet the requirements
Imposes disciplinary actions
Promulgate the rules and regulations
Maintain accurate records
These types of nurses need licenses in Florida:
Registered nurses (RNs)
Practical nurses (LPNs)
Certified nursing assistants (CNAs)
Advanced practice registered nurses (APRNs)
Autonomous advanced practice registered nurses
Getting Approval to Take the NCLEX
The NCLEX is the exam nurses need to pass to become licensed.
The test is provided by the National Council of State Boards of Nursing.
This exam is made available in Australia and Canada not only across the US.
You must:
Graduate from a training program
Sign up with Pearson Vue
Pay the fees
Apply for the license
Fill out the online application
Have a clean criminal record
Renewing Your License
In Florida, nurses have to renew their credentials every 2 years.
Most types of nurses are split into groups and each group has a different renewal date.
The renewal date for each group is mentioned on the Board's website.
Certain individuals may be exempted from license renewal:
Members of the Armed Forces of the United States on active duty, or their spouses
Those who volunteer health services and have an income under a certain poverty level
Those who volunteer their services in public schools for a minimum of 80 hours a year

Retirees must complete a minimum of 400 hours a year
These individuals must continue their education in at least a few areas.
Certified Nursing Assistants
CNAs must do the following to renew their licenses:
Provide proof of paid work in the previous period
Pay the renewal fee

$55 if you do it on time
$105 if the license expired
$160 if you are a 120 day Notified Delinquent

Complete 24 hours of in-service training
Licensed Practical Nurses
These nurses need to:
Pay the renewal fee

You must check the website to see which fee you must pay, based on your situation

Send an application
Complete 27 hours of continuing education in specific areas
Registered Nurses (RN)
Registered nurses need to: 
Fill out an application
Complete the hours of continuing education
Pay the renewal fee
The fee depends on the status of your license, and it's best to check out the site.
These nurses also have to complete at least 27 hours of continuing education on specific topics, as mentioned on the site.
Advanced Practice Registered Nurses (APRNs)
APRNs need to send the following to the Board: 
An application
Proof of having completed the 30 hours of continuing education
The renewal fee mentioned on the site, based on the situation
Their current primary place of practice address
A copy of their current national certification – where this applies
These professionals must also verify their practitioner profiles and complete the financial responsibility form.
Autonomous Advanced Practice Registered Nurses
These nurses must complete the same renewal requirements as APRNs.
How To Do A License Lookup
If you need to verify the license of a compact multi-state RN or LPN, you have to visit the NURSYS website where there is more information on how this is done.
Otherwise, you can visit the mqa-internet.doh.state.fl.us/MQASearchServices/HealthCareProviders page.
Here you'll be asked to provide the following information, in separate fields:
Board or Council
Profession
License number
Business name
Last Name
First Name
City
County
Zipcode
License status
You can then proceed with the search or you can reset the data.
Florida Board of Nursing Contact Information
There are various ways to contact the Florida Board of Nursing: 
Physical address: 4052 Bald Cypress Way, Tallahassee, 32399
Applications and fees must be sent only to P.O. Box 6330 Tallahassee, FL 32314-6330
Customer support phone number: (850) 488-0595, Monday to Friday starting at 8 am until 6 pm
Board's office fax: 850-617-6460
Press Team phone number: 850-245-4111

Can also be contacted at NewsMedia@flhealth.gov
If you access its website at https://floridasnursing.gov and look for the "Contact" page, you'll have another option.
That is using the new artificial intelligence system, called ELI.
ELI is an online chat service and it can transfer you to a real human if it can't answer your question.
Conclusion
Check out the Board's website for in-depth answers to your questions!