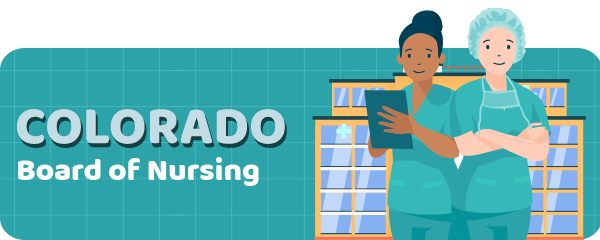 If you consider becoming a nurse in Colorado, you have a few things to know about the Board of Nursing in this state.
So, stick around to find out what we have to say!
What Does the Board Do?
The Colorado State Board of Nursing has many responsibilities.
Future nurses must be familiar with the Board ahead of time.
The main responsibilities of the Board are:
Setting up rules and regulations for nurses
Issuing and renewing nursing licenses
Issuing disciplinary actions when necessary
It is the duty of the nurse to stay in contact with the Board for any possible changes to the rules, regulations, and laws related to this occupation.
Getting Approval to Take the NCLEX
The NCLEX is the exam that allows nurses to become licensed.
This exam has national recognition and s offered by the National Council of State Boards of Nursing.
Not only this exam is recognized at the national level, but also over in Canada and Australia.
The license can be issued for:
1 state
More states
Might or might not include the state in which you live
In the US, the exam is organized at the Pearson Vue testing centers.
The first condition to take the exam is graduating from a training course.
Candidates have to apply for their license at the same time they sign up with Pearson Vue.
This registration has a validity of a year, and if you don't take or pass the exam within a year, you'll have to reapply.
Application for a license as well as signing up for the exam will involve paying some non-refundable fees and providing some documents.
The documents will include: 
Official school transcripts
Proof a clean criminal record
Application form
Renewing Your License
As long as you're a licensed nurse, you'll have to renew your credential.
The renewal period is of 2 years, but not all nurses renew their license at the same time.
For starters, registered nurses (RNs) and nurse practitioners renew their credentials separately.
The renewal happens either in odd or even years, on September 30th.
The correct year depends on when the license was issued.
Those who became nurse aides must renew their licenses before the end of January 31st on odd-numbered years.
Practical nurses will do the same thing during even-numbered years, by the end of August 31st.
Everyone who needs to renew their license can do so online, about 4 to 6 weeks before the expiration date of your current license.
How To Do A License Lookup
There are times when you might need to look up a license, either yours or that of someone else.
In Colorado, you can do this at the following URL:
apps.colorado.gov/dora/licensing/Lookup/LicenseLookup.aspx
This is a different website where you can check out the license of any professional out there, that needs such a credential.
Your first step would be to choose the area of activity or type of license.
If you press the CTRL button on your keyboard, if you use a Windows computer, you can click on several types of licenses.
The next 3 fields will request you input this information:
License prefix
Number
License suffix
Next, you'll have to provide the person's first and last name.
If you're looking up the license of a business, you have a separate field for its name.
You must provide a location as well:
City's name
State or province – this field includes Canada and not only
 The zip code
There are some professionals and businesses who can operate without a license.
However, these entities can also be looked up, to ensure they're legit.
For this option, you'll need to follow the URL indicated by this license verification page.
Colorado State Board of Nursing Contact Information
This is probably the part you're most interested in.
The physical address of the Board is:
1560 Broadway # 1350, Denver, CO 80202
Its online address is https://dpo.colorado.gov/Nursing.
Currently, Roberta Hills is the Program Director and she can be reached through the following means:
Phone number: 303-894-7800
Fax: 303-894-2821
Email: dora_nursingboard@state.co.us
Folks who need more details related to applications, renewals, and other general inquiries, can use:
Phone: 303-894-7800
Email: dora_dpo_licensing@state.co.us
For additional information related to the program and discipline, you can use these means:
Phone: 303-894-2430
Fax: 303-894-2821
Email: dora_nursingboard@state.co.us
Conclusion
Now, you're better prepared to get in contact with the Board as well as with getting ready for your upcoming nursing career.