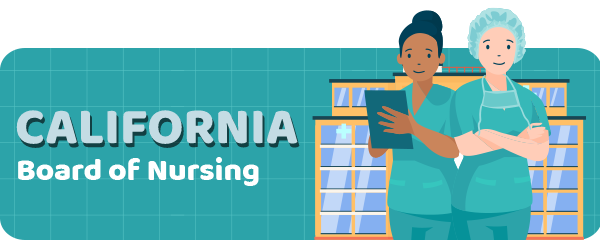 Future nurses in California must know more details about this state's Board of Nursing and the license renewal aspect.
You're on the right page, so read on!
What Does the Board Do?
The correct name of the nursing Board in California is the California Board of Registered Nursing.
Through this Board, future nurses can become licensed, renew their licenses, and anyone can verify the status of the license of any nurse in this state.
The Board can also issue disciplinary actions in the cases where these are needed.
Its mission is to ensure the health and safety of the public through highly qualified personnel.
The Board also sets rules, regulations, and other measures that must be followed.
Getting Approval to Take the NCLEX
Nurses become licensed if they pass the NCLEX, which is short for National Council Licensure Examination.
This exam has national recognition.
However, some nurses can also become licensed through endorsement, but only if they qualify.
Since the majority will have to take the test, we'll focus on this option.
The first requirement is to graduate from a nursing training program that is approved by the Board.
It's highly recommended to apply online, and for this, you'll have to create an account with BreEZe.
Then you'll have to choose the "Start a New Application or Take an Exam" option and then the "RN Initial Exam Application" choice.
You'll have to provide some paperwork, as detailed as you can, and pay the application fee.
This fee is $300, but it's not the only one that you'll need to pay.
The Board even offers the option to track the status of your application directly online.
Renewing Your License
Registered nurses from California must renew their licenses every 2 years.
For this, nurses must complete these steps:
Finish 30 contact hours of continuing education
Pay the renewal fee
The classes have to be offered by a provider recognized by the Board.
Additionally, only some classes are accepted for this purpose.
Luckily, you can find which classes are accepted and which aren't, on the Board's website mentioned later in this article.
Registered nurses who renew their license for the first time don't need to complete the continuing education classes.
However, to be accepted, you'll need to fill out the following information on the license renewal page:
Course Name: "EXEMPT"
Provider Name: "NCLEX"
Date of Completion: "today," meaning the day you fill out the form
Number of CE Hours: "30"
There are many nurse certifications considered as advanced compared to registered nurses.
Those holding such credentials don't need to complete more continuing education classes than RNs.
How To Do A License Lookup
Anyone can look up a license if they need to do so.
You'll have to access the following URL for this: search.dca.ca.gov.
This is not the site of the Board of Nursing in California.
On this page you'll have to provide the following information, all in separate fields:
Boards and Bureaus (one field)
Business name
License type
License number
First name
Last name
This page also offers an advanced search option as well as a physician survey search, should these be needed.
California State Board of Nursing Contact Information
To become licensed, you'll need to send a file with some documents, to the  Board.
This address is:
PO Box 944210
Sacramento, CA 94244-2100
The physical address of the board is 1747 N Market Blvd, Sacramento, CA 95834.
If you want or need to go to the public counter, pay attention to the working days and hours:
Monday, Tuesday, Thursday, and Friday: from 8 am till 5 pm
Wednesdays: from 8:30 am till 5 pm
Here are the phone numbers through which you can contact the Board:
Main office: (916) 322-3350

Hearing-impaired persons need to use: 711, or (800) 735-2929 (TTY)
California relay service: (800) 735-2922 (Voice)

If you need more info regarding applying for licensure, fax this number: (916) 574-7697
For various services needed by the licensed personnel, you must use this fax number: (916) 574-7699
The fax for the enforcement services is: (916) 574-7693
If you need some sort of intervention, call (916) 574-7692
The technical support for BreEZe can be reached at (916) 557-1208
The Board's main office can be contacted from Monday through Friday between 8 am to 4 pm.
The Board also has an online address.
You can access it by using this URL: 
The contact page of the website also has a contact form as well.
The Board also has a pretty strong presence on various social media platforms, at the following accounts:
Twitter: twitter.com/CaliforniaBRN
FaceBook: www.facebook.com/CA.BRN
Instagram: www.instagram.com/the_ca_brn
LinkedIn: www.linkedin.com/company/thebrn
Conclusion
Hopefully, now you're more knowledgeable regarding the California State Board of Nursing.