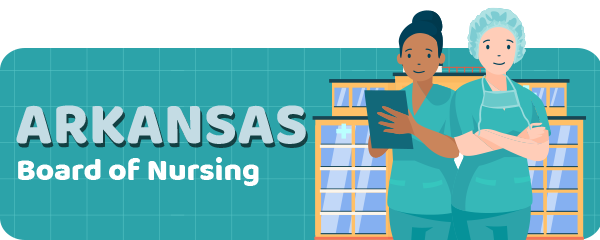 If you dream about becoming a nurse in Arkansas, you should learn more about the body governing this profession.
Read on!
What Does the Board Do?
The Board of Nursing in any state has the role of issuing licenses to those who want to enter the medical field as a nurse.
There are many types of nurses, and all of them must conform to the rules and regulations put forward by the Board.
The Board will also issue disciplinary actions if there's a need for them.
Additionally, the Board of Nursing can offer a wide range of information related to health and not only.
Getting Approval to Take the NCLEX
NCLEX stands for the National Council Licensure Examination.
The National Council of State Boards of Nursing offers this licensing exam.
Candidates for this test will have to:
Sign up with Pearson Vue
Apply for licensure with Arkansas' State Board of Nursing

This implies graduating from a nursing training program first
The first 2 actions must be done at the same time.
Individuals are expected to send in some documents and to pay some non-refundable fees.
Should everything be in order, accepted candidates will receive a letter informing them they can sit through the exam.
The duration of this acceptance letter is of 1 year.
Renewing Your License
Nurses from Arkansas can renew their licenses directly on the website of the Board.
These are the types of nurses that need a license in this state:
Registered nurse
Advanced practice nurse
Registered nurse practitioner
Practical nurse
Psychiatric technician nurse
Licensed practical nurse
These professionals must renew their credentials every 2 years.
For this, you'll have to follow this path:
Homepage – shared later on

Access the Boards and Committees link

Then access the Boards option

The next step is to choose the Arkansas Board of Nursing
The link to the license renewal is easy to see on this page.
You'll have a new tab open where you have 3 options to choose from:
Creating a new account
Asking for the verification email, in case you didn't receive it
Logging in once you have an account
Once you have access to the new page, all you have to do is to follow the instructions.
You might have to prove that you completed some hours of continuing education.
One of the following choices will qualify as continuing education for nurses:
15 contact hours of accredited practice-focused activities
Have an active and nationally recognized certification/recertification,
Complete a minimum of one college credit hour course in nursing with a minimum grade of C
Additionally, a renewal fee is also expected of you.
How To Do A License Lookup
Employers will usually want to verify the licenses of the nurses they're about to hire.
Even if you're not an employer, you might want to look up and verify your own license.
To look up a license, you'll have to follow the same path as for the renewal of the credential.
Here are 7 links highlighted in dark blue buttons.
The link will open in a new tab where visitors are informed that in Arkansas, licenses are issued and maintained electronically.
There are 2 options to verify the licenses of any nurse:
Through the NURSYS platform
Through the ASBN Registry Search\License Verification
In Arkansas, the licenses issued to RNPs and LPTNs must be verified through the second option mentioned here.
This second option is also the primary source of verification for licenses issued in this state.
To verify a license through NURSYS, you'll have to first make sure the state is a NURSYS member.
Arkansas State Board of Nursing Contact Information
The website of the Board basically all the information you could need.
You can access the site at the URL below:
www.healthy.arkansas.gov/programs-services/topics/arkansas-board-of-nursing
However, you will need to send some physical documents from time to time.
The address of the Board's office is:
1123 S. University Ave.
Ste. 800
Little Rock, AR 72204
Of course, you can contact the Arkansas State Board of Nursing by email as well.
The Board's email address is:
Some papers can also be sent by fax at this number: 501.686.2714.
When you need to ask questions for which the website is not enough, use their 501.686.2700 phone number.
You can also connect with the Board on various social media platforms, at the following URLs:
Twitter: twitter.com/ARNursingBoard
Flickr: www.flickr.com/photos/arsbn/
FaceBook: www.facebook.com/ArkansasStateBoardofNursing/
Instagram: www.instagram.com/arkansasstateboardofnursing/
Conclusion
We believe that now you're better prepared for a career as a nurse in Arkansas, by knowing more about the Board in this state.